Bug Boy Marquez posts Sunday hat trick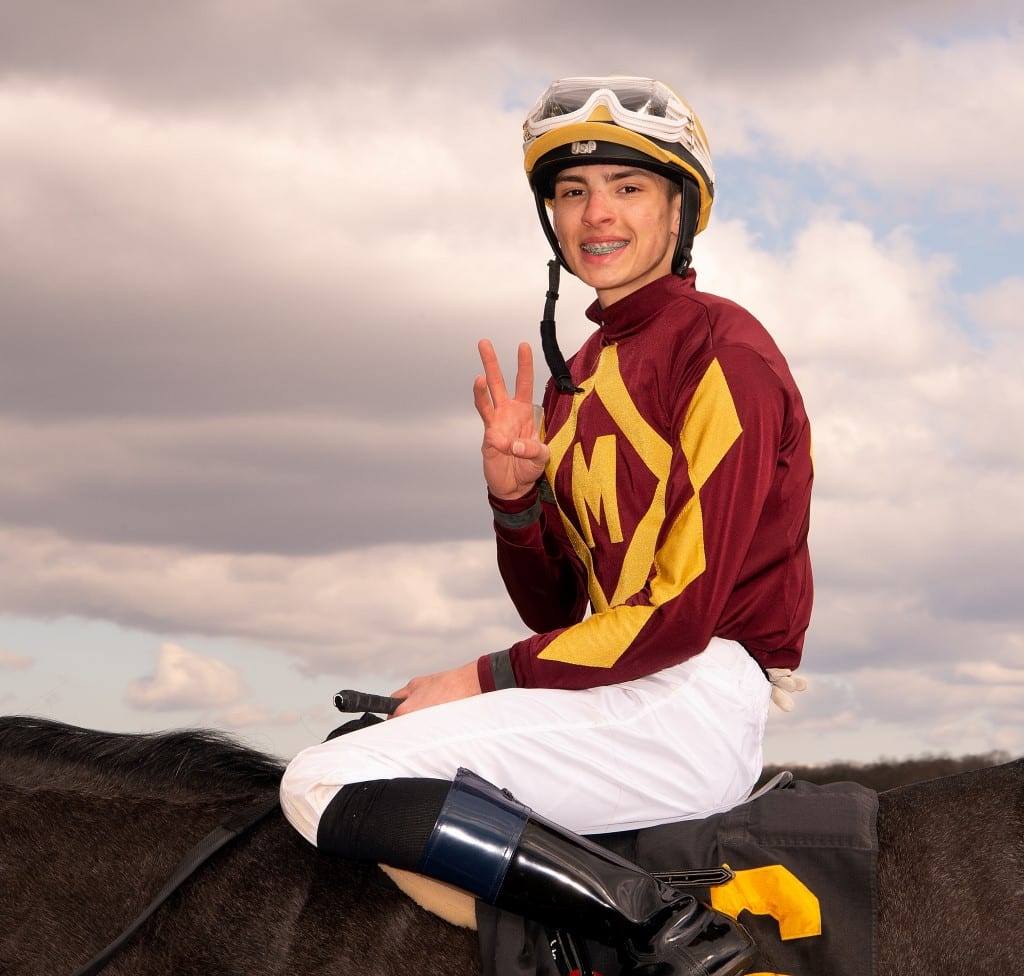 Charlie Marquez won three Sunday. Photo Jim McCue, Maryland Jockey Club.
For the second consecutive Sunday, teenaged apprentice rider Charlie Marquez ended the racing week with a three-win day at Laurel Park.
His latest triple gave the newly turned 17-year-old native of Columbia, Md. sole possession of third place in the winter meet standings with 24 victories from 132 mounts, trailing meet leader Trevor McCarthy (38) and Alex Cintron (26), to go along with $512,494 in purse earnings.
"I feel great. I can't really explain it. I just did it last week and it's just an amazing feeling. Once you win your first race, you feel like you're on a roll for the rest of the day," Marquez said. "The wins just kept coming. I couldn't do it without my agent getting me on the best horses and everyone supporting me. It's amazing, to be honest with you."
Represented by agent Kevin Witte, Marquez notched his first winner Sunday on King Empire Stables' Da Winner ($17) in Race 2 before back-to-back triumphs on Bush Racing Stable's Sierra Leona ($3.40) and Joseph Maroun Jr.'s Ummu Ummu Ummu ($5.80) in Races 4 and 5.
The win aboard Sierra Leona was his fourth straight on the 5-year-old Point Given mare, who gave Marquez his first professional victory Jan. 9 at Laurel. The first two wins came for trainer Phil Schoenthal, the last two for trainer Lacey Gaudet, who claimed Sierra Leona for $5,000 Jan. 19.
Marquez, who rides with a seven-pound weight allowance, owns five multi-win days during the winter meet, including doubles on Feb. 1, Feb. 13 and March 7. He also won a race on four consecutive racing days from Feb. 27 to March 1 and three straight days from Feb. 15-17.
"[It's] all the horses running to the best of their abilities, my family at home supporting me, my agent Kevin, his wife, all the trainers believing in me," Marquez said. "It's great having everyone believe in such a young rider. It's pretty special to me."
After riding in seven amateur races in 2019, three at Laurel and four at Parx, with two seconds and two thirds, Marquez made his professional debut running fourth on Up Hill Battle Jan. 1 at Laurel. He is the son of Carlos Marquez Jr., a multiple graded-stakes winner of more than 3,150 career races currently riding in Puerto Rico, and grandson of Carlos Marquez Sr., another successful jockey who taught at Puerto Rico's famed Escuela Vocacional Hipica jockey school.
Marquez is named in one race Wednesday, March 18 at Penn National and three races Friday, March 20 at Laurel. Until then, he had no plans to dwell on his second career hat trick.
"I don't really celebrate. It's all horse racing to me," he said. "I'll go home, eat, and watch the races. That's what I do."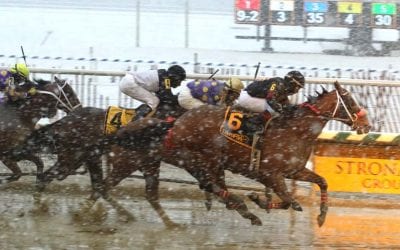 C Z Rocket, a multiple graded stakes winner who was second in the Breeders' Cup Sprint, tops 36 nominations to the G3 General George at Laurel.