X Y Jet and the horses of the Navarro-Servis indictment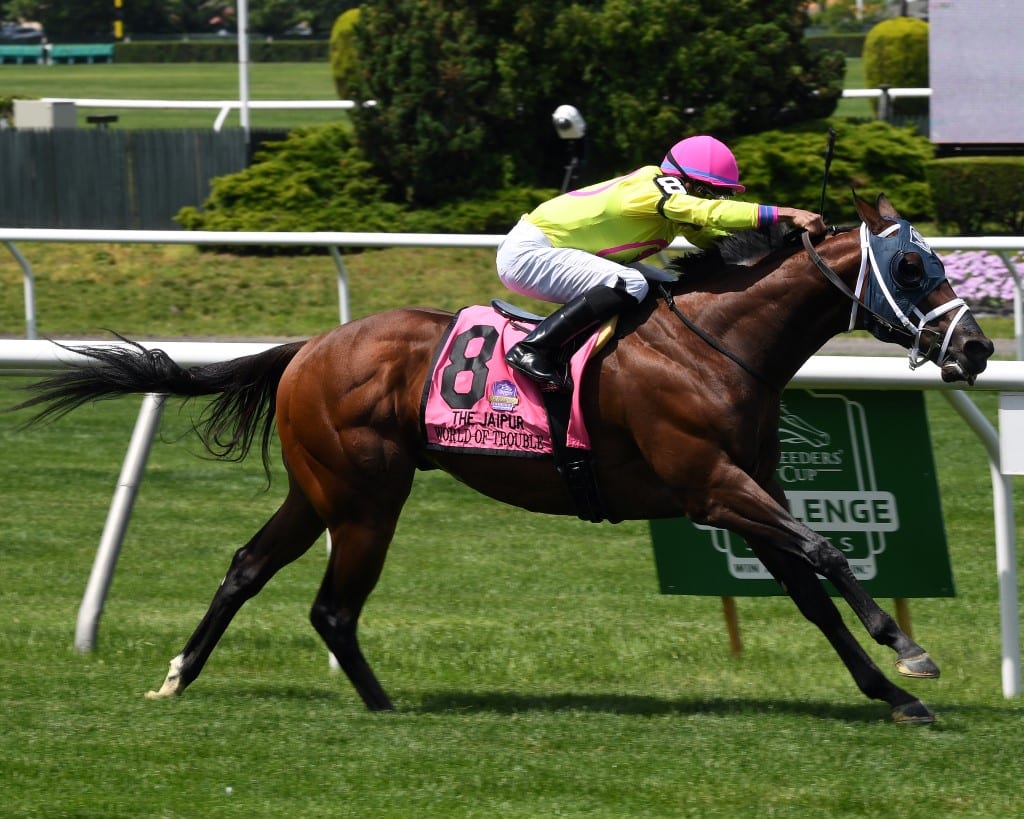 World of Trouble won the Grade 1 Jaipur Invitational. Photo by Derbe Glass/ NYRA.
The indictments handed down Monday against 27 people involved in Thoroughbred and standardbred horse racing are by turns horrifying, angering, and on occasion even amusing.
Criminal masterminds, they were not.
"I don't want to talk about this s—t on the phone, ok," trainer Jorge Navarro told fellow trainer Jason Servis – in a phone call – moments after the men had agreed they were using an alleged performance enhancer called SGF-1000 on large numbers of their horses.
And then there's a moment in January 2019 when harness trainer Nicholas Surick tells "another individual" – in a phone conversation – that in the future, he would only discuss the investigation into him via an encrypted communications app.
Still, that the alleged miscreants aren't likely to cause overcrowding at future Mensa meetings doesn't make their crimes any less horrific. Nor does it make their victims any less worthy of having justice served. 
While there is  certainly no shortage of human victims in this sad episode – including other trainers and owners, riders who might have thought they were getting on sound horses, and of course the betting public (who of course will never receive justice) – the most important victims here are the ones unable to fend for themselves: the horses.
The indictment alleges that the trainers used a wide variety of drugs, some designed to enhance horses' performance, others to minimize pain they might be feeling. Many were mislabeled, some manufactured in unregistered facilities, and others given despite no medical need.
The most famous of those horses, of course, is Maximum Security, who was first-past-the-post in last year's Kentucky Derby before being disqualified for a bumping incident at the top of the lane and a couple weeks ago won the Saudi Cup.
The indictment alleges that, as Servis was training his big horse towards the June 16, 2019 Pegasus Stakes at Monmouth, he fretted that the horse, who'd just received a shot of SGF-1000, might come back positive after a pre-race drug test. SGF-1000, which allegedly is manufactured in unregistered facilities, is said to increase a horse's stamina.
No need to worry, veterinarian Kristian Rhein counseled him. "[T]hey don't even have a test for it… There's no test for it in America."
Rhein told Servis that the worst-case scenario might be a false positive for "Dex," presumably the corticosteroid Dexamethasone. So Servis allegedly did what any upstanding trainer would do: he discussed it with a different vet, who agreed to falsify records to "make it appear as if the racehorse had received 'Dex.'"
Then there's World of Trouble, another Servis-trained runner. The speedy sprinter won nine of 13 career starts and earned more than $1.2 million in a career that saw him finish second in the 2018 Breeders' Cup Turf Sprint.
The indictment alleges that on May 8, 2019, Servis and assistant trainer Henry Argueta "discussed the concealment from racing officials" of a performance-enhancing drug they intended to administer to World of Trouble. Since he had run just five days earlier, winning the Twin Spires Turf Sprint at Churchill Downs, it's likely they were looking to give him a boost heading into his next race, the Jaipur at Belmont Park June 8. He won that contest, which proved to be the final race of his career, and now stands stud at Hill 'n' Dale in Lexington, KY.
Of course, it wasn't just the Servis barn. There was also, for example, what the indictment referred to as the "Navarro Doping Program."
The sad tale of X Y Jet gets particular scrutiny in the indictment. That redoubtable runner won 12 races, and more than $3 million, in his career but passed away in January from an apparent heart attack.
He won two races in 2019 – but not without, the indictment claims, significant pharmacological assistance.
The Kantharos gelding won an allowance race at Gulfstream Park February 13 and then shipped to Dubai, where on March 30 he won the Dubai Golden Shaheen, a race with a $2.5 million purse.
"Navarro and others administered several adulterated and misbranded PEDs to XY Jet prior to both the February 13 race in Florida and the March 30 race in Dubai," the indictment says.
Prior to the February 13 race, Navarro asked two different people – Parx Racing-based trainer Marcos Zulueta and Christopher Oakes, who acted as a distributor of performance-enhancing drugs – for a "blocker" – a medication that reduces pain – for X Y Jet.
On February 11, Oakes and Navarro cooked up a scheme in which Oakes agreed to "secretly introduce a bottle of the 'blocker' into the stable where X Y Jet was being held." If Oakes were stopped by track security, Navarro told him to say he was an owner visiting Navarro's barn.
X Y Jet won that race and jetted off to Dubai, where, on March 22, Navarro personally administered "various" performance-enhancing drugs to X Y Jet, including one Navarro called "monkey."
Less than two weeks later, on April 3 – just a few days after X Y Jet had won the Golden Shaheen, Navarro told Zulueta he had administered drugs to the horse in the weeks leading up to, and on the day of, his big win.
"I gave it to him through 50 injections," Navarro allegedly said. "I gave it to him through the mouth."
Of course, not every horse administered performance-enhancing drug turns into a star. The indictment also details a heated conversation between Navarro and the "operators of a racing stable in California" regarding the owners' disappointment in the recent efforts of a horse named Nanoosh. Nanoosh, who was then owned by Rockingham Ranch, Zayat Stables LLC, and David Bernsen LLC, had finished fourth or worse in four consecutive starts, including a sixth-place finish in the Grade 3 Salvator Mile at Monmouth Park.
"Is this horse jacked out?" one of the owners asked. "Is he on f—ing pills or what or are we just f—ing – " before Navarro jumped in.
"Everything… he gets everything," the trainer responded.
The owner replied, "You don't have to tell me on the phone."
Other horses are dotted through the indictment: Glass Prince, a harness horse trained by Rick Dane, Jr., and Control Tower and Rock Icon, also harness horses, these trained by Nicholas Surick, all are alleged to have received performance-enhancing drugs.
And then there's a tragicomic episode involving a fourth harness horse, Northern Virgin, also trained by Surick. Hours after Surick had allegedly administered erythropoietin (Epogen), which can boost a horse's red blood cell count, to Northern Virgin, New Jersey Racing Commission investigators stopped by to conduct unannounced drug tests on the trainer's horses.
He successfully prevented them from locating or testing Northern Virgin – and managed to do so again the next day when the NJRC came by again.
But FBI investigators were able to determine where Northern Virgin had been hidden and collected a blood sample from the horse, which later came back positive for erythropoietin.
The most troubling of all the equine references doesn't name horse names, but it does name human ones.
In a phone call intercepted by the FBI, Surick made a rather shocking claim to Thorougbhred trainer Michael Tannuzzo, also indicted.
"You know how many f—ing horses he [Navarro] f—ing killed and broke down that I made disappear," Surick said. "You know how much trouble he could get in… if they found out… the six horses we killed?"
The answer appears to be one we're about to learn.
Meantime, it appears that many of the men's horses are being dispersed to other trainers. Since the indictment alleges that they were treating virtually all of their horses illegally – and often with drugs for which there are no tests – all of them need to get a few months on the farm to let whatever's in their systems cycle through.
The fate of those indicted rests now with the justice system. But the fate of the horses themselves rests with the industry, and it sure would be nice if – this time – racing didn't fail them.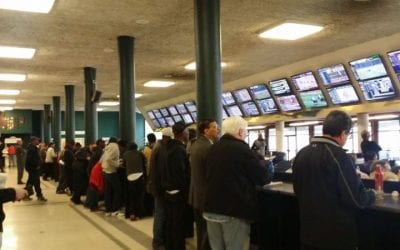 In a new Off the Pace, Mike Valiante shares his vision of what the racetrack of the future ought to look like. Do you agree?