Dead heats the order of the day at WV-bred awards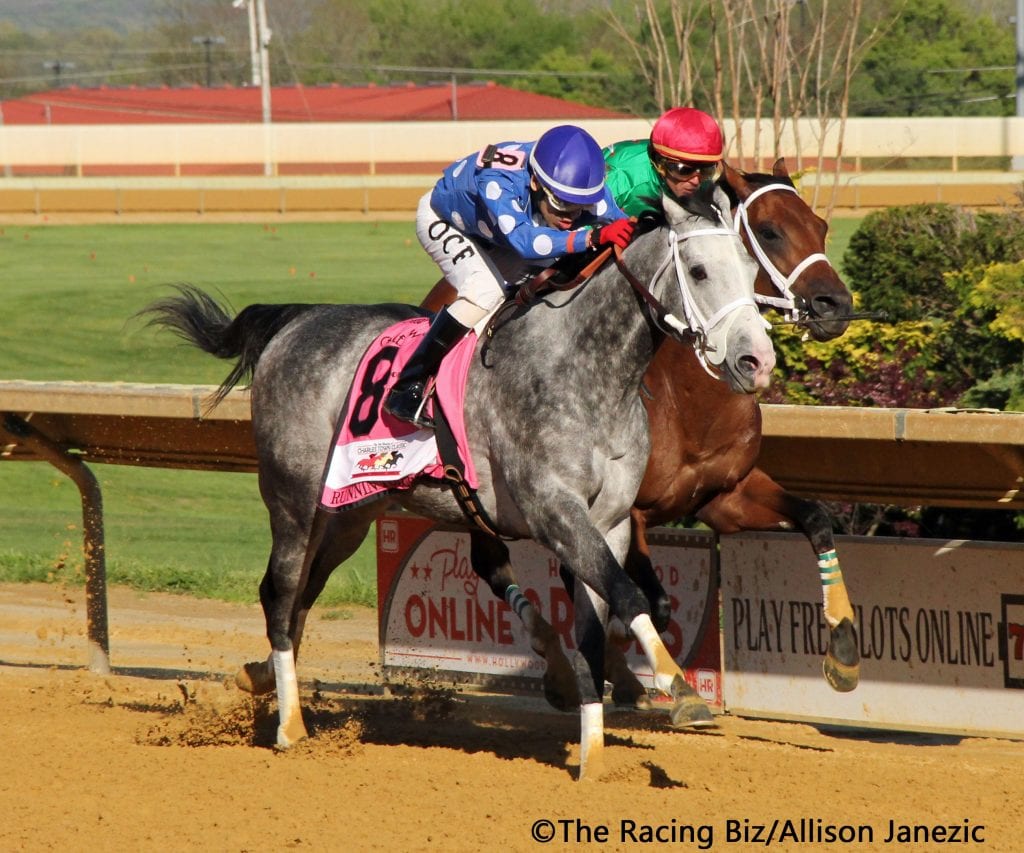 Runnin'toluvya won the Charles Town Classic. Photo by Allison Janezic.
On Sunday evening at the Shepherdstown Clarion Hotel, the West Virginia-bred champions from 2019 were unveiled. As it happened, dead heats were the order of the day.
Following a season in which both Runnin'toluvya and Late Night Pow Wow won graded stakes and Anna's Bandit tied for the national lead with nine wins, all three of those talented WV-breds were honored Sunday night at the West Virginia Thoroughbred Breeders Association Awards Dinner.
Runnin'toluvya, hero of the Grade 2, $1 million Charles Town Classic, and Anna's Bandit, winner of both the West Virginia Breeders Classic Cavada and the Maryland Million Distaff one week apart, were named co-champion West Virginia-bred horse of the year.
Anna's Bandit and Late Night Pow Wow shared co-champion older filly or mare honors.
"Last year was such an amazing year for us," said Tim Grams, owner and trainer of Runnin'toluvya, who worked five-eighths in 1:01.20 on Monday. "We certainly don't expect to have that type of success again this year. We're hoping, but we're realistic."
Runnin'toluvya's five-furlong move March 2 was his third since early February.
"Runnin'toluvya worked really good this morning. He went out with another horse and then galloped out six furlongs really good," Grams said. "I would like to get two more workouts in him and then hopefully have him ready to run here [on March 21]."
Grams also trained another co-champion, Loving Touch, the younger full-brother to Runnin'toluvya, who won all four of his starts last year and capped his campaign with a two-length victory over Hero's Man in the West Virginia Lottery BC. In the voting, however, Loving Touch and Hero's Man, owned, bred and trained by James W. Casey, were named co-champion three-year-old males.
Loving Touch went four-for-four in a shortened 2019 campaign, while Hero's Man won five of 10 starts last year.
"Loving Touch had a knee chip removed two days after the Classics," Grams said. "It was nothing serious, but it was something that we thought had to be done. He's doing good now. I think he will be back in training soon and then we'll look for a race for him sometime this summer. I just had a feeling something wasn't right with him. Sure enough, he had a knee chip that needed surgery."
While Grams and Robb had horses involved in a dead-heat for titles, trainer Stacey Viands and owner-breeder Melinda Golden did not have to share the limelight, as their Parisian Diva was named the champion three-year-old filly. The homebred daughter of Freedom Child capped her campaign with a victory in the West Virginia Breeders' Classic and after a brief vacation has returned to the track in preparation for her four-year-old campaign.
"I'm really happy for Melinda," Viands said. "She's been in this game for 50 years, and this is really her first champion. She's a great owner. Whatever the filly needs, she is okay with getting. I don't know when Parisian Diva will run next, but she's back in training and she looked good the other morning. It's great just having her back in the barn. She's been really special for us so far."
Anna's Bandit won seven stakes last year and nine races overall for trainer and breeder John (Jerry) Robb and his and his wife Gina's No Guts No Glory Farm. Those seven stakes wins were split between WV-bred races and Maryland-bred/Maryland-sired races, for which she, as a daughter of Maryland-based sire Great Notion, also qualifies.
Sunday she shared the honor of champion older mare with Late Night Pow Wow and horse of the year award with Runnin'toluvya. While Late Night Pow Wow won the Grade 3, $250,000 Barbara Fritchie Stakes and placed third in the Grade 1 Madison at Keeneland, the raced only five times in 2019, and the voters apparently counted Anna's Bandit's busy and consistent campaign as a plus.
"It's always an honor to get one of these awards," said Jerry Robb, who just notched the 2,000th win of his training career last month at Laurel. "This year she's gotten two of them. She's a very special mare for me and for Gina. She won so many races. If I had known she was tied for the lead with nine wins, I would have run her back in another stakes in December and gone for her tenth. Everyone knows I like running, and I love winning."
The three-year-old colt honors were also shared as Hero's Man and Loving Touch both were named co-champions. Hero's Man is owned, bred and trained by James W. Casey, while Loving Touch is a full-brother to, and from the same connections as, Runnin'toluvya in owner-trainer Tim Grams and breeder Leslie Cromer, a former jockey at Charles Town. Casey, also honored as the breeder of the year, will turn 90 this weekend.
While champion three-year-old male, older mare and horse of the year were dead-heat winners, Boundtobebad, another Casey homebred, was named champion two-year-old filly; Hypothesis was two-year-old male champion, and Penguin Power was selected as champion sprinter for trainer Jeff Runco.
Former jockey Leslie Cromer's mare, Lov'emnrun, was named the broodmare of the year following a season in which two of her offspring, Runnin'toluvya and Loving Touch, both captured stakes and year-end honors. Fiber Sonde was the obvious choice for top stallion for owner John McKee of Beau Ridge Farm, while James W. Casey's Taylor Mountain Farm was tabbed as breeder of the year, and Jeff Gilleas, a jockey's agent and former publicity director for Charles Town who served as the master of ceremonies, was designated as the special recognition award winner. Fiber Sonde, who stands for a modest $1,000 stud fee, sired four of the West Virginia-bred champions.
CHAMPIONS GALLERY
 (Click on any of the below to expand to full size and scroll through the gallery, which includes 17 images.)
LATEST WEST VIRGINIA NEWS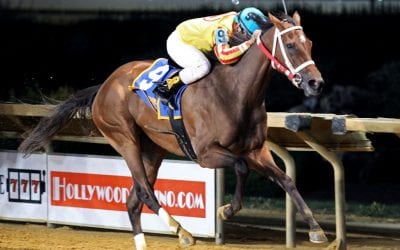 We provide picks and analysis for this evening's card at Charles Town Races.