Five answers from Saturday's Laurel Park stakes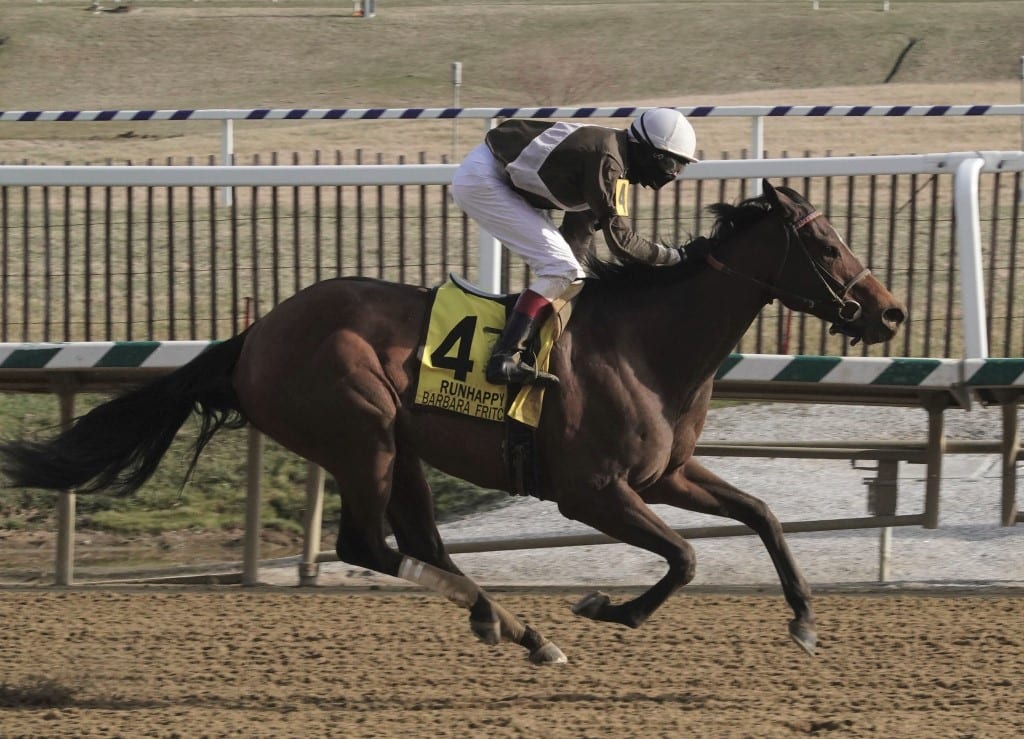 Majestic Reason, with Trevor McCarthy up, won the G3 Barbara Fritchie Stakes. Photo by Laurie Asseo.
Prior to this weekend's stakes-packed card at Laurel Park, which included both the Grade 3 Barbara Fritchie and Grade 3 General George, we posed several questions to which we were hoping to find answers.
Now, after a day in which only one of the five stakes favorites — four of which were odds-on — managed to secure victory, we've got our answers:
WHAT'LL IT MEAN IF ANNA'S BANDIT RACES IN THE G3 FRITCHIE?
Anna's Bandit ran a pretty good race in the Fritchie – and 4-5 favorite Saguaro Row was a dismal sixth – but in the end all eyes were on the Graham Motion-trained Majestic Reason, who swung wide to power to a two-length victory in the $250,000 event.
Leaving from the one-hole under Xavier Perez, Anna's Bandit was able to save ground on the turn but didn't really get untracked until the win spot was sewn up. She did rally a bit late for third and the first graded placing of her career.
A win would have given trainer Jerry Robb the 2,000th victory of his career, a mark he reached two races later with Stroll Smokin in an allowance contest.
"No complaints," Robb joked after winning his 2,000th. "Other than it's about an hour late."
CAN ANYONE TAKE DOWN FIRENZE FIRE IN THE GENERAL GEORGE?
No.
Firenze Fire, a millionaire son of Poseidon's Warrior and a homebred for Ron Lombardi's Mr Amore Stable, was the easiest kind of winner in the General George.
Under Irad Ortiz, Jr., whose three earlier stakes mounts, two of them odds-on favorites, all were beaten, Firenze Fire stalked the early pace up close and then drew away in the lane to a four-length win at odds of 1-2.
It gave him 10 career wins and pushed his earnings past the $1.8 million mark.
"I mean, Irad never moved his hands," Lombardi said afterwards. "So I was totally confident in it, and then once he got near the top of the stretch, he just let him go."
"I'LL FOLLOW THIS HORSE ANYWHERE HE GOES"
WILL ANY MIRACLE WOOD RUNNERS STAMP THEMSELVES TRIPLE CROWN MATERIAL?
Saturday's Miracle Wood was a race that leaves us with more questions than answers.
The winner, Lebda, ran a big race on the front end, opening up a long lead leaving the furlong grounds and then hanging on by three parts of a length for the win. But it was very much a fast early-slow late race, with Lebda ripping off an opening half-mile in 45.57 seconds before taking nearly 53 seconds to get the second half-mile.
Running time for the one-turn mile was 1:38.38; for comparison purposes, older bottom-level claimers ran the same distance in 1:39.02, so the time was just… meh.
The most intriguing horse entering the Miracle Wood, which is the first of three three-year-old route races locally that lead to the Preakness, was Dreams Untold. The John Servis-trained Smarty Jones gelding had broken his maiden the race before by 14 lengths at Parx and was sent off at 7-10 odds.
But he stumbled badly leaving the gate, knocking Irad Ortiz, Jr. briefly off-kilter. By the time Dreams Untold and Ortiz recovered, they were pretty much in another county from the main body of the field. He was 15 ¼ lengths behind after the opening two furlongs, according to the official chart.
Over the next half-mile – which Lebda got in 48.20 seconds – Dreams Untold went from eighth (and last) to second, passing six runners, and made up about 13 lengths on the leader. He made up about six of those 13 lengths during the second quarter-mile, which Lebda ran in 22.61 seconds.
It was an absolutely eye-catching move, but just at the moment he seemed to loom the greatest danger to the leader, Dreams Untold ran out of steam; he faded to fifth at the end.
Still, it was a huge effort to make up a tremendous amount of ground during the portion of the race where Lebda was still running fast.
In the end, Lebda ran big, and you have to respect the late-running effort of Mine Not Mine, who rallied from last after a half-mile into second. But Dreams Untold looks to be the one to keep an eye on from this group.
CAN ALWAYSMINING KEEP IT GOING IN THE CAMPBELL?
Yes.
The four-year-old Alwaysmining, a four-year-old. Maryland-bred Stay Thirsty gelding, won Saturday's John B. Campbell Stakes, fighting back valiantly to prevail over post-time favorite Monongahela.
Under Julian Pimentel, Alwaysmining held a narrow lead over that rival for much of the race while setting a measured tempo. But Monongahela turned up the heat rounding the far turn, and those two runners pulled ahead of their rivals, making it clear that one of them would get the money.
Monongahela, with Irad Ortiz, Jr. up, actually put a head in front in mid-stretch, but Alwaysmining was resurgent, fighting back to win by a neck.
Trained by Kelly Rubley for Runnymoore Racing, Alwaysmining won his second straight, giving him nine wins from 19 career starts, with purse earnings of more than $530,000.
WILL IT BE A FIRST-TIME STAKES WINNER IN THE WIDE COUNTRY?
Yes. In more ways than one.
Naughty Thoughts was 8-1 at post time in the Wide Country but went on to prove best of all. Under Jevian Toledo, the sophomore filly by The Factor grabbed the lead early and did not relinquish it en route to a nearly-five-length score in 1:24.01 for seven furlongs.
It was her fourth career victory and first in stakes company; she previously had finished third in both the Maryland Juvenile Filly Championship and Gin Talking Stakes. The win pushed her career earnings past the $189,000 mark.
The win was also the first stakes victory for trainer Jonathan Maldonado.
Thank you God for my first stake in USA , I want to thank the owner for the opportunity, and the jockey @JevianToledo for an amazing ride, my brother Joel Maldonado and my Team for a great job. Thank you Lord. TEAM THREE MS RACING TEAM NAUGHTY THOUGHTS. TEAM RAFAEL LOPEZ ??? pic.twitter.com/zc1uYOyfVl

— Jonathan Maldonado (@Jonatha84127106) February 15, 2020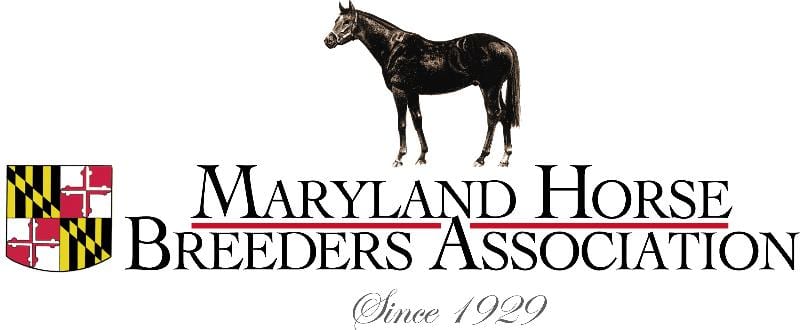 On February 27 the Maryland Horse Breeders Association will host a talk with Alvin Stone, author of a book about and son of longtime groom Stoney Stone.