Two months after dispersal, Besecker barn still active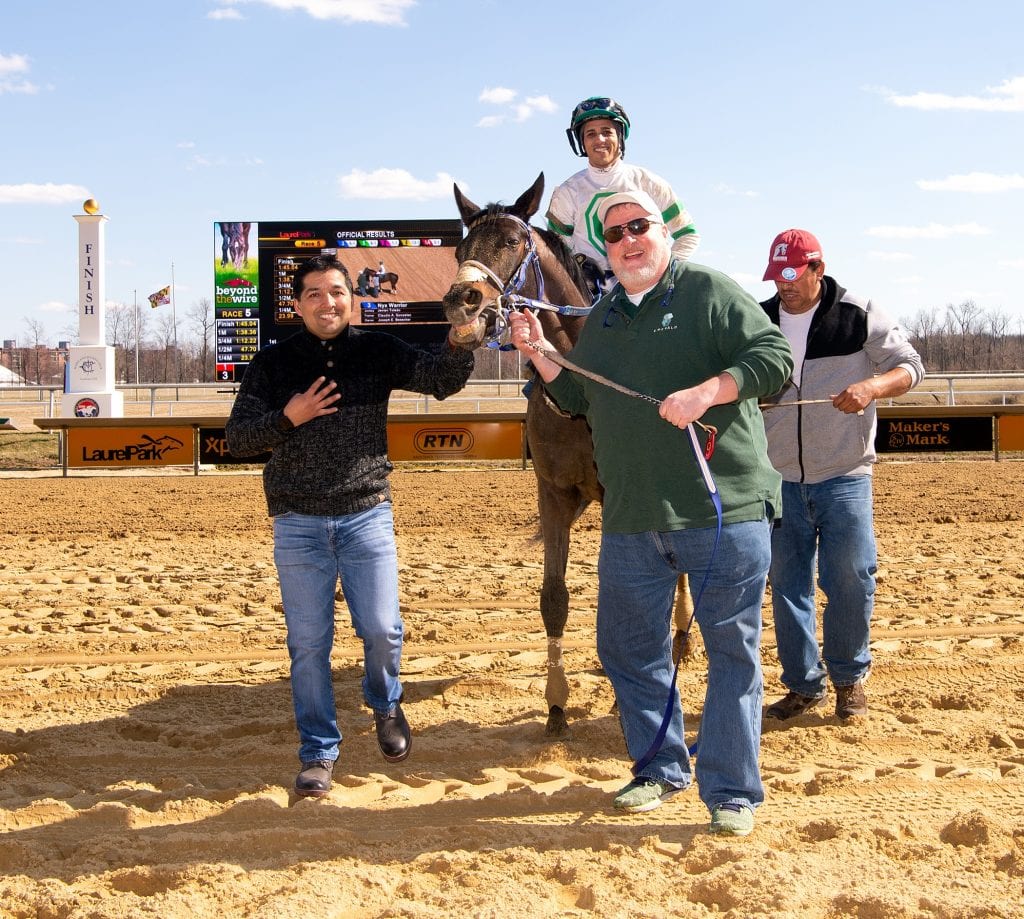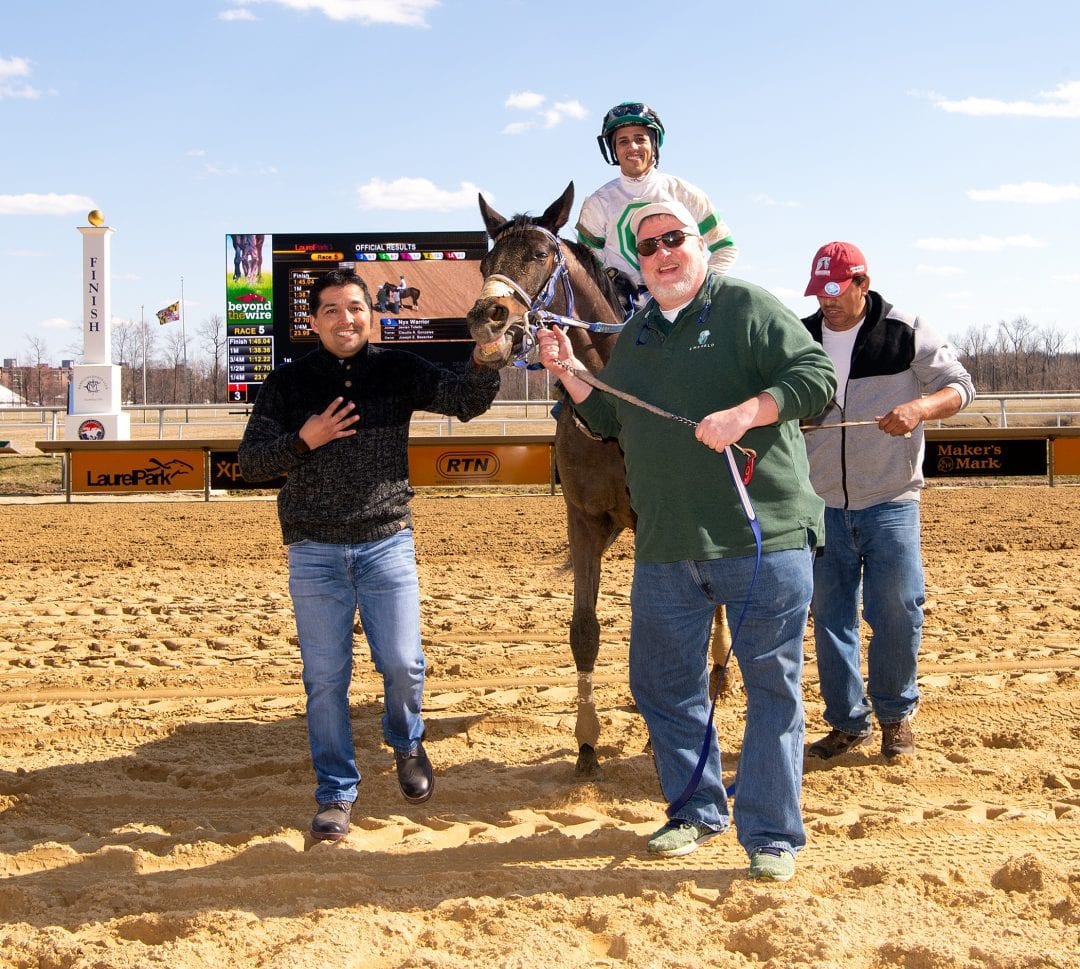 Trainer Claudio Gonzalez and owner Joe Besecker celebrate four wins for Gonzalez and three for Besecker in March 2017. Photo by Jim McCue, Maryland Jockey Club
Just two months ago, Joe Besecker said an emotional farewell to his Thoroughbreds as he sent them through the auction ring at the Fasig-Tipton Midlantic December mixed sale at Timonium.
Billed as a dispersal, 95 of his horses were sold for more than $3 million, an average of $31,635, topped by then-2-year-old stakes winner Laddie Liam, a son of Maryland stallion Golden Lad, who brought a December-record price of $450,000. Another juvenile son of Golden Lad, Mine Not Mine, sold for $210,000. The dispersal also included broodmares, yearlings, weanlings, and horses of racing age.
Prior to the sale, Besecker, 62, talked about what a complete sale of his stock would mean to him.
"I will not be (at Timonium)," he said. "Emotionally, I won't be able to watch it. Some of the horses that are going through the ring are named after my family, my friends. It's going to be very, very bittersweet. I love this business. I love it probably too much. But this is about my time better spent on my family, and my foundation (the Emerald Foundation). And my family doesn't share my same passion for the sport."
He also said his goal was to get down to zero horses in the next several months, and that, despite rumors to the contrary, he was not selling them for financial reasons. Last year was his most successful as an owner, with his horses winning 199 races and nearly $5 million in earnings, a marked increase from 2018's totals of 89 races won and $2.1 million in earnings. It also ranked him second nationally by number of wins, behind only End Zone Athletics, Inc., which had 280.
Yet instead of getting down to zero horses, Besecker has, either solely or in partnership, continued to race and claim. Since February 1, Besecker horses have won or finished second at Gulfstream Park with trainer Jorge Navarro, Fair Grounds with trainer Joe Sharp, Parx Racing with Jamie Ness, and Laurel Park with Claudio Gonzalez.
He has also claimed a dozen horses at those tracks, plus Penn National.
When asked about his current and future plans, Besecker said, "It's a long story. Actually, in the last several weeks people have asked me to help them out, so I think I've got about 16 horses now. That's down from the 140-150 I had before the Timonium sale. And since the sale, I've sold some babies."
Besecker said he was pleased with the response to the sale, and that Fasig-Tipton was very good to work with. Of the 97 he ran through the ring, all but two found new owners.
"The sale was extremely well attended and the appetite for the horses was strong," Besecker said. "The horse population has been very low, so people were especially looking for racehorses.
"It pained me greatly to sell my horses, he continued. "The first three weeks after the sale I went through serious withdrawal. My family and the people I work with are happy, but I'm not. It's a big void to fill, especially considering how much I love horse racing."
On January 27, Besecker was honored by the Pennsylvania Horsemen's Benevolent and Protective Association with an award for top owner by number of wins at Penn National in 2019. He finished the year with 49 winners from 141 starters, a 35 percent winning rate. His horses finished in the money 70 percent of the time.
Since he began owning horses in 2000, Besecker's best runner was Aztec Sense. The Street Sense gelding won last year's G3 Fred W. Hooper Stakes at Gulfstream Park and has earned $531,850 for Besecker. The Hooper win stands Besecker's only graded stakes triumph.
The owner said he may still keep a toe dipped into the racing end of things on a smaller scale than previously. 
 He also took the opportunity to comment on the state of the horse racing industry from a successful businessman's point of view. In addition to his work with the Emerald Foundation, he is founder, president and CEO of Emerald Asset Management. 
"We've got to get things together in this sport," he said. "We're blowing it. There is no structure, no leadership. Maybe it's there, but we have to connect the dots. There is no collaboration, and without it, it won't work."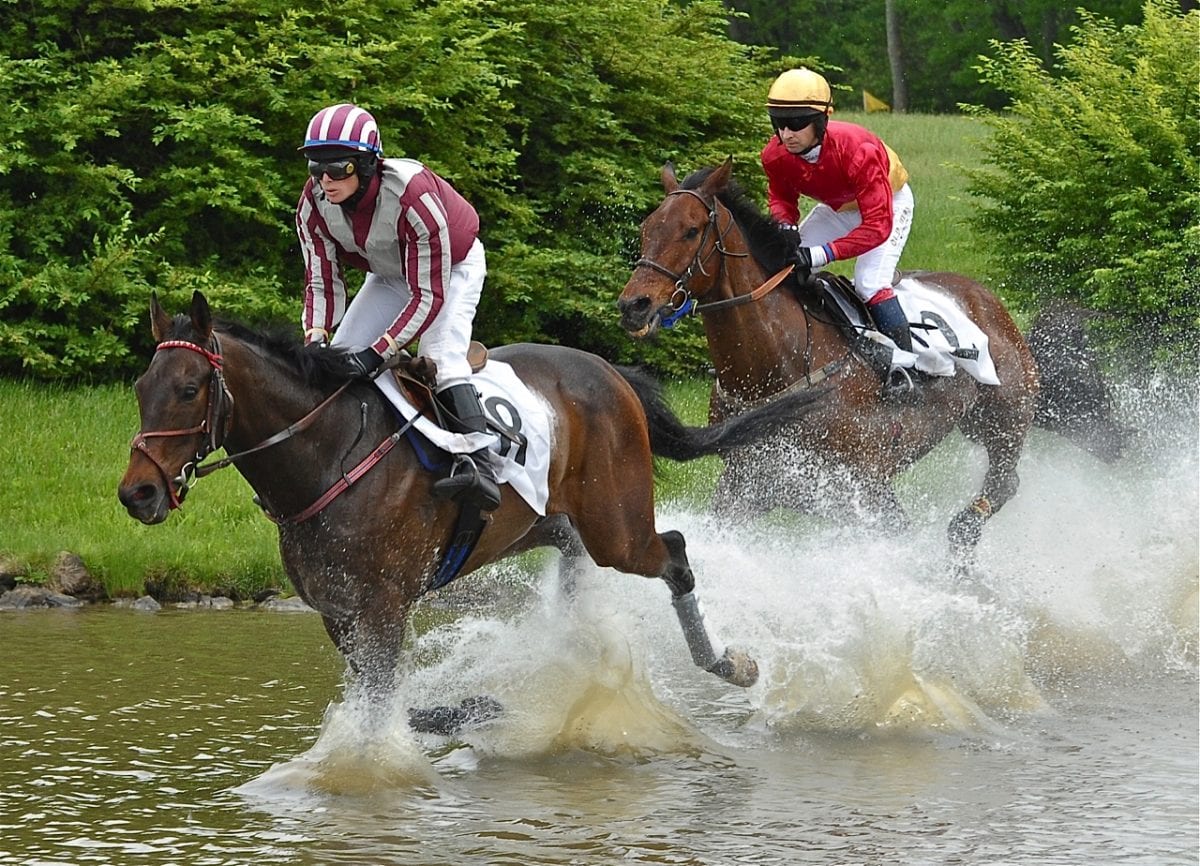 Maryland-bred steeplechase horses are available for bonuses at sanctioned 'chase and timber meetings in the state.