Trainer Carlos Mancilla enjoying major upswing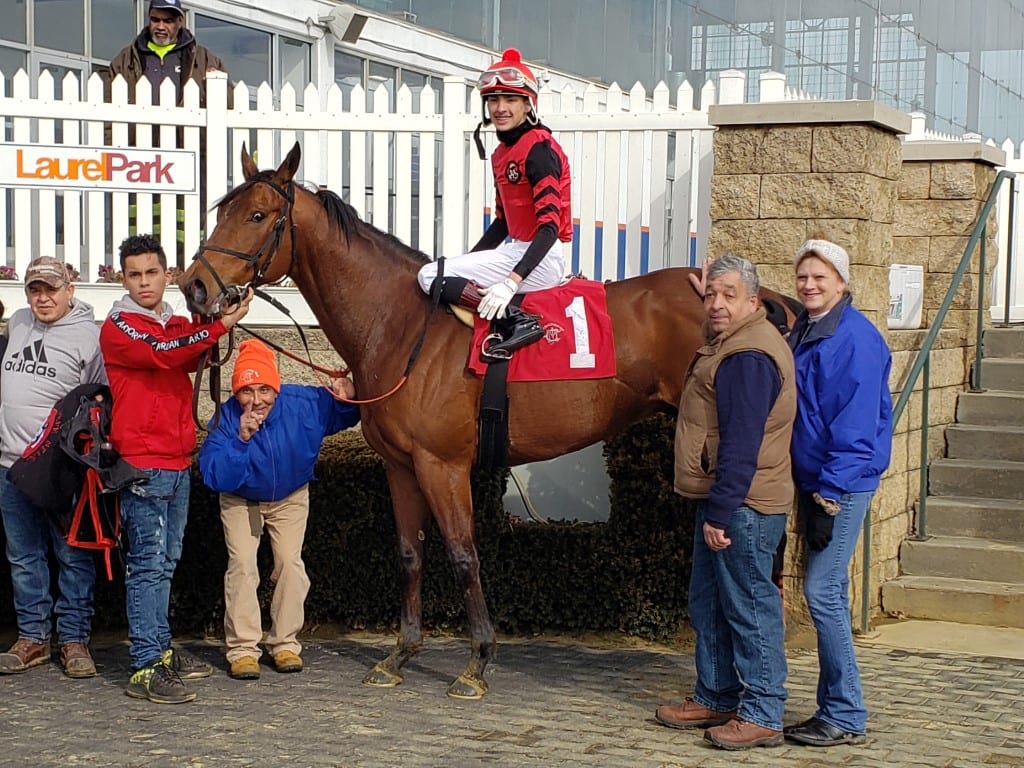 Sue Mancilla (far right) and husband Carlos Mancilla (second from right) celebrate a win by Top Me Off, with Charlie Marquez up, at Laurel Park. Photo by The Racing Biz.
The hottest trainer at Laurel Park these days isn't Gonzalez, Trombetta, Magee, Lynch, Ness, or any of the other names you're used to seeing in that discussion.
It's not a trainer with fancy stock or an impressive resume.
No, the hottest barn on the grounds right now is the 24-horse operation of Chilean immigrant Carlos Mancilla, who, with wife Sue and brother Oscar, has managed to craft one of the most unexpected streaks in recent Maryland racing history.
"I feel good," Mancilla said February 1 after watching his first-off-the-claim runner Top Me Off romp to victory in a claiming race at Laurel. "I've got nice horses, and everything is working out good."
Mancilla has won with eight of 19 starters at Laurel Park thus far in 2020, a 42% strike rate that is the best among local trainers with at least 10 starts. That's part of a heater that's seen him win with 14 of his last 50 starters (28%), including 13 of 40 at Laurel.
It's a streak that's as impressive as it's been surprising. Mancilla, who came to the United States in 1981 and struck out on his own in 2009, was an 8% trainer in his career prior to his recent streak. He was 5-for-95 at Laurel Park in 2019 during the first 10 months of the year before closing it on a 5-for-22 run.
"I've got a good team working for me, my brother, my wife," Mancilla said. "I've got a good team doing their best for the horses."
Mancilla's main owner is Michael Scheffres, whose stable accounts for 14 of Mancilla's 24 horses. He believes that Mancilla's work ethic has a lot to do with the newfound success.
"Yesterday I was there at quarter to seven, and he'd already been there for a couple hours, and it's not like he was sitting around," Scheffres said. "He's putting tape on the horses; he's watching them work out. He's unreal; he doesn't stop."
Scheffres has had horses with Mancilla for five years, he said, suffering through a disastrous 2018 in which his horses won just twice in 56 starts. Last year was better, a 10-win season from 73 starts, and, like Mancilla, he's kicked off this year with a bang, winning with seven of 14 starters to date.
"He's so hands-on and so thorough," Scheffres said. "Plus, we've made good claims."
Indeed, the claimbox has certainly played an important role in the recent string of success. Since November 1, Mancilla has won with four of eight first-off-the-claim runners. What's more, those eight claimed horses have combined to provide 10 of the trainer's 14 wins during the period.
That group includes perhaps the best horse in Mancilla's barn at the moment, Factor It In. Scheffres and Mancilla grabbed the four-year-old colt by The Factor for $25,000 November 17. He's since won back-to-back allowance races, including a smashing nearly-four-length win in a third-level allowance contest January 30 in which he recorded a stakes-quality 95 Beyer speed figure.
"The jockey [Feargal Lynch] and Carlos, they developed a new style for him," Scheffres said of the onetime faint-hearted front-runner. "He used to be speed, and now he comes from off the pace."
It also includes Lawn Boy, a horse Mancilla and Scheffres claimed out of a bottom-level, $10,000 maiden claiming event. Lawn Boy won easily that day, so easily that Mancilla wheeled him back in an allowance contest, an enormous jump in class. The British-bred son of Bated Breath won again (at 11-1 odds) while posting a career-best 85 Beyer speed figure.
"We look at the horses. I watch the race," Mancilla explained. "When I like something, I call my owner. We look at the back races and we see, and then we decide what we're going to do."
The Mancilla barn is both business and family affair. Mancilla's wife Sue works – and, in win photos, stands – side-by-side with him. Brother Oscar, who as a jockey won the Grade 3 Laurel Dash in 1997 aboard Wise Dusty – serves as the exercise rider for the barn. And Mancilla learned the business from his father.
"We work together, we're talking about a lot of stuff," Mancilla said of working with his brother. "I'm doing my part and he's doing his part."
It's a process that's recently been working like a charm for a barn that toiled in the shadows for a decade before achieving overnight success status.
Is it the hottest Mancilla's operation has ever been?
"So far," the trainer said with a smile. "I hope it keeps going like this."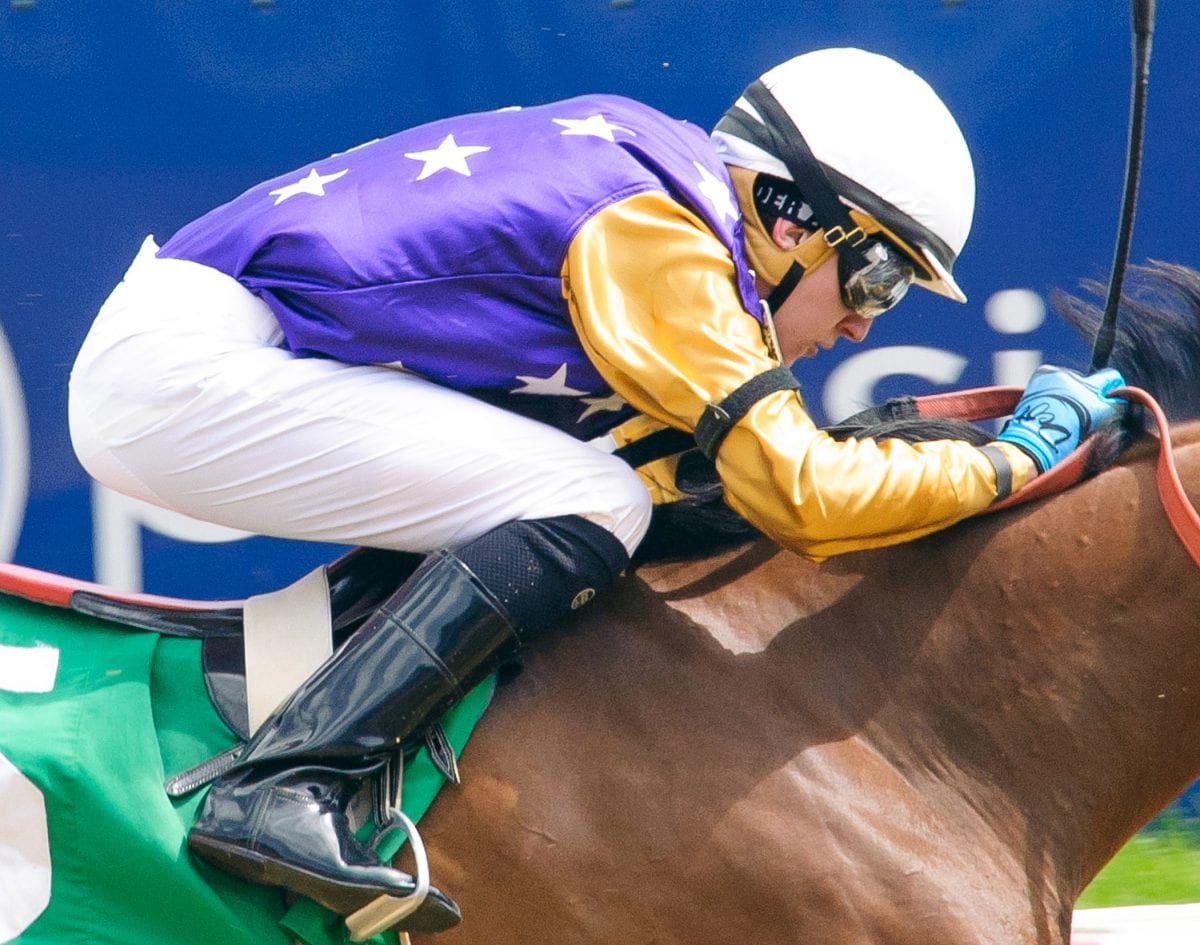 Our correspondent caught up with some jockeys who previously rode regularly at Delaware Park to learn their fondest moments or memories in the First State.