Which Maryland jockeys are nearing milestones?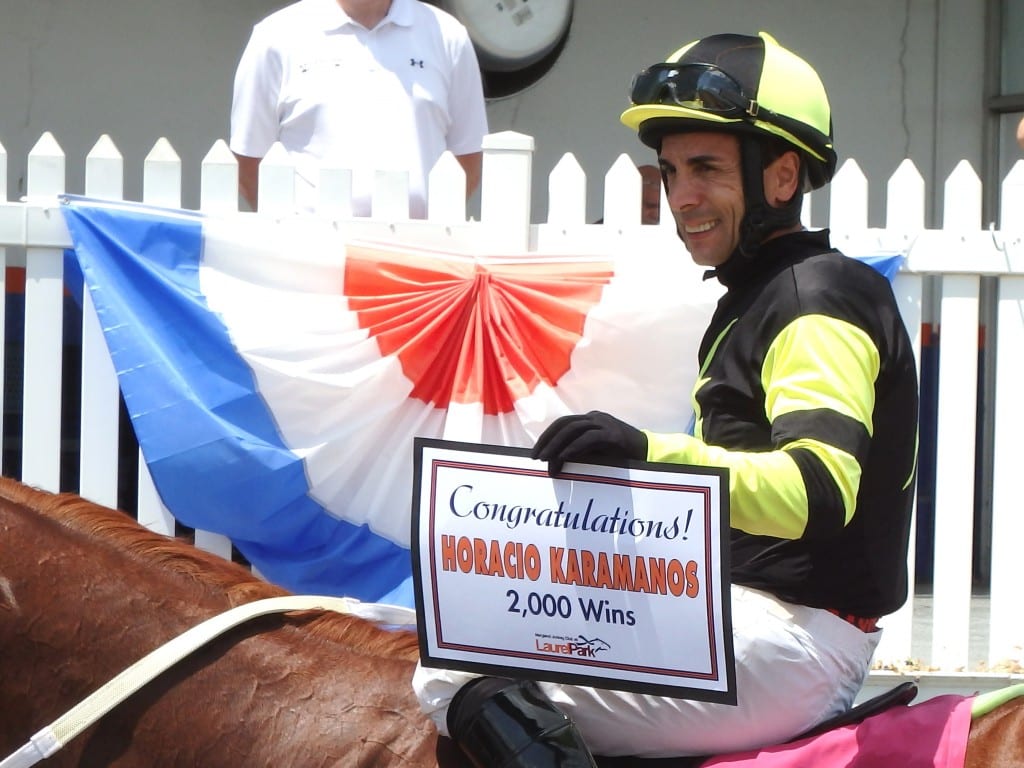 Horacio Karamanos. Photo by The Racing Biz.
Rider Victor Carrasco notched his 1,000th career victory January 26 – just one day after he'd earned win number 999.
Nice to get that out of the way. 
But while Carrasco won't likely be the last Maryland-based (or at least frequently present in Maryland) jockey to reach a milestone this year, he will be the last for a little while.
We reviewed the list of all the jockeys who won at least 10 races at Laurel Park last year, of whom there are 30. Assuming decent health, three of them are virtual certainties to reach a milestone this year, and a handful others range from pretty likely to having an outside chance.
The closest is Angel Cruz. The rider, who won 39 times at Laurel in 2019, is just 27 wins away from 500 for his career. Since he's exceeded 27 wins in every year of his career, he's a near-certainty as long as he's healthy.
The same can be said for Jevian Toledo and Trevor McCarthy. The former has 969 wins, 31 short of 1,000. And the latter needs 58 victories to reach 1,500.
A few other riders are in with a shot but may have to hustle.
The most likely of those is Daniel Centeno, currently riding at Tampa Bay Downs. Centeno needs 103 wins to reach 3,000 in his career. While that's a ways away, the most recent year that Centeno did not reach at least 111 wins was 2003 – at the beginning of his career – so you'd have to say that history's on his side.
Carol Cedeno is another with a legit shot. She's 102 wins shy of reaching 1,000 and has won more than what she needs in two of the last four years.
Then there's Xavier Perez. He has 911 wins in his career, 89 shy of reaching 1,000. He's had one of the more enigmatic careers over the years, his win totals ranging from a high of 133 in 2013 to just 22 in 2016 and 2017. He's bounced back in the last couple years and in 2019 won 77 times. Were he to reach 1,000 this year, it would be his best season since 2014.
On the less likely end of the spectrum are Sheldon Russell (1,359 career wins) and J. D. Acosta (3,316).
Among the riders who spend a decent amount of time in Maryland, Acosta and Centeno are the career wins leaders. They're followed by Horacio Karamanos (2,209 wins in North America, which doesn't include another 2,000 in his native Argentina) and Julian Pimentel (1,716 victories).
CAREER WINS LEADERS
Among riders who won at least 10 times at Laurel Park in 2019, as of Jan. 28
| | | |
| --- | --- | --- |
| RANK | JOCKEY | WINS |
| 1 | Acosta J D | 3316 |
| 2 | Centeno Daniel | 2897 |
| 3 | Karamanos Horacio | 2209 |
| 4 | Pimentel Julian | 1716 |
| 5 | Mccarthy Trevor | 1442 |
| 6 | Russell Sheldon | 1359 |
| 7 | Cintron Alex | 1091 |
| 8 | Carrasco Victor R | 1000 |
| 9 | Toledo Jevian | 969 |
| 10 | Perez Xavier | 911 |
| 11 | Cedeno Carol | 898 |
| 12 | Boyce Forest | 806 |
| 13 | Vargas Jr Jorge A | 723 |
| 14 | Chiappe Ricardo | 628 |
| 15 | Suarez Angel | 609 |
| 16 | Montanez Rosario | 602 |
| 17 | Lynch Feargal | 511 |
| 18 | Cruz Angel | 473 |
| 19 | Gomez Kevin | 294 |
| 20 | Davis Katie | 211 |
| 21 | Hamilton Weston | 191 |
| 22 | Ruiz Jorge | 189 |
| 23 | Rosado Johan | 145 |
| 24 | Correa Julio | 128 |
| 25 | Castrenze Ashley | 127 |
| 26 | Carrasco Carlos | 80 |
| 27 | Whisman Avery | 61 |
| 28 | Rosales Victor | 56 |
| 29 | Pinero Felix A | 44 |
| 30 | Lyapustina Tais | 41 |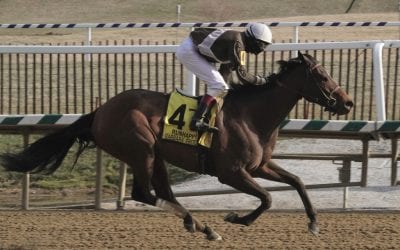 Now that the weekend's Laurel Park stakes are in the book, we've got answers to those five questions we posed last week…