Robb appeals stews' Geisha decision to Commission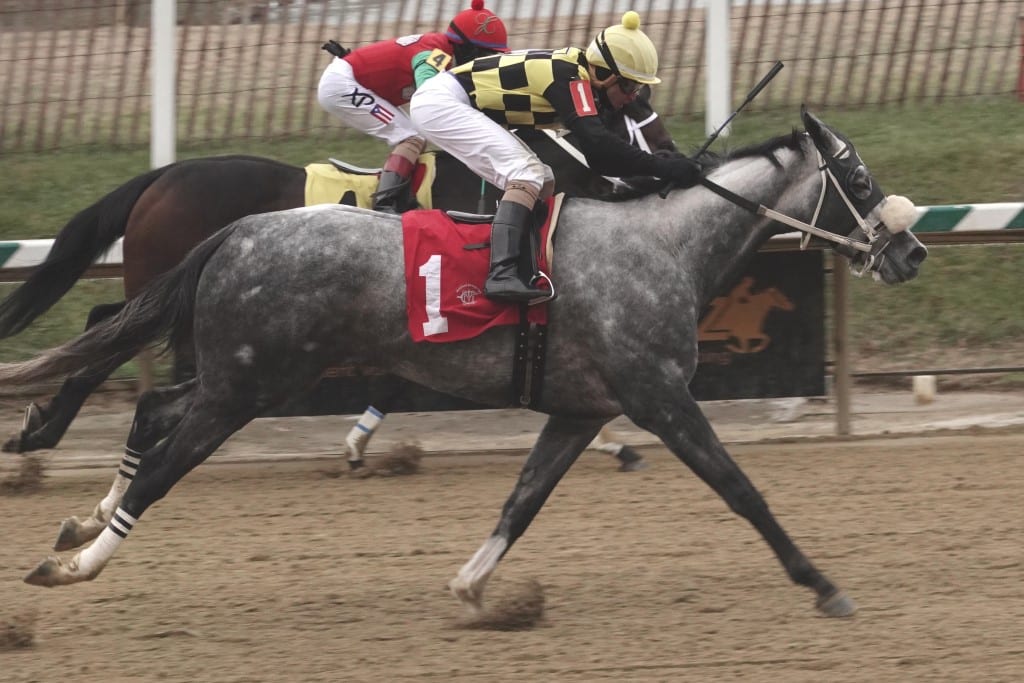 Artful Splatter (outside) withstood the late run of Anna's Bandit (inside), and objections by the latter's trainer and jockey, to win the Geisha Stakes at Laurel Park. Photo by Laurie Asseo.
Saturday's Geisha Stakes at Laurel Park took the horses 1:39.46 to complete. It then took the stewards another 10 minutes to determine whether to take down winner Artful Splatter for interfering with runner-up Anna's Bandit in the stretch.
They declined to do so, seemingly giving the Kieron Magee-trained Artful Splatter – and her owner, Jim Wolf – the first stakes wins of their respective careers.
But not so fast.
Trainer Jerry Robb has appealed the decision to the Maryland Racing Commission, and Commission executive director Mike Hopkins said January 23 it would likely be heard at the Commission's next meeting, February 27.
"How can you not appeal?" Robb asked in an interview. He trains Anna's Bandit for his and his wife Gina's No Guts No Glory Farm.
The incident occurred inside the eighth pole in the one-mile test. Artful Splatter, on the lead throughout, had seized control of the race in upper stretch. But the late-running Anna's Bandit, the 2-5 post time favorite, began to make steady progress in mid-stretch while wide on the track.
Under a pair of left-handed cracks of the whip from jockey Alex Cintron, Artful Splatter suddenly veered several paths outward, into the path of Anna's Bandit, who switched to her left lead, veered inward, switched back to her right lead, and then rallied but fell a half-length short at the wire.
The stewards lit the inquiry light, and both Robb and his jockey, Xavier Perez, objected to the outcome, claiming that Artful Splatter's move had interfered with Anna's Bandit and prevented her from winning the race. However, after a lengthy delay, the stews left the result as is.
"Without a doubt, I think she would have won the race had she not had her race lane taken away," Robb said. "When you watch the gallop out, I'm five [lengths] in front."
Alex Cintron, who rode Artful Splatter, didn't see it quite the same way.
"I knew I was a little clear, but when she went out, and I grabbed her, I knew I was like two lengths in front of her," he said immediately after the race. "But it's always hard for you to know how much distance you have on the other horse."
Those quotes in a sense frame what makes this case interesting. While often the decision to disqualify or leave up a horse rests on whether the outcome would have been different absent a foul, in this case it seems likely that Anna's Bandit would have won had she been able to maintain a straight path; the question here, then, is whether a foul occurred at all.
Robb admitted that there was some clearance between the two horses when Artful Splatter crossed in front of Anna's Bandit, though he estimated it at closer to a half-length than two lengths. And at no point did the horses bump each other.
But Maryland's rules also say that a horse "may not… intimidate another horse; or impede another horse."
That, says Robb, is exactly what Artful Splatter did when suddenly veering out.
"I contend that if you watch the replay, you'll see my filly take herself up a little bit, change leads and go to the inside of that horse," the veteran trainer said. "The announcer was intimidated; the fans were intimidated; I was intimidated. I don't know what more you can do… If it's not intimidation, show me what is."
Robb believes that Cintron's intent was to have Artful Splatter drift outwards towards Anna's Bandit, but that he briefly lost control when his mount ducked out under two left-hand strikes of the whip.
"This horse, he hit twice, and she got away from him. She didn't drift, she ducked," Robb said. "It was abrupt, and it was dangerous."
Of course, whether the Commission will agree with Robb is a different matter. The stewards did not, and the Commission commonly defers to its stewards on matters of judgment regarding the running of races.
If Robb were to lose at the Commission level, he would retain the ability to appeal to Circuit Court.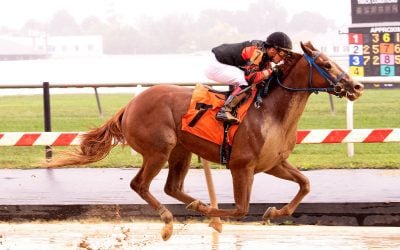 Malibu Moonshine, the undefeated Maryland-bred filly, will put her streak on the line in Saturday's Ruthless Stakes at Aqueduct.