MATCH Series announces expanded slate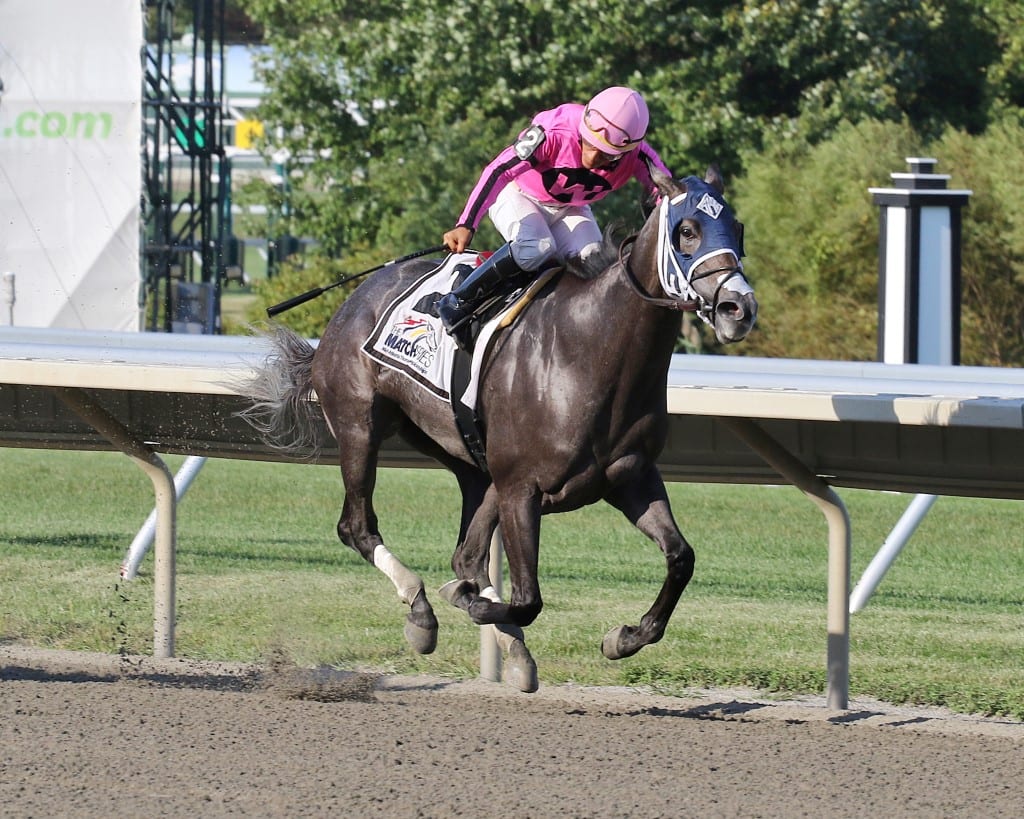 Bronx Beauty won the Regret Stakes at Monmouth Park to secure the overall 2020 MATCH Series title. Photo by Ryan Denver/EQUI-PHOTO.
From a MATCH Series release
The highly popular and critically acclaimed Mid-Atlantic Thoroughbred Championships Series (MATCH) has been renewed for 2020, with an expanded schedule and an increase in owner, trainer and breeder bonus money thanks to new partner racetracks, horsemen's groups and breeder associations.
The Series, which returned in 2018 after a 16-year hiatus, is set for its best season ever. This year's slate, which grows to 35 stakes at 8 tracks, is the result of a commitment by Mid-Atlantic stakeholders to not only link regional stakes, enhance competition, and grow racing's popularity, but also work toward the larger goal of coordination in a region with the largest concentration of daily racing in the United States.
The 2020 Series, which expands from four divisions to five, will begin April 18 with a unique split schedule at Laurel Park and Charles Town and run until Championship Day at Parx Racing on October 10. Except for the split sites on opening day to accommodate Charles Town's entry into the Series, and Pimlico Race Course's races split between Black-Eyed Susan Day and Preakness Day, the Series will continue the new and highly successful concept begun in 2019 of conducting a race in each of the divisions on a single-card format at each participating track, roughly one month apart over a six-month period. Last year, there were 20 stakes spread over five MATCH Series days. Pari-mutuel handle increases were significant.
"The MATCH Series is a testament to the extraordinary cooperation amongst all of the stakeholders in the region to promote our sport, advance the need for cooperation and coordination and our leadership role in advancing health, welfare and safety reforms for our horses. We welcome Colonial Downs and Charles Town back to the Series. We developed one of the best rivalries in racing last year, and look forward to a great competition this year," said Alan Foreman, creator of MATCH and Chairman of the Thoroughbred Horsemen's Association.
The other 2020 racetrack partners are Hollywood Casino at Penn National Race Course, PARX, Delaware Park and Monmouth Park. On the horsemen's side, the Delaware THA, Maryland THA, New Jersey THA, Pennsylvania THA, and Pennsylvania HBPA are participating again this year.
Recognizing the popularity and success of the Series, Colonial Downs and Hollywood Casino at Charles Town Races, both of which were part of the MATCH Series during its initial run from 1997-2001, have rejoined the series, as have the Virginia and Charles Town HBPAs.
The 3-Year-Old Sprint—Dirt Division will join the four divisions from last year: 3-Year-Olds and Up Sprint—Dirt; Filly and Mare Sprint—Dirt; 3-Year-Olds and Up Sprint—Turf; and Filly and Mare Long—Turf. The division for 3-year-old sprinters was part of the MATCH Series before it went on hiatus.
Charles Town and Laurel Park will combine for the launch, with the three dirt stakes in West Virginia and the two turf stakes in Maryland as part of big-event programs at both tracks.
"We're very excited for Charles Town to be included in the MATCH Series for both 2020 and, hopefully, beyond," said Erich Zimny, Vice President of Racing & Sports Operations at the West Virginia track. "We're happy that we were invited to partake and that the Charles Town HBPA showed a willingness to do so on their end as well.
"The series brings awareness to the Mid-Atlantic's racing product and provides some great incentives for owners, trainers and breeders to participate. We look forward to kicking it off in April."
Following the first round of competition, the MATCH Series will be held at Pimlico May 15-16, Penn National June 21, Delaware Park July 11, Colonial Downs Aug. 15, Monmouth Sept. 12 and Parx Oct. 10.
"Colonial Downs is thrilled and honored to be rejoining the MATCH Series in 2020 and looks forward to hosting the horses and horsemen that support this lucrative stakes and bonus program," said Jill Byrne, Director of Racing Operations at Colonial, which was a MATCH partner in four of the first five years of the series.
"The Mid-Atlantic continues to be leaders in the horse racing industry on so many platforms. The MATCH Series allows horsemen to plan a solid schedule for their stables and for fans to experience it at so many wonderful racing facilities."
Each division will offer $75,000 in bonus money for owners and trainers to the top three finishers by points, while the overall MATCH Series leader by points regardless of division will earn an additional $75,000. Owner and trainer bonuses total $450,000, while purse money for the 35 stakes totals $3.75 million.
Horses must have three series starts to qualify for bonus money, and bonus points will be awarded to horses who make five to seven starts in their respective divisions.
Last year four breeder organizations—the Maryland Horse Breeders Association, Thoroughbred Breeders Association of New Jersey, Pennsylvania Horse Breeders Association and Delaware Certified Thoroughbred Program—each offered $5,000 bonuses for the top colt or gelding and filly or mare by overall MATCH Series points. The Virginia Thoroughbred Association and West Virginia Thoroughbred Breeders Association will join that program in 2020, so up to $60,000 will be available in breeder bonuses for horses that start at least three times in the series.
In 2019, 2W Stables' Bronx Beauty (above right) took home the overall championship after winning the Filly and Mare Sprint—Dirt Division in dramatic fashion for trainer Tony Margotta on the final day of the series at Monmouth. Bronx Beauty won the Regret Stakes to tie with Cash is King and Jim Reichenberg's Ms Locust Point (above left) , her division rival, and then won the tie-breaker based on MATCH Series rules
The connections of Bronx Beauty earned a total of $110,000 in bonus funds, and the filly's breeder, Blackstone Farm of Pennsylvania, collected a $5,000 bonus.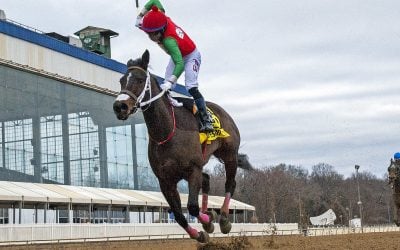 Wondering what the winning speed figures were for the six Laurel Park stakes this past weekend? Answers inside…