McCarthy, Gonzalez among Midlantic meet champions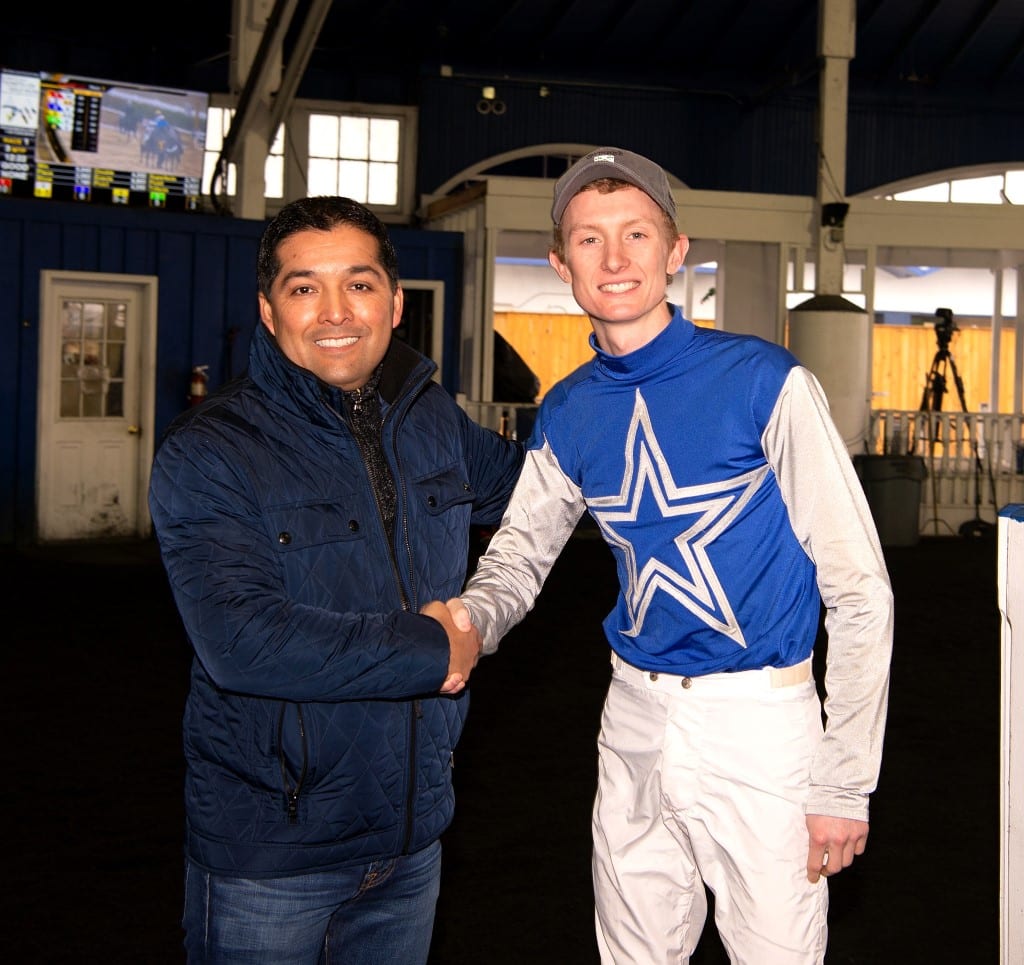 Claudio Gonzalez and Trevor McCarthy. Photo by Jim McCue, Maryland Jockey Club.
A rainy Sunday couldn't dampen spirits as jockey Trevor McCarthy and trainer Claudio Gonzalez put the finishing touches on another championship during closing day of Laurel Park's calendar year-ending fall meet.
McCarthy, 25, was blanked on three mounts Sunday but finished with 52 wins, seven more than runner-up Sheldon Russell, also ranking first with more than $2.3 million in purse earnings. Alex Cintron was third with 44 wins.
It was the 11th career title for McCarthy in Maryland, where he was the state's leading rider in 2014 and 2016. McCarthy, a Delaware native represented by Scott Silver, has won five of six meet titles since returning to Maryland full time last fall.
"The jocks race was nail-biting. It was competitive. We were all working hard and everybody wanted it," McCarthy said. "I had two really good days here this fall meet and all credit goes out to all the trainers and the owners and my agent, Scotty, who does a good job."
McCarthy sealed his latest title by winning nine races over a three-day span, starting with a hat trick Dec. 26 and adding five more Dec. 28 including three of five $100,000 stakes on the Christmastide Day program. Overall McCarthy won 11 stakes during the fall meet, four more coming on Sept. 28.
"Those guys, Alex and Sheldon, they really pushed me. They're great riders. They ride good horses, too, and they ride great races," McCarthy said. "It's really competitive. We have a great riding colony here. If you watch races all year long, these guys win stakes all over. Everybody says maybe we don't have the best colony here but these guys they prove it when they go out of town."
The 43-year-old Gonzalez, a cancer survivor, led the fall meet with 48 wins and more than $1.3 million in purse earnings. Mike Trombetta finished second with 25 wins while Dale Capuano and Kieron Magee tied for third with 20.
Gonzalez has now won or shared 11 training titles in Maryland, all at Laurel, including eight of the last nine meets dating back to the spring 2017 stand. He will also finish as Maryland's overall leading trainer for the third straight year.
"It's like I always say, we're working hard. It's not only me. The whole team, the exercise riders, my two assistants, the blacksmith, the vets, everybody. It's a team," Gonzalez said. "Everybody is doing their job and that's why we've had the success we're having. I have to thank them because it's my name people see, but without them we are not here."
Robert D. Bone edged James C. Wolf for leading owner, 16-15. Joseph Besecker, first with more than $433,000 in purse earnings, was third with 12 wins.
MEET WINNERS AROUND THE REGION
Familiar names dominated the Charles Town meet standings. At the meet, which encompassed the entire calendar year, jockey Arnaldo Bocachica and trainer Jeff Runco dominated their rivals. Bocachica won 183 races, scoring at a 33% clip; that was double the total amassed by runner-up Christian Hiraldo, who won 91 times. Newcomer Denis Araujo and Keimar Trotman tied for third with 80 wins apiece. Bocachica's earnings of more than $3.2 million nearly doubled Hiraldo's to top that category, as well.
In the trainer standings, Runco won 127 times, while his runners earned nearly $2.7 million, both of which were tops at the track. His wins left him well clear of Ronney Brown, who won 85 times, in second, and Tim Grams (60 wins) in third. And his earnings easily topped the $1.7 million logged by Grams and the $1.2 million registered by Javier Contreras…
As at Charles Town, the jockey race at the yearlong Penn National meet was no race at all. Edwin Gonzalez won 219 times during the year, easily clear of runner-up Tyler Conner (143 wins). Julio Hernandez and Inoel Beato tied for third with 130 wins apiece. Those four — in that order — also led all jocks by earnings, with Gonzalez' mounts earning more than $3.2 million to lead the colony.
The trainers' race at Penn National was similarly lopsided, with Tim Kreiser winning 125 times to finish well ahead of runner-up Kimberly Graci (80 wins). Brandon Kulp (78 wins) finished third in the standings. Kreiser's total earnings of nearly $2.1 million were about $900,000 more than runner-up Graci.
Parx Racing's meet continues with live racing slated for December 30-31. While the trainer title is decided — Joseph Taylor's 103 wins have him a country mile ahead of Scott Lake (69) — the jockey race could come down to the final day. Frankie Pennington and Mychel Sanchez enter the meet's final days deadlocked, with 143 wins apience. Pennington is scheduled to have seven mounts over the two days, while Sanchez has 16…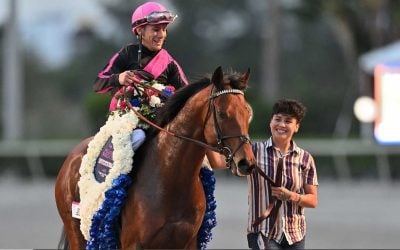 Art Collector drew off in the stretch for a dominant win at long odds in Saturday's G1 Pegasus World Cup at Gulfstream Park.