Mid-Atlantic racing roundup, December 26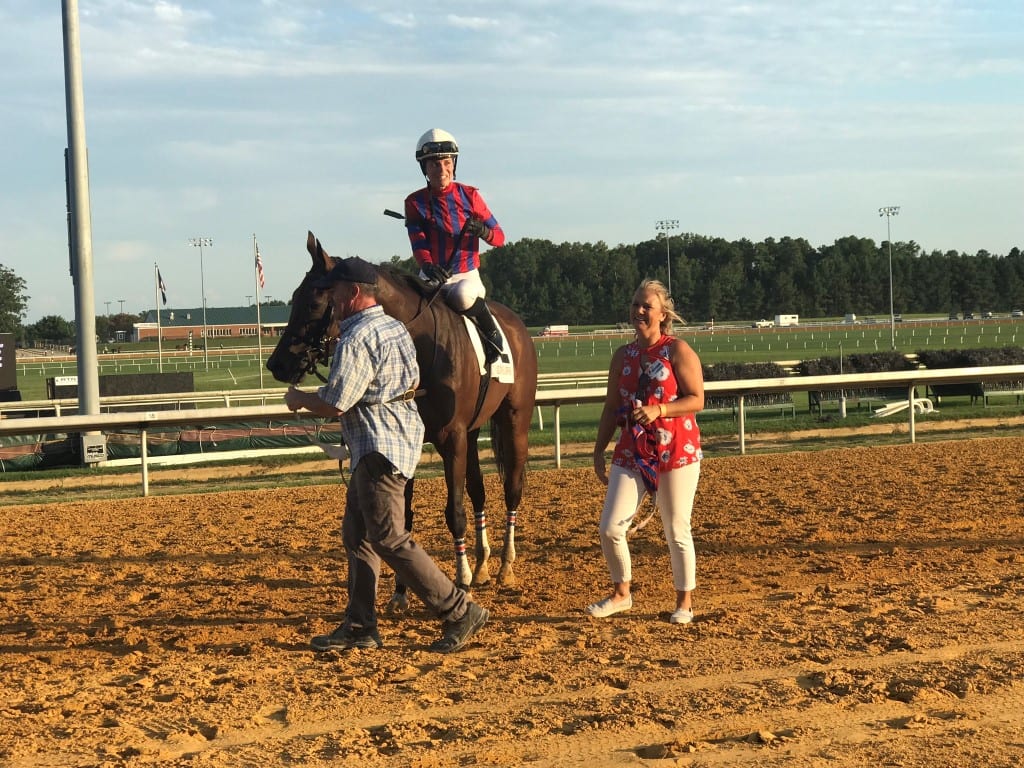 Forest Boyce aboard What the Beep earlier this year at Colonial Downs after they won the M. Tyson Gilpin Stakes. Photo by Nick Hahn. 
Plenty of racing action took place throughout the Mid-Atlantic this past week.
Here's your five-minute read to get caught up on all of it:
LAUREL PARK
Two jockeys achieved career milestones this weekend. Xavier Perez won his 900th race in Saturday's opener, winning with 1-5 favorite Lawn Boy. He went to the lead early, getting pressure from the outside, and brushed it off for the score. Perez has won 74 races this year, making this his most successful campaign since 2014, when he won 98. He picked up win 901 in Sunday's 9th, riding Olin's Honor.

Forest Boyce won her 800th race on Saturday, scoring aboard Limited View in a n/w2x allowance. She got entangled in an early duel in the seven-furlong contest, but drew off in the stretch to win by 4 ½ lengths. This marked Boyce's 52nd win of the year.

Leading trainer Claudio Gonzalez pulled a hat trick on Sunday's program. He swept the early double with Princess Cadey in race 1 and Nana's Shoes in race 2. Gonzalez followed it up with a race 5 score, sending out 1-5 King Leo to a win. He's all but clinched the training title at the meet, having won 46 races to the 21 of runner-up Mike Trombetta.

The jockey race remains a dogfight heading into the last week of the season. Sheldon Russell is in front, with 45 wins, but Alex Cintron and Trevor McCarthy are hot on his heels, with 43 victories apiece. With four days left of racing in 2019, this race is likely to come down to the wire.
CHARLES TOWN RACES
She's Quiet came back from Laurel Park to win Friday's feature, a n/w2x allowance at 6 ½ furlongs. Six lengths out of it in the early stages, she made a two-wide rally up the backstretch, pulling alongside early leader Decoupage entering the stretch. She got up late to win by 1 ¼ lengths for owners Mark Becraft and Jesse Rowland, trainer Jeff Allen, and jockey Erick Lopez. This filly's won three times from eleven starts this year, earning almost $89,000.

Arnaldo Bocachica and Jeff Runco made their titles official Saturday night, as they became the official leading jockey and trainer, respectively, at Charles Town for 2019. Bocachica finished with 183 wins, more than doubling the total of runner-up Christian Hiraldo. Bocachica earned more than $3.2 million at the meet, and finished in the top 3 with 64% of his mounts.

Runco had a similar advantage over his fellow trainers, with 127 wins, compared to the 60 of runner-up Tim Grams. Runco's meet earnings were more than $2.4 million.
PARX RACING
Parx had a dramatically abbreviated race week: Saturday's card was cancelled just before the first race, due to rapidly deteroriating track conditions. With no racing on Tuesday due to Christmas Eve, Monday was the only day of racing at the track this week.

Fix Me a Sandwich continued his very fine campaign Monday, as the speedy gelding won his seventh race of the year, from seventeen starts. As he usually does, he burst out of the gate and opened up a clear lead. He never looked back, winning by 4 ¾ lengths, while covering the 6 ½ furlongs in 1:16.48. This year, he bankrolled more than $150,000, while making all but two of his starts at Parx. 

Neither Frankie Pennington nor Mychel Sanchez won a race on Monday, meaning that Pennington still holds a two-win edge, 143-141, going into the last week of the season. Joseph Taylor, with 102 wins, has already clinched the training title.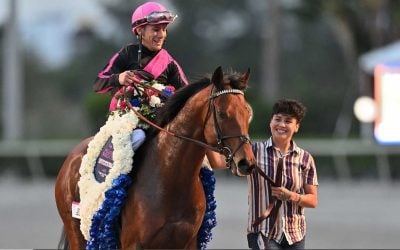 Art Collector drew off in the stretch for a dominant win at long odds in Saturday's G1 Pegasus World Cup at Gulfstream Park.