Maryland Jockey Club to race 177 days in 2020, stakes sked told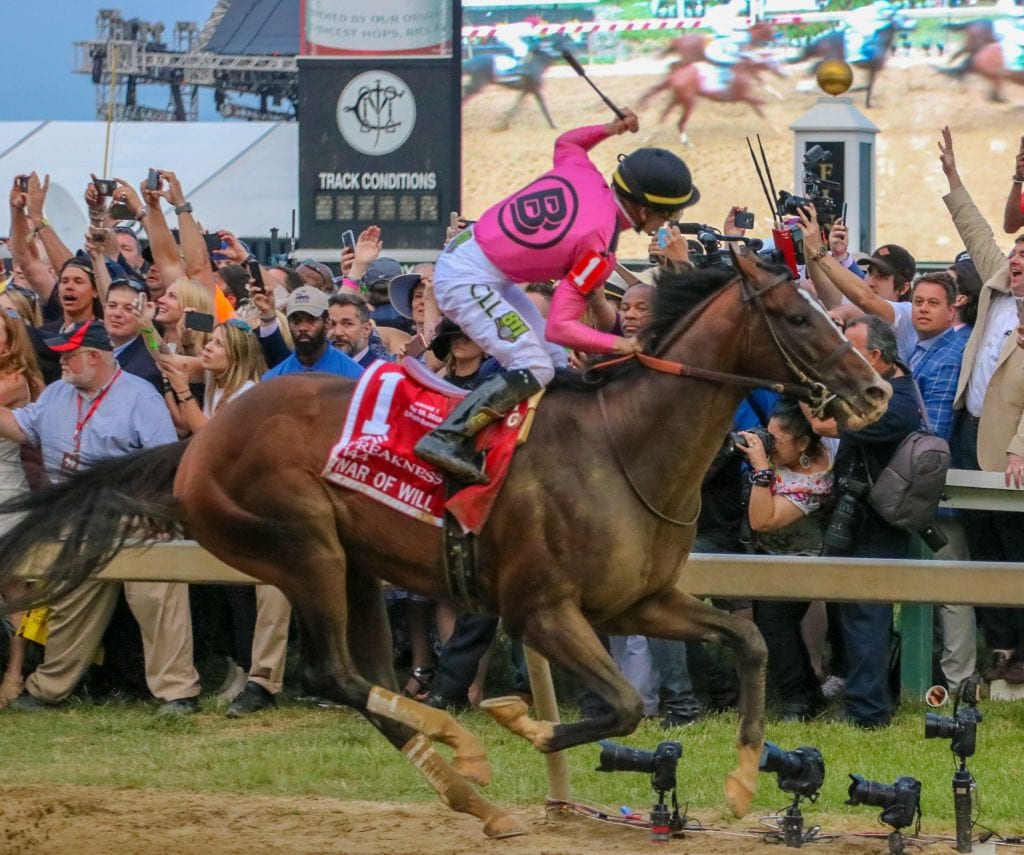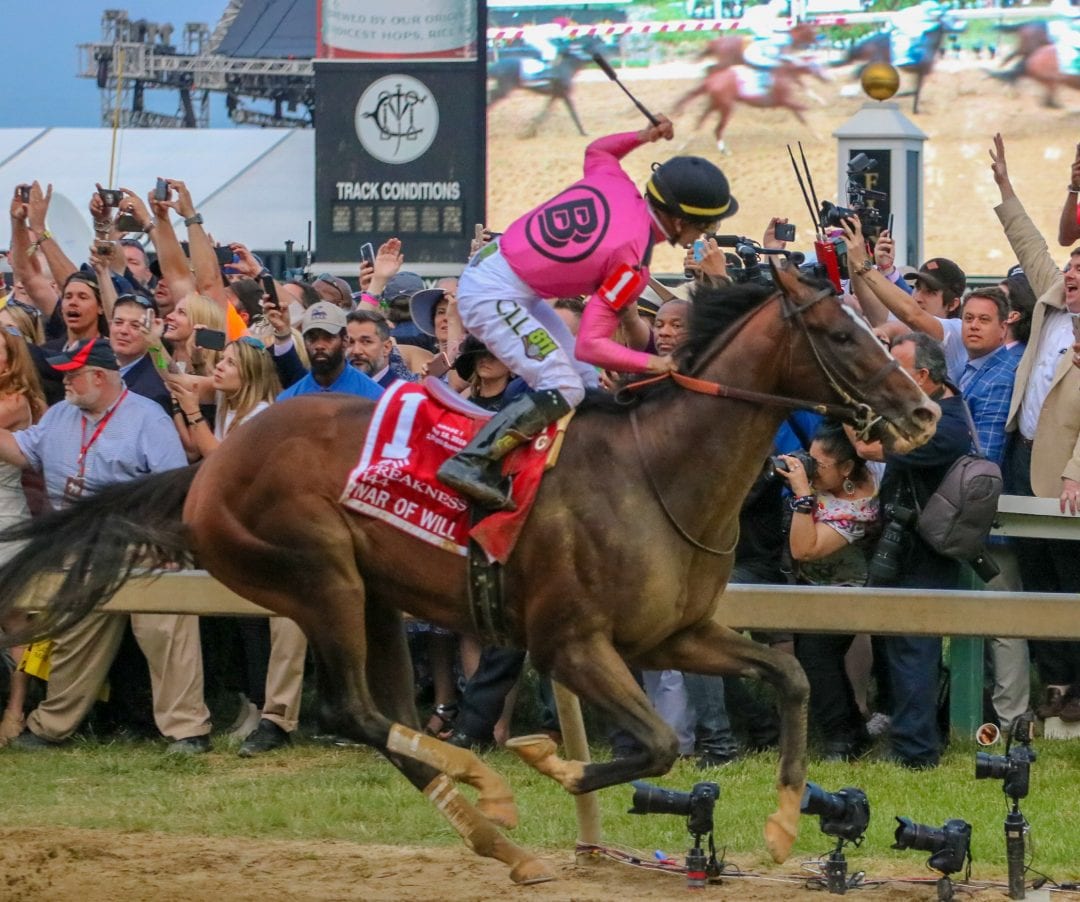 War of Will won the 144th Preakness Stakes at Pimlico. Photo by Dottie Miller.
Reversing a trend of recent years, the Maryland Jockey Club has requested — and received approval for — fewer racing days than the prior year.
The MJC on Thursday obtained approval from the state Racing Commission to run 177 days at its two tracks, Laurel Park and Pimlico Race Course, down from the 180 for which it received approval for the 2019 season.
Timonium, which is owned by a separate entity, the Maryland State Fair and Agricultural Society, is entitled to run as many as 10 days during the State Fair and is expected to land on seven, which has been its typical number in recent years.
The reason for the MJC reduction: field size, according to Maryland Jockey Club president Sal Sinatra.
"It's a struggle for horses, but the horsemen said they're going to have horses for me," he explained in an interview after the Commission meeting.
Sinatra said he had sought even fewer days before reaching a compromise with the state's horsemen.
"You know, in this industry, you really don't want to be begging horses to be doing things they shouldn't be doing," he added.
The pinch for horses may become more acute in 2020 even than it has been in recent years. Monmouth has increased its fall schedule, with 19 days slated to be run at the Meadowlands; and Virginia's Colonial Downs also is expected to increase its live racing schedule.
Of the MJC days, 165 are scheduled for Laurel Park, with 12 tabbed for Pimlico; that's been the approximate schedule for the last couple of years. See the full schedule here, at the Maryland Thoroughbred Horsemen's Association website.
Pimlico will take place from May 7 through May 25, with Timonium hosting live racing during the period from August 28 through September 7. Racing in the Free State is set to take place year-round on a four-day-a-week schedule most months; racing will occur three days a week in March, June, July, August, and December.
The Maryland Jockey Club also announced its stakes schedule for the first part of 2020, with the tracks set to offer 38 stakes — 11 graded — worth a combined $6.3 million through the end of May.
The state's biggest live racing day will be — as ever — the third Saturday in May. The Grade 1, $1.5 million Preakness will anchor a 10-race program that includes four other graded events: the Grade 2 Dixie, Grade 3 Chick Lang, Grade 3 Gallorette, and Grade 3 Maryland Sprint.
"We feel we have adjusted and improved our stakes schedule for the first half of 2020," Sinatra said in a release. "We've increased the purse of the Tesio, a 'Win and In' for the 145th Preakness, to $200,000, and we've given horsemen some additional incentives to run the weekend of the Preakness. We're also hopeful that the Chick Lang and Gallorette will be upgraded and add to the excitement of Preakness weekend."
The Preakness will take place May 16, with the day before highighted by the Grade 2 Black-Eyed Susan Stakes, Grade3 Pimlico Special, and five other stakes.
The first stakes of Maryland's 2020 season will take place at Laurel Park January 18 with four stakes for older horses on tap. Those lead in part to the first graded events of the year locally, which take place February 15, with the Grade 3 Barbara Fritchie and Grade 3 General George highlighting a five-stake card.
Two months later will be the richest weekend of the Laurel season, April 17-18, when it hosts eight stakes worth a combined $875,000 over two days. Highlights include the two "Win and In" races, the Tesio ($200,000 purse) and Weber City Miss ($125,000).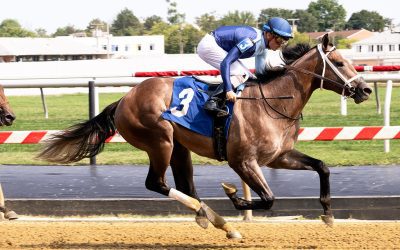 Roan Burgundy debuted with a good-looking score in a dirt sprint at Pimlico. He's entered now in Saturday's grassy Laurel Futurity.