Genaro: Mountaineer questions need answers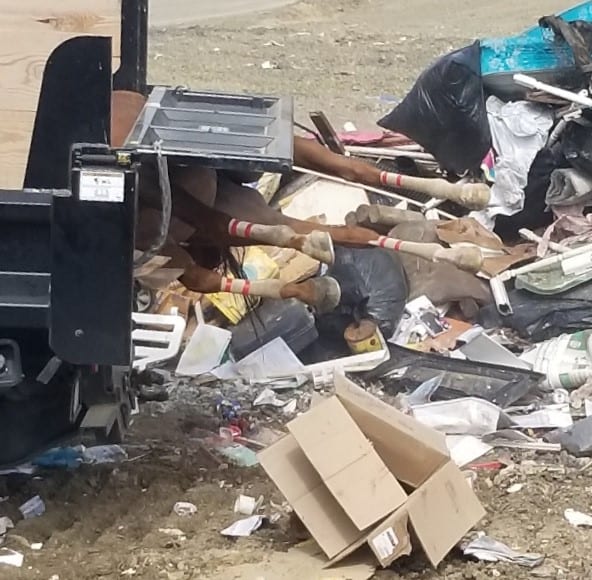 A horse who last ran at Mountaineer Park was allegedly euthanized because of an injury following her last race and then unceremoniously dumped in a landfill. Photo provided by People for the Ethical Treatment of Animals.
Over the last two weeks, I've made a lot of phone calls to West Virginia. To sheriff's offices in two counties, to multiple landfills, to the Mountaineer Race Track executive offices. I left a lot of messages; some people called back, some didn't. In those first few days, when I did get someone on the phone, "Nope, don't know anything about that" was the response I got.
On the afternoon of Wednesday, Oct. 16, a press release with a shocking headline landed in my inbox. "Racehorse Found Dumped at Landfill." It was from People for the Ethical Treatment of Animals (PETA).
The release featured photos of a dead horse, only its belly and legs visible, leg wraps still on. It was on a pile of garbage, big green trash bags, a truck in the foreground, empty space beyond it. It's impossible to get a sense of the scene; the photo is taken at fairly close range.
PETA had received from the photo from someone it identified only as a "whistleblower"; Kathy Guillermo, the organization's senior vice president for equine matters, said that she does not believe that the whistleblower works at nearby Mountaineer Race Track, where the horse last raced, and that the person who sent the photo to PETA was likely someone at the landfill to dispose of trash.
Guillermo said that she had called Mountaineer to get more information, and that someone who refused to identify him/herself confirmed that the horse had indeed come from the track. It is thought to be Bridget Moloney, an eight-year-old New York-bred mare that had last raced on Sept. 25 at Mountaineer. It was her 73rd start and first off a three-month layoff. Two back, she had won at Mountaineer, running for a $15,000 tag.
Bridget Moloney finished fifth of sixth on Sept. 25, beaten by more than 40 lengths. "Bad step, vanned off" read the chart comment.
Multiple news sources (Daily Racing Form, Lexington Herald-Leader, Thoroughbred Daily News, BloodHorse) have since determined that Bridget Moloney was euthanized after that race as a result of the "bad step" she took; that it's established practice and legal in West Virginia for dead horses to be brought to landfills; and that disposal protocols were not followed. While it is indeed accepted practice for horses that die at Mountaineer to be brought to a landfill in nearby Brooke County, they are supposed to be buried in a particular area of the landfill, not with trash discarded by the general public.
That's what we know, which is not nearly enough.
Allegedly, the horse believed to be Bridget Moloney was brought to the landfill shortly after being euthanized, and the photographs are believed to have been taken in late September. Why was she not brought to the area of the Brooke County landfill designated for horse corpses? Why were protocols not followed? Why did it take a month for the story to come out? Why did so many people initially refuse to answer questions? Why is the racing industry so bad at dealing with troubling stories?
Presumably, Jim Colvin, Mountaineer's director of racing operations, would be able to answer some of his questions. He has not returned a call that I placed two weeks ago; this week, a phone call to the racing office went unanswered, without an option to leave a message.
Jami Poole is president of the Mountaineer Park HBPA, and last week he told BloodHorse that his organization was "determined to find out why normal protocol wasn't followed in the handling of the horse's remains."
Contacted this week, he said that he had no definitive answers, but he did offer that he thought it was a set-up orchestrated by PETA and a Mountaineer employee.
"The horse wasn't where it was supposed to get put," he said. "It's never been done like that. You don't do something for five years and then do something different. Mountaineer employees hate management because they don't pay them enough and they don't pay overtime."
PETA's Guillermo categorically denied that explanation.
"That is a false, absolutely absurd, and frankly a laughable statement," she wrote in an e-mail. "We don't have to stage photos. If we wanted to embarrass the racing industry, we could take a video camera to any track in America and wait for a horse to break a leg. The photo was taken by someone who was simply taking trash [to] the landfill and was horrified to see a horse being unloaded onto a pile of garbage. If this is the best defense West Virginia has to our request for an independent investigation into the death of Bridget Moloney, then racing is in big trouble. My advice to Mountaineer: Clean up your act."
As people on social media have pointed out, what happens to a horse after she's dead is less important than what happens to her when she's alive. Said Guillermo in a previous e-mail, "We found the photos—which were taken by someone unaffiliated with PETA—deeply upsetting, but our concern from the start has been about the horse while she was alive. What happened to her? Was she unsound when she was raced? What medications was she on? What veterinary care did she receive?
"If this leads to a serious necropsy program, and more importantly, changes like we've seen in California, that would be beneficial."
On Oct. 17, the West Virginia Racing Commission put out a statement that said in part, "During the 2019 Legislative Session, the West Virginia Racing Commission was successful in getting legislation passed to give it funds to conduct necropsies on horses that die or that are euthanized on our racetracks. Going forward, as we are able to implement a plan to utilize those funds, deceased horses will be transported to qualified necropsy facilities for a necropsy. Thereafter, the facility will be responsible for the humane and respectful disposition of the remains."
"Going forward." "Thereafter." It's 2019. Why are necropsies not standard procedure? Why are public records of equine injury and fatality so hard to obtain? Why is the industry so often reactive instead of proactive?
Both PETA and a small, grassroots organization based in upstate New York, Horseracing Wrongs, have established themselves as go-to sources for mainstream media when it comes to equine welfare. The founder of the latter, Patrick Battuello, advocates for the abolition of horseracing and has made multiple high-profile media appearances, including in the Washington Post, Deadspin, and on ESPN; no single person or entity in U.S. horseracing can claim the platform he has.
West Virginia has yet to begin its necropsy program, and it's too late for Bridget Moloney. We'll never know whether her injuries and death might have been prevented, or whether she was too unsound to continue racing. And once again, the people responsible for answering questions and improving safety are a step — or a furlong — behind those who want horseracing to go away.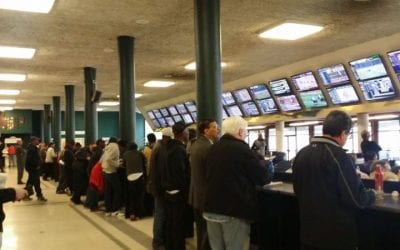 In a new Off the Pace, Mike Valiante shares his vision of what the racetrack of the future ought to look like. Do you agree?