Shocker! Castle Bound rallies for WVBC upset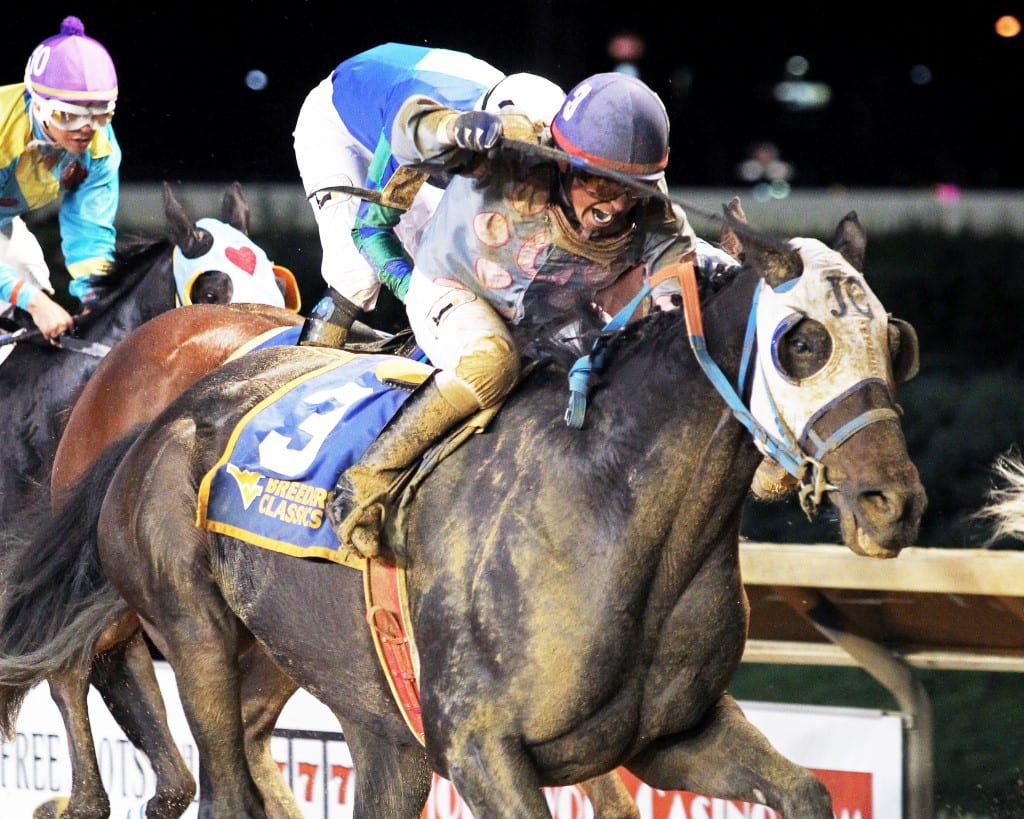 Castle Bound scored a shocker in winning the West Virginia Breeders Classic, paying $138 to win. Photo by Coady Photography.
Heading into Saturday's $300,000 West Virginia Breeders Classic, favorites had won four consecutive races and five of the seven on the card.
That streak ended with an exclamation point, as Castle Bound rallied from the rear of the field to win by a head at odds of 68-1. The six-year-old Windsor Castle gelding paid $138.40 to win.
"You never know is this business," said winning trainer James W. Casey, who also bred and owns Castle Bound. "We were hoping for fifth probably. I had one a year ago pay around $100, but those are the two longest I ever had. We had two or three we were going to put in there. We weren't sure we would get in, but we thought that this one would like the distance. I didn't even know he won. I was watching another horse."
It was Casey's ninth training win in the biggest local event for state-bred winners.
Grade 2 Charles Town Classic winner Runnin'toluvya loomed the 1-5 choice in the Classic as the field awaited for the gates to open. But before the starter could turn them loose, Runnin'toluvya reared up in the gate, nearly flipped over the back of the stall, and then lunged through the front gate. After a brief inspection by the state vet and trainer Tim Grams, who was close at hand on the pony, Runnin'toluvya was given the all-clear to run and jockey Christian Hiraldo climbed back aboard.
When the gates opened, Runnin'toluvya broke sharply and then settled into a stalking spot behind Opera Nite (Luis Batista) through the first turn and passing under the finish line the first time. Opera Nite continued to show the way down the backside with Runnin'toluvya in close pursuit, but before the field reached the far turn the favorite had nothing left in reserve and eventually backed through the field and checked in last as the 1-2 choice in the Classic title defense.
"He had a cut on his left stifle," Grams said. "I should have scratched him. He'll be okay. It looked worse than what it was. I could tell when they came by us the first time that he really wasn't going to win it."
After shaking loose from Runnin'toluvya, Opera Nite readied for the challenge from stable mate North Atlantic, runner-up in the two previous editions of the Classic, but neither Jeff Runco trainee saw long shot Castle Bound (Gustavo Larrosa) rallying widest of all down the center of the track.
Sent out at 68-1 following a series of dull outings and seven winless starts to begin the campaign, Castle Bound closed willingly late to nail Operate Nite for a head victory while getting the nine furlongs in 1:53.73.
"When the favorite broke through the gate, I knew he wasn't going to be as good," said Larrosa, who won the 2012 Classic aboard Lucy's Bob Boy. "There was a lot of speed in the race, so I just wanted to save ground down the backside and on the far turn. When I angled off the rail turning for home I had a lot of horse. I knew that I had the chance to run him down. He just finished really strong."
While Castle Bound and friends blew up the toteboard — the $1 exacta, with 16-1 Opera Nite in second returned $1853.50 — in the Cavada, the $175,000 feature for fillies and mares, class proved best.
In the co-featured, $175,000 Cavada Breeders Classic for state-bred fillies and mares, Anna's Bandit (Xavier Perez) easily lived up to her role as the 1-9 favorite when she saved ground through the early stages, angled three-wide down the backside to loom a threat, then surged to command on the far turn and drew clear in the lane to a four-length score by getting the seven furlongs in 1:26.37.
A five-year-old Great Notion mare trained by John [Jerry] Robb for owner No Guts No Glory Stable [wife Gina Rosenthal, et al], Anna's Bandit notched her third straight stakes tally and fourth straight victory overall when she romped home as the odds-on choice in the Cavada. Anna's Bandit has now won seven of nine starts this year and sports 14 victories and just over $600,000 from 30 career outings and could be headed to Laurel Park for the Maryland Million Distaff next weekend.
"She's already been nominated [to the Maryland Million], so we'll enter and then see how she's doing," Robb said. "If everything's perfect then we'll go in the Maryland Million. If not, then we won't go. But my wife was a little nervous before the race because speed had been holding up all night and this filly wasn't going to be on the front. But she got a perfect trip and she finished really well, and now we'll see how she comes out of it."
Perez has always had high praise for Anna's Bandit and relished the chance to steer her to victory in the Cavada for Robb.
"Jerry was concerned that speed was holding up all night, so he wanted me to be close to the leaders early," Perez said. "We got away in fifth and then once we got clear down the backside she was going so easily I wasn't worried. When she went past the leaders on the far turn and made the front she switched leads and she just drew away. I had a lot of horse in the lane. She's definitely a pleasure to ride."
LATEST WEST VIRGINIA NEWS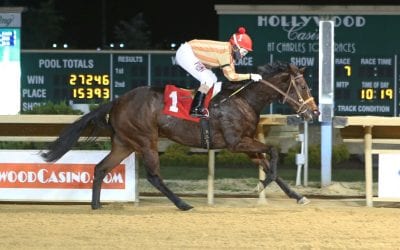 With her main rival scratched, Shutupn'kissme controlled throughout en route to a win in the $50,000 Eleanor Casey Memorial Saturday at Charles Town.