Fasig-Tipton yearling sale: average up, gross sales flat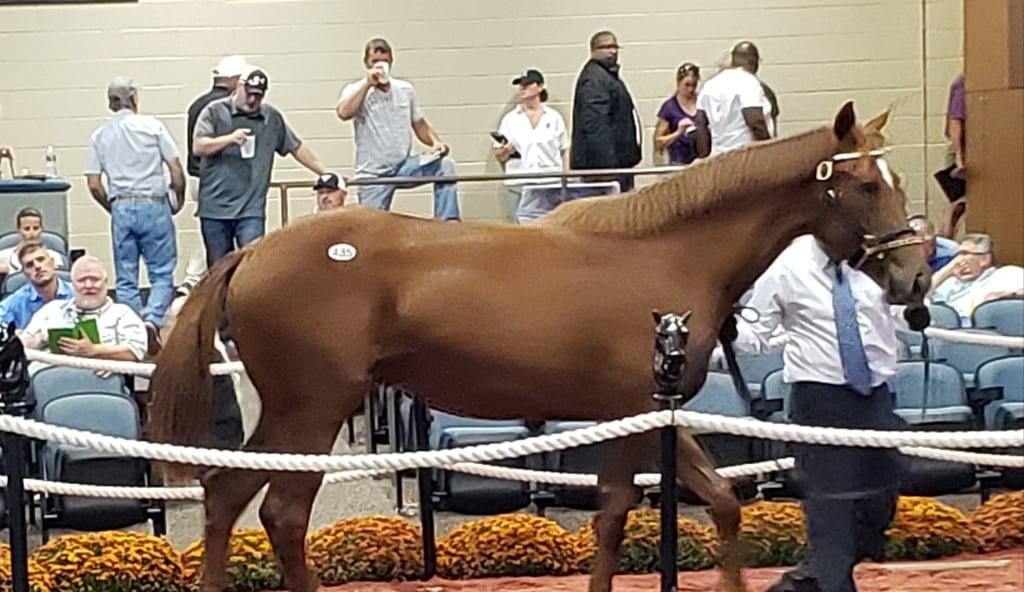 The final hip through the ring, by Shackleford, brought a top bid of $4,000. Photo by The Racing Biz.
The average rose but, with a book smaller than last year, the Fasig-Tipton Midlantic Fall Yearling sale, which concluded Tuesday, saw gross sales that were basically flat compared to 2018.
A total of 381 horses went through the ring during the two-day event, and 300 of them found new homes. The average sale price was $24,253, good for a gross of $7,275,900.

The average was up 12 percent versus the 2018 figure of $21,653, and as a result, the gross was down less than one percent.
The buyback rate was 21.3 percent, down just slightly from last year's 21.8 percent.
"It's pretty much in line with last year," said Fasig-Tipton Midlantic sales director Paget Bennett. "I think overall everyone has to be pleased."
Entering the sale, many had predicted a so-called polarized market, in which there was plenty of money available for higher-end horses but very little for the rest. That's been the case both regionally and nationally for several years.
While that continues to be something of an issue, consignors seemed to think it was less prevalent this year than in recent prior sales.
"I think the sale's gone very well," said consignor Bill Reightler, who sold the sale-topper. "We've sold the heck out of horses in the $20,000 and up range."
And Sabrina Moore, whose Greenmount Farm consignment sold eight horses, called it an "honest sale."
To some degree, the numbers bore that out. The average price of the sale's top quintile rose from $61,000+ to $71,250. But the average of the bottom quintile also rose, from $1,908 a year ago to $3,068 this year.
"There were some nice surprises to a lot of people," Bennett said.
One who professed to be surprised was longtime bloodstock agent Cary Frommer. Frommer bought 15 horses, some for end users and some to pinhook. But she said she'd seen more pinhookers here than she'd expected. She bought four of the 11 horses who fetched prices of $100,000 or more at the sale.
"I thought it was a little strong," she said. "This is my home. I come here and I buy Grade 1 winners out of here and I buy million dollar pinhooks out of here. I'm going to be fine, but when I started seeing the usual suspects around, I thought it wasn't going to be as easy as I hoped. I thought the prices reflected that for a nice horse."
Reightler, who sold sale-topping Honor Code colt, Hip 237, which brought a winning bid of $190,000, agreed.
"The buyers realize they can come here and buy horses at good value, so i'm really encouraged," he said. "In the past it's been the top horses just sell, and we can't sell the others."
By contrast, he said, this year 33 of the 38 he put through the ring left with new owners.
Horses bred in the region were prominent throughout the sale. More than half of the hips sold were Maryland-breds, among them four that brought at least $100,000. Pennsylvania-breds had a slightly higher average sales price than did Maryland-breds, and Virginia-breds were higher still; the nine Virginia-breds to sell averaged over $40,000.
And the sale topper, while not bred in the region, is Delaware-certified.
"This is a great marketplace," Bennett said. "People love buying out of this sale, and they always find good value."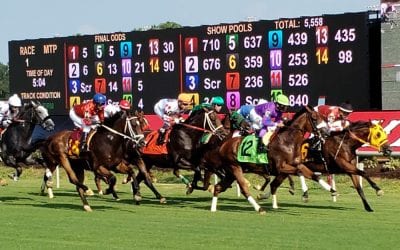 The Virginia Racing Commission this week approved a 2024 Colonial Downs schedule that looks like 2023 – but it's what may come next that's most interesting.