Wins for Twirling Owen, Hypothesis have connex thinking of WVBC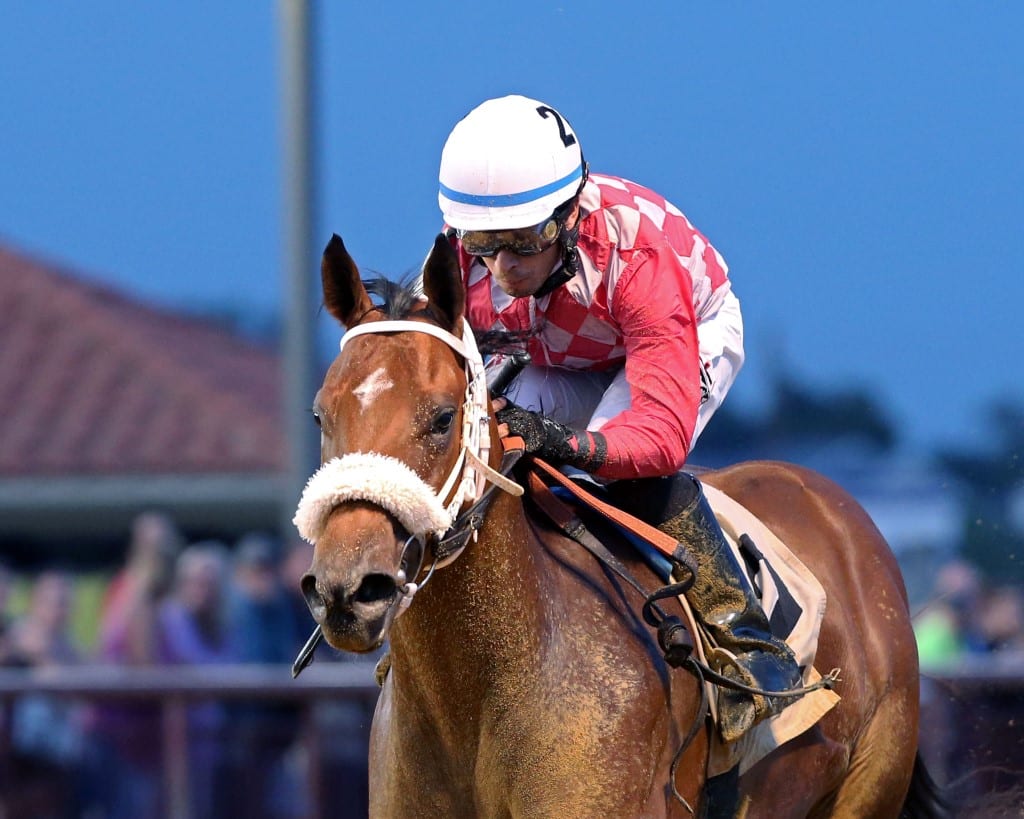 Hypothesis won the Henry Mercer Memorial Stakes at Charles Town Races. Photo by Coady Photography.
A pair of West Virginia-bred stakes for two-year-olds during the early portion of Saturday's Charles Town Oaks card perhaps offered owners, trainers and onlookers a chance to see which juveniles could shine on the upcoming West Virginia Breeders Classics Night next month.
In the first of the pair, the $50,000 Rachel's Turn Stales for state-bred two-year-old fillies, much of the drama surrounding the event evaporated in the early stages when 2-5 favorite Coach Rube broke slowly and trailed the field down the backside. That enabled the speedy Twirling Owen (Arnaldo Bocachica) to come away running to gain command down the backside and maintained a comfortable lead throughout en route to a four-length score in 52.72 for the 4 1/2-furlongs.
A juvenile daughter of Twirling Candy trained by Anthony Farrior for owner-breeder James F. Miller, Twirling Owen ended a modest three-race skid by notching her second win in five career outings. She had won at first asking as the solid 8-5 choice against open maiden special weight company at Laurel Park in April, but had been fifth once and sixth twice in three subsequent outings.
"She was having some breathing issues when we took her to Kentucky and New York, so we had the throat surgery done on her," Farrior said. "She was still a little anxious at Timonium and didn't break all that well. But today she broke really sharp and the favorite didn't, so we were able to get an early lead. The plan is to bring her back here next month [for the West Virginia Triple Crown Nutrition Stakes]. That race is 6 1/2 [furlongs] but I think she will be okay stretching out."
Bocachica knew that his chances for victory improved dramatically in the seconds following the break. While his filly came out running and never looked back en route to her first stakes score, Coach Rube came out flat-footed and trailed the field down the backside and rallied widest of all to get third as the 2-5 choice.
"When I looked over and saw the two [Coach Rube] didn't break, I knew I was going to be in good shape," Bocachica said. "She was going pretty easily on the far turn. I didn't really have get after her too much in the lane. She was pretty good today so we'll see how she does going 6 1/2 [furlongs] here next month."
One race later on the card, Hypothesis [Gerald Almodovar] overcame early traffic trouble to rally from just off the pace to capture the $50,000 Henry Mercer Memorial Stakes for West Virginia-bred two-year-old colts and geldings by three lengths in 52.51 for the 4 1/2-furlongs. A juvenile gelded son of Algorithms trained by Crsytal Pickett for owner Jill Daniel, Hypothesis rebounded from a fourth-place finish in a turf stakes at Colonial Downs to notch his second win in three career outings and push his earnings past $50,000.
"He broke a lot sharper today than I expected," said Almodovar, who checked and steadied the Pickett trainee briefly along the inside down the backside before finding clear sailing on the far turn. "I wanted to just sit off the leaders, but he pulled me up inside so I had to check him out of there. Once he got clear he was really good. I can't wait to see how well he does next month going 6 1/2 [furlongs in the Vinnie Moscarelli Memorial BC}."
Pickett, who had earlier won the $35,000 Last Enchantment Stakes with Dr. Feelgood, a four-year-old Fiber Sonde gelding also owned by Daniel, was impressed with Hypothesis' finishing kick and relished the chance to see him run back in the Vinnie Moscarelli Memorial next month. Pickett also trained his dam, Ideal Thoughts, and refers to the gelding as 'junior' at the barn.
"I really thought he was going to run a big race tonight," Pickett said. "He ran really well in that turf stakes down at Colonial against a much tougher group. He came out of that race great and tonight it was just a matter of being able to work out a good trip. He had trouble early but he finished up real nicely. I am really anxious to see how he does here next month in the [Moscarelli]. He acts like he's going to love going two turns here."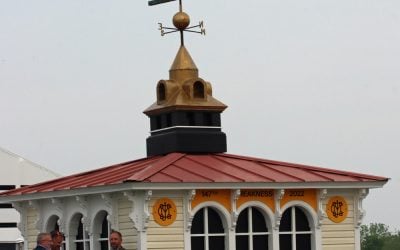 Pimlico will not race Saturday, Sept. 23 as a result of Tropical Storm Ophelia, the track announced Saturday morning.