At Colonial, horsemen relish "putting on a show"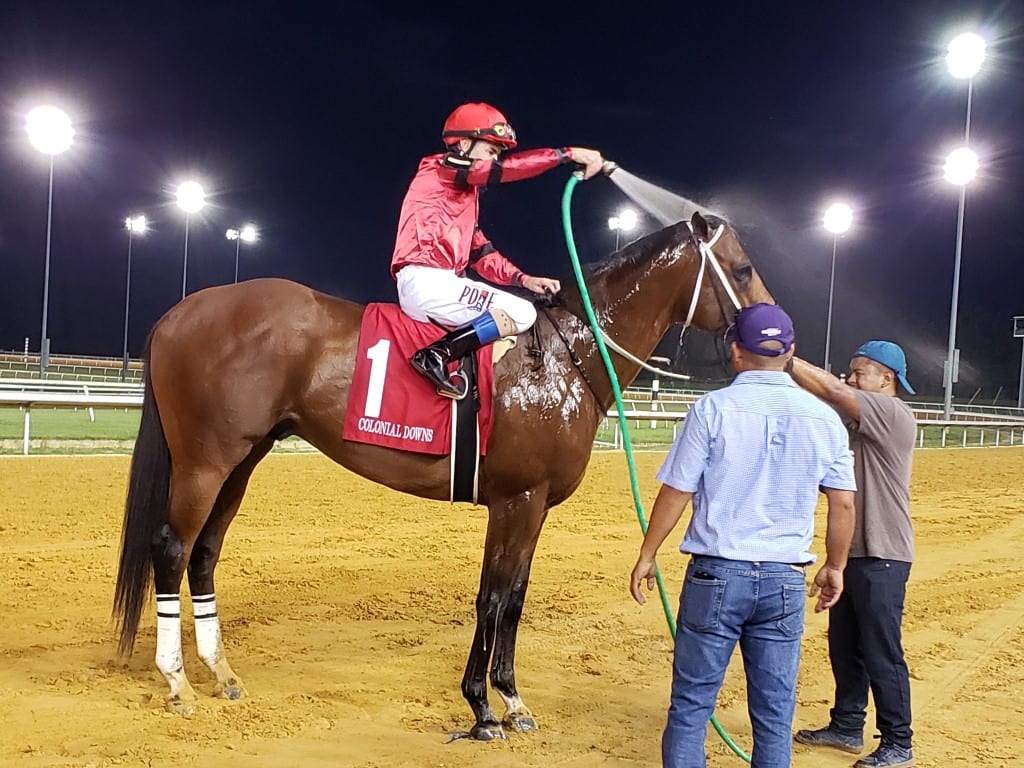 Boldor got a hose-down from rider Feargal Lynch after winning the Punch Line Stakes. Photo by The Racing Biz.
Horsemen didn't have trouble finding the words after winning stakes races hosted at Colonial Downs on closing night.
As darkness set in September 7, their comments resembled sunrise in Virginia, emblematic of the accomplishment that occurred during the 15-day meet.
The first thoroughbred stake on closing day – like the opening stake of the meet – saw a trainer earning his or her first career stakes win. Trainer Hubert Gaffney won the $100,000 Bert Allen Stakes with KD's Cat Bird, similar to Karen Dennehy Godsey's stakes win with What the Beep in the $100,000 Tyson Gilpin Stakes on August 10.
Going a mile-and-an-eighth, KD's Cat Bird with jockey Trevor McCarthy aboard moved outwards and waited for room coming out of the turn, then found it at the eighth pole to win by a length for owner Alex Kazdan. The win avenged a setback earlier in the meet when KD's Cat Bird was impeded in the running of the $100,000 Edward Evans.
"We had a lot of plans for what we're going to do, and stakes win just solidifies everything for us. It couldn't have happened at a better time for me and my team," said Gaffney after the race. "We've had a really rough meet (finishing 28:1-0-2), and the races are so tough here with the change of the purse structure and the change of the company. You got to rethink your position."
KD's Cat Bird was a recent claim at Monmouth Park, and Gaffney had to get the New Jersey stewards' permission to run the horse in stakes company in Virginia. The trainer appreciated the regional cooperation.
"When you get into a Virginia-bred restricted stake race like this, it levels the playing field. You can have an opportunity," explained Gaffney. "This (Virginia program) is going to be bigger and more tremendous every year that goes by. I can just tell you off what my owner has in his breeding operation, what's coming, it's tremendous. This program is so, so good for the small breeder that's out there. They've finally given an opportunity for people that even have just one mare. Having this part of the calendar, even if you can't run all year, it's going to be tremendous."
K D's Cat Bird is by Courageous Cat out of Rockalady, by Birdstone. For breeder Chris Kuhn, standing alongside Gaffney in the winner's circle, the win was the conclusion of a long quest that largely sat idle for a half decade. Kuhn runs a breeding farm not far from Colonial Downs.
"K Ds Cat Bird and Itbemustbemyluckyday (5th in the same race) were bred to run in Virginia, and that's why we bred them to be turf horses," Kuhn said after the race. "Both of them were bred to race here. Finally, after six years we got here with two sound horses."
Also there on Saturday was breeder Gillian Gordon-Moore, who with her husband Carolos owns a small farm a driver and a five-iron from the Virginia state line with West Virginia. They bred the first, third, and fourth finishers in the Punch Line Stakes.
The winner, Boldor, made a small step towards paying off the $700,000 owners Ed and Susie Orr dropped on him last year at the OBS Two-Year-Old in Training sale. The Orrs had journeyed from Colorado by way of Kentucky to see their colt race for the first time in over six months.
Boldor was making his first start on turf in a five-and-a-half-furlong sprint. The colt aspired for the Triple Crown races in early spring while at Oaklawn, but that didn't work out. He had not raced since a sixth-place finish in the Grade 3 Southwest Stakes at that track February 18.
Boldor was content inside and a few lengths behind early in the race, appeared to close the margin with ease on the turf, and after taking the lead as they straightened increased his margin inside the sixteenth pole.
"I think they tried to stretch him out at Oaklawn and he's come back here sprinting after a good layoff here. Steve had him ready. He's a very nice horse and handled the turf really well," said jockey Feargal Lynch after the race. "I think this guy showed me a lot of speed tonight. He handled the 5 ½ very easy."
"It's really exciting that you have this crowd out here and all the people are turning out. Horses are turning out," observed Gillian Gordon Moore. "Before the meet started, people were beginning to say, 'Well, do you think you're going to get enough horses?' Look at the fields we're getting. It's been fantastic. It's been a good, safe meet, and horses are running well and everyone is getting a little action. I really like seeing Boldor do it."
While Boldor is trying to reboot a career that began with promise before stalling, one runner who definitely seems to be on the way up is Embolden. A two-year-old colt by The Factor, Embolden ran his record at Colonial to 2-for-2 with an easy win by nearly four lengths in The Jamestown Stakes.
The win helped jockey Trevor McCarthy secure the Colonial riding title with 15 wins, two more than the Daniel Centeno, Horacio Karamanos, and and Mychel Sanchez managed, and vaulted trainer Michael Stidham into a tie with Jamie Ness for the lead in the trainer standings with 10 victories.
"He broke really well. He did everything right. He's so professional," said McCarthy who hinted of the horses distance capability. "He got a little pressure early, but it really didn't seem to mind him at all. He just got so comfortable turning for home. He's got such a great stride. Such a great turn of foot. I couldn't ask for a better performance from him."
Embolden, by The Factor and out of the mare Lion Hearted mare Silver Heart by Lion Hearted, was bred by Nancy Terhune and Ernest Frohboese. Owned by Dare to Dream Stable, LLC, Embolden will likely be nominated for several different nomination options coming out of the meet, including those involving more distance.
"We bought him out of the Ocala sale. He really impressed use there. He trained well up to his first race and he's been really impressive since then. I think he's got a big future ahead of him," remarked Stidham, thinking also that he might go longer. "He's just such an athlete. He does everything so easy. When you watch him train in the morning, he just floats over the racetrack."
Stidham earned a share of the training title in his first year stabled at Colonial Downs.
"It's been a pleasure racing here. I was impressed with both surfaces, dirt and turf. I think they did a really good job of having the good surfaces to run the horses on, which is the most important thing," added Stidham about the meet overall. "I think the future's bright here."
Jockey Kent Desomreaux was a surprise visitor, coming into New Kent to ride Holly Hundy to a decisive win in the Camptown Stakes for trainer Vladimir Cerin.
Desormeaux who has three Kentucky Derby wins (Real Quiet, Fusaichi Pegasus and Big Brown) and a Virginia Derby win (Paddy O'Prado) has been to Colonial Downs before and relishes the experience of racing in New Kent, Virginia for its surfaces and its atmosphere.
"I think it's one of the nicest turf courses in the industry," assessed Desormeaux. "It's nice to see so many people here. I feel like as an entertainer, like I'm putting on a show for some real fans. It's makes it fun."
Of course, he wasn't alone in that. Plenty of horses and horsemen put on the show in New Kent this summer as Colonial Downs came back to life.
And the biggest request for the future can be summed up in a single word: "More."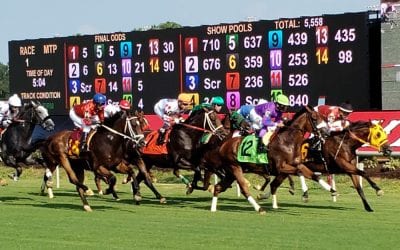 The Virginia-certified residency program, which encourages people to send young horses to Virginia, will operate with new limitations this year.