On Virginia Derby night, a trainer battle and a stunning debut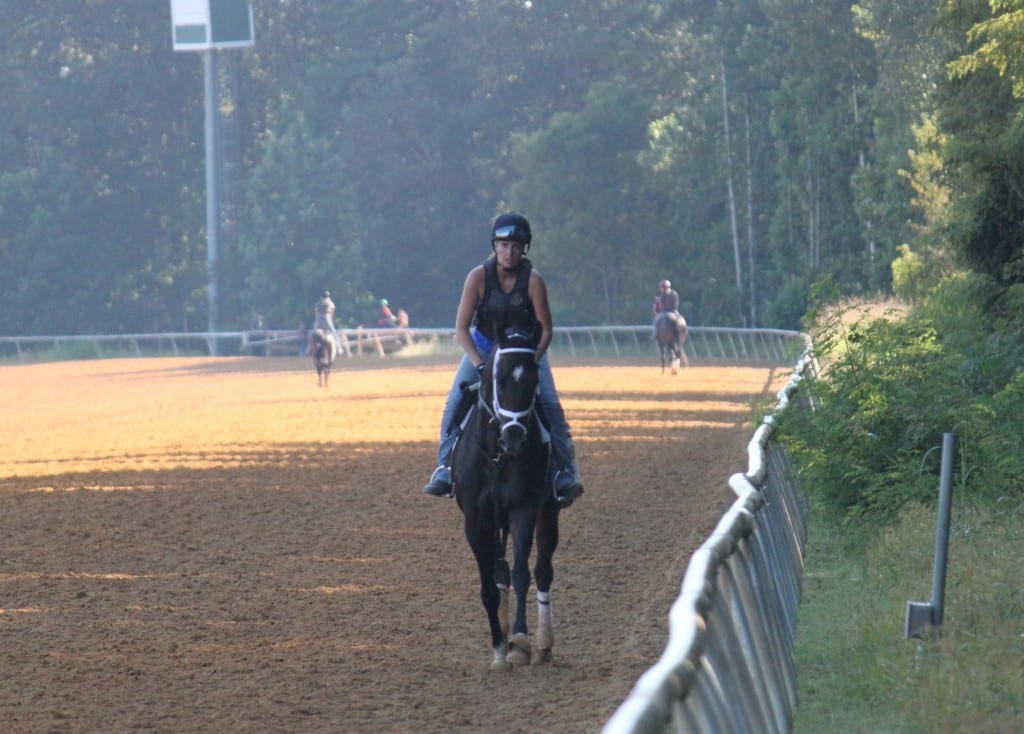 Tracksmith on the track at Colonial Downs preparing for the Virginia Derby. Photo by Nick Hahn.
Two top trainers arrived at Colonial Downs Saturday morning with high expectations for Virginia Derby weekend. And both Graham Motion and Michael Stidham walked out of Colonial Downs very pleased.
"You know, I think they've done a good job to get the place up and running again off being away as long as they have been.  I think they did a wonderful job on having the turf and the dirt track in good condition," Stidham said Saturday morning before racing. 
He has kept a stable at Colonial Downs throughout the meet, has won eight races, and leads all trainers in purse earnings with more than $370,000. Motion is second in purse earnings, with $329,400, and has won with four of 14 starters.
"With the new gaming machines in there, obviously that helps the horses. It's proven that if you put up the money the horses will show up," Stidham said. "It's working out really, well.  Hopefully, next year they can have more dates of racing days. It has given my stable a big opportunity to run for some good purses.  Hopefully we can have a big night tonight."
The night became a figurative slugfest between Stidham and Motion, leaving both satisfied with a draw. Each won three races, two of them stakes on the evening. They bookended the card, Stidham winning the first race of the evening with Marshall Law, while Motion won the finale with Sweeping In.  In between those bookend races, a packed Colonial Downs grandstand reveled in the competition among the two barns.
The first running of the $250,00 Virginia Derby in six years at its home venue was the feature of the evening. 
In the 1 1/8-mile test – shortened from the 1 ¼ miles it had been in previous runnings in New Kent – Motion's English Bee sat just to the outside of Stidham's Credit Swap through glacial early fractions. After six furlongs in 1:18.29 over a firm course, the duo flew home with English Bee, under jockey Jorge Vargas, Jr., getting the best of Credit Swap and late-charging Jais's Solitude.
The margin from English Bee in first to Credit Swap, who finished third, was just a half-length.
"When I did ask him to quicken, he was there for me.  What can I tell you?  He really fought today," commented Vargas.
English Bee's victory was satisfying to Motion who brought contenders to New Kent three times previously with disappointing outcomes.
"Sometimes you remember those beats as much as the wins," said Motion. "It's neat the first year they've brought it back, so for that reason it's kind of special.  I love this little horse.  He's been a really, tough horse.  I thought he run a great race tonight.  Interestingly enough, Mike Trombetta, who won the (Grade 3 Saranac Stakes with Global Access) at Saratoga today, also came out of (the G2 Hall of Fame Stakes. The form of that race is pretty good."
Motion has won nearly every stake at Colonial Downs, several multiple times. This was his first Virginia Derby win at Colonial Downs, though he did also win the 2017 Commonwealth Derby – the Virginia Derby-by-another-name held at Laurel Park during Colonial's closure – with Just Howard.
"I've been beaten in this race, and they've really stuck in my mind," the trainer said. "So, to come down here and win it the first year they run it back is a big deal."
A race prior, race watchers saw jockey Forest Boyce win her third Virginia Oaks for Stidham with Carnival Colors.  The running time of 1:48.83 was over four seconds faster than the Virginia Derby time of 1:52.94.
Boyce had won the then-Grade 3 event in its most recent running in New Kent, as well, in 2013.
"I love winning this race.  It's the first graded stake I ever won was the Virginia Oaks," said Boyce.  "She's like a pony to ride."
One feat that eluded both trainers was the performance of the evening. In the inaugural running of the $100,000 Rosie's stakes, Wesley Ward's two-year-old Four Wheel Drive kept pulling away from the field after passing the eighth pole to win by over three lengths in eye-catching fashion. Four Wheel Drive reset Dreaming of Anna's track record at 5 ½ furlongs, lowering it from 1:01.63 to 1:00:84. 
"He's pretty quick out of the gate, which many of Wesley's horses are pretty quick out of the gate.  So, he told me not to send him.  Just try to relax him," Jorge Vargas, Jr., who'd also ridden English Bee, said after the race, at that time unaware of the record. "When he got to the top of the stretch, he put his ears up like the race was over.  So, I hit him a couple times so he knows he's got to keep going and when they got close, he jumped on the bit again."
Owner Mike Hall of Breeze Easy, LLC, flew down to Colonial Downs for the first time to watch his two-year-old colt by American Pharoah out of the More Than Ready mare Funfair. It had been a tough decision for the West Virginia resident: stay home to watch West Virginia University's Mountaineers square off on the gridiron against James Madison, or come to Colonial for the races. When learning that the Mountaineers were locked in a surprising life-and-death struggle, Hall decided he had made the correct choice.
"This facility is absolutely beautiful.  I've never been here before.  I drove up to the front door and I said, 'This is a really nice place.' I hope Virginia can keep this going," he said.  "We're proud of this horse. He's never started before.  He's had a couple good works.  We've been slow getting him to the races.  We hoped the horse would win here today and he actually did.  We had plans for him starting a little earlier, but it never happened."
Hall believes the Colonial performance could led to a Breeder's Cup Juvenile Turf appearance, similar to the path taken by Dreaming of Anna. 
Which, in the first year of a new race and the first year at a rejuvenated racetrack, would be a pretty nice feather in the Colonial Downs cap.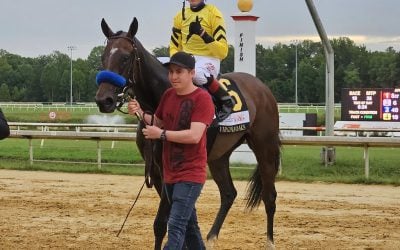 For veteran, New York-based riders Trevor McCarthy and Kendrick Carmouche, Saturday's stakes-laden card at Colonial Downs felt like coming home.