"Laid-back" Jais's Solitude first among Va. Derby equals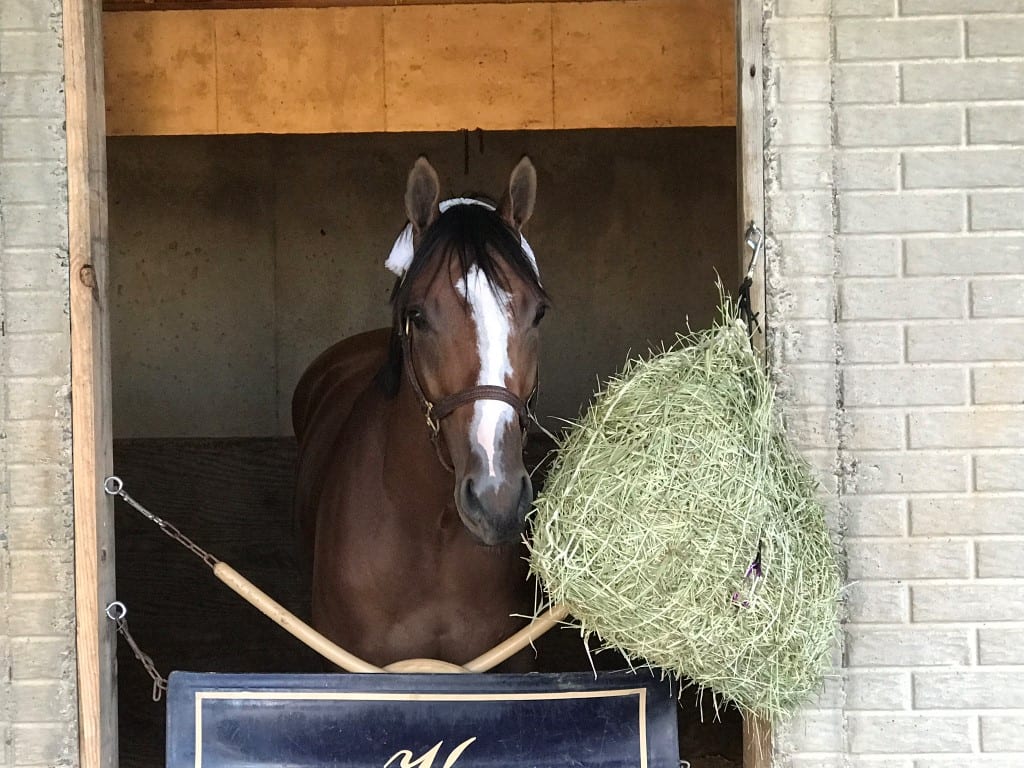 Jais's Solitude hangin' at Colonial Downs.
Friday morning, Jais's Solitude stood alone in Barn 4 on the Colonial Downs backstretch, chillin' listening to Salsa music at times appearing to sway to the beat.
For equine or human alike, ending your night at 3:30 in the morning, could be a cause crankiness in the morning. Not so for the Eddie Kenneally-trained gelding who is headed to Saturday's $250,000 Virginia Derby (G3).
"It happens to be what's on here now. It doesn't bother him," said Kenneally assistant Miguel Santiago. "He might be bi-lingual, who knows?"
The three-year-old gelding by Afleet Alex, out of the Notebook mare Privacy, won in his last start at Arlington Park and is a contender in Colonial's signature race, contested at 1 1/8 miles on the turf. The Virginia Derby was last run at this purse level in 2001 when it was won by Potaro. It's back home to New Kent County for the first time in six years. But Jais's Solitude isn't swayed by the magnitude of the Virginia Derby's return.
"He's a very laid-back horse. He takes everything in stride," said Miguel, not sure of the pun being intended. "Nothing seems to bother him much. It takes a lot to get him going. To get him upset. He's an easy-going horse. Pretty cool, he likes to play. It's a joy to be around him."
Santiago, a former jockey who rode primarily in the Northeast at the former Keystone Racetrack (now Parx Racing), Atlantic City, Rockingham Park and Suffolk Downs, mostly retired from riding in 2002. He is among number of old-school jockeys that have found their way to Colonial Downs for the second opening of the track.
"I wish when I was riding the purses were as good as they are now," reflected Santiago. "(Back then) If you let anyone through on the rail, you got fired. These days you can't do that."
The Virginia Derby brought Santiago to Colonial Downs, allowing him to check off the venue on his bucket list.
"I don't know much about the place," said Santiago. "What surprised me about the place is that I could find it. I surprised myself. Maybe I'll get lucky my first time here. See what happens."
Jais's Solitude appeared to agree, gesturing something that could be interpreted as, "I got this."
Finally on Friday afternoon around 3:30 pm, companionship arrived in the barn as Tracksmith arrived after a 9.5-hour sojourn from Saratoga. Much of the remainder of the field is expected to arrive either late Friday night or early Saturday morning.
Tracksmith is undefeated in two starts this year including the $75,000 Frisk Me Now Stakes at Monmouth for trainer Joe Sharp. Tracksmith is by 2007 Kentucky Derby winner Street Sense out of the Medaglia d'Oro mare Hot Water.
The morning line favorite (5-2) is English Bee, trained by Graham Motion, also for Calumet Farm. Jorge Vargas, Jr. gets the mount for the first time. English Bee is by 2005 Virginia Derby winner English Channel out of the mare Evil Kitten, who is by 2004 Virginia Derby winner Kitten's Joy.
The rest of the field consists of Changi, Solidify, Irish-bred Critical Data, Shootin the Breeze, Credit Swap and Chilly in Charge.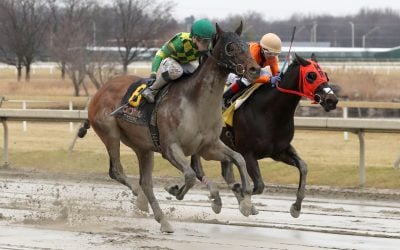 Va-bred Repo Rocks dominated the field in Saturday's Grade 3 Toboggan at Aqueduct, earning his and rider Andrew Wolfsont's first graded win.