Graham Motion enjoying stellar summer at the Spa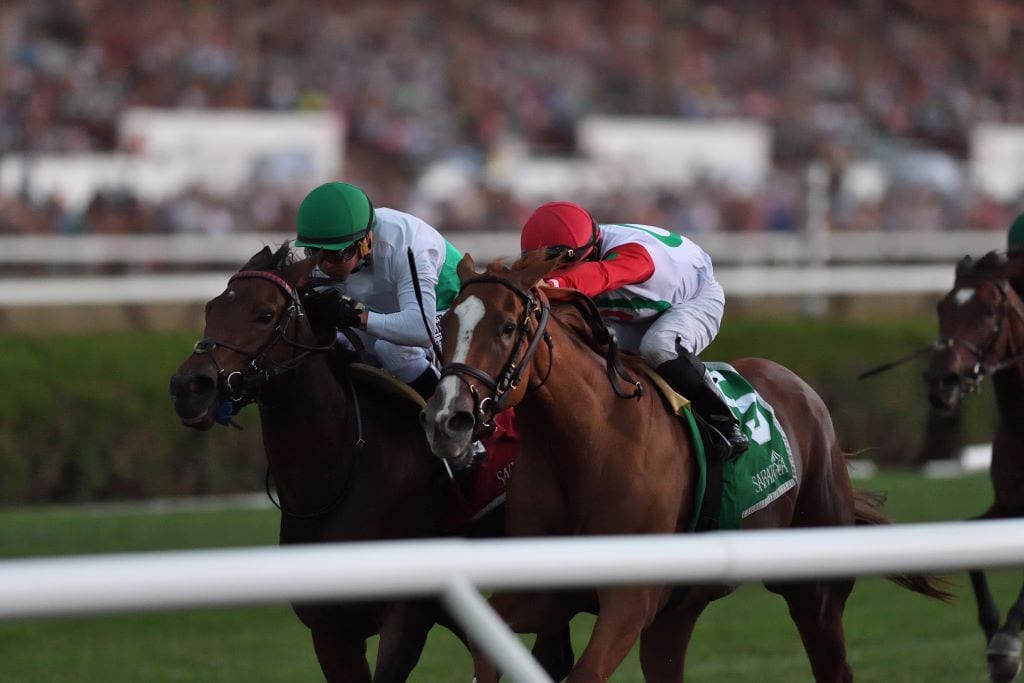 Varenka (outside, white and green) and Regal Glory (inside, #5) hit the wire together in the Grade 2 Lake Placid Stakes. Photo by Elsa Lorieul.
The familiar red and blue Herringswell sign is gone, as are the matching table and chairs that for years had been set up on the backstretch at Saratoga Race Course, right in the middle of the final turn. It was one of the most prominent and visible spots on the main track backstretch, a high-traffic area that practically invited passersby to stop by and chat.
This year, trainer Graham Motion gave up that barn, bringing up to Saratoga only a small string of horses from his Fair Hill base. Those horses are stabled in the Phipps barn, tucked all the way at the back of the Oklahoma training facility; this year, if you want to talk to Motion or see his horses, you've got to work for it.
And the way Motion's summer is going, you might never see him back on the main track again.
From 33 starters at this summer's meet through August 21, Motion's got a record of 8-4-3, a win rate of 24% and a top-three finish rate of 45%. Motion had won just two races in 2018 and four the year before at the Spa.
Three of those wins came last weekend, including one in a stakes race that will likely be remembered and discussed for some time.
Motion's big weekend started early on the Saturday card when Maryland-bred Nakamura, who is by Motion's 2011 Kentucky Derby winner Animal Kingdom, scored a neck win at 5-1 in an allowance/optional claimer. The win was the four-year-old gelding's third in a row, the first two coming at Laurel Park earlier this year.
A few races later, Animal Kingdom got another winner, this one trained by Neil Drysdale and owned by Team Valor International, which campaigned the stallion, when the five-year-old Australian-bred mare Oleksandra won the listed Smart N Fancy Stakes.
And Animal Kingdom got third winner, this one in a graded stakes race, this one trained by Chad Brown, when Regal Glory dead-heated for the win in the Lake Placid Stakes (G2) one race later.
The other horse in the dead heat? Varenka, trained by Motion.
Among his first comments after the Lake Placid: "Animal Kingdom has had three winners today, so you have to make a big deal about that."
There was a lot about the Lake Placid that was a big deal: post time was moved up three minutes to try to avoid one of those Spapocalyptic storms that have become nearly a daily occurrence; the finish was too close and the sky too dark for race caller Larry Collmus to determine a winner; the photo of the race was also inconclusive, because the inner turf at Saratoga lacks a finish-line camera.
Regal Glory's owner Paul Pompa, getting soaked in the winner's circle when the skies opened up, was convinced his filly had won. Motion, watching Regal Glory and Varenka circle, jockeys Luis Saez and Javier Castellano still in the saddle, as the stewards examined the photo, was as concerned with the jockeys' and horses' safety as he was with which horse had won.
"Lightning was flashing all around, and those guys are waiting out there," said a drenched Motion.
Unable to separate the two horses at the wire, the stewards called it a dead heat, igniting a social media storm that eclipsed the meteorological one.
Calling Varenka's run "phenomenal" given the slow pace into which she closed, Motion said, "I'm speechless, to be honest. I just can't believe she got there because they went so slow. That was a crazy performance."
A day later, pedigree, promise, and performance again went Motion's way when two-year-old Sharing, bred in Maryland by Sagamore Farm, broke her maiden in her second start, winning an off-the-turf race by 6 1/4 lengths.
Like Varenka, Sharing was running for the second time this summer at Saratoga.
Like Regal Glory and Nakamura, Sharing has a pedigree connection to Motion: he trained her dam, Shared Account, to three graded stakes wins, including the 2009 Lake Placid and the 2010 Breeders' Cup Filly and Mare Turf.
By Speightstown, Sharing is owned by Eclipse Thoroughbred Partners and Gainesway, the former of which purchased her for $350,000 at last year's Fasig-Tipton Saratoga yearling sale.
When Sharing débuted on the turf at Saratoga in July, she was third, beaten less than a half-length, leaving Motion with a decision to make.
"It's tough to choose where to run her next," he said. "[Jockey] Manny [Franco, in the saddle for both races] likes her on the grass, but she handles the dirt pretty well, and he's worked her on both."
"I'm pleased Aron had the confidence to give her to me," he continued, referring to Aron Wellman, the founder and president of Eclipse Thoroughbreds. "The mare was really special to me; when we won the Breeders' Cup, I was running against Henry Cecil, who was my childhood idol, and he was the favorite. It was a big deal winning that."
New York-based Motion fans are unlikely to see these Saratoga winners this fall; the trainer is thinking ahead to Keeneland for both Varenka and for Sharing.
But if you're a fan of dirt marathons, expect to see King Zachary, who won the listed Birdstone Stakes by 8 1/2 lengths at Saratoga on August 1, at Belmont Park on September 1 in the Grand Prix American Jockey Club Invitational. The Birdstone was contested a 1 3/4 miles, while the Invitational is a mere 1 1/2 miles.
And Motion might have an Animal Kingdom runner of his own before too long: in 2015, he bought the Smart Strike mare Striking Impact to breed to his Derby winner, and her two-year-old filly named Fuli is in training at Fair Hill.
"I'm really tickled for Animal Kingdom," said Motion. "He's really had a good couple of months."
In town for the weekend's races, Motion, his wife Anita, and his son Chappy were getting ready to head back to Fair Hill before returning to upstate New York for Travers weekend.
"It's funny how things fall into place," he said. "You can't predict it before you come up here. Saratoga's not a nice place to be when you're not doing well, but it's a fun place to be when you are."