Patience, perseverance keys for rider Vince Halliday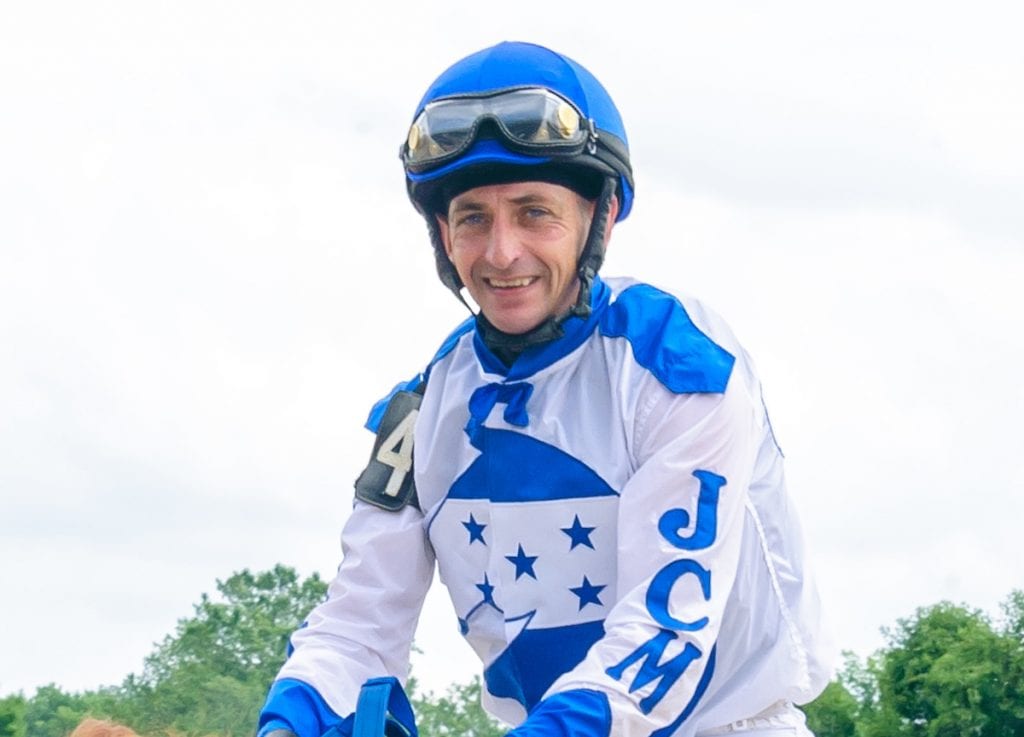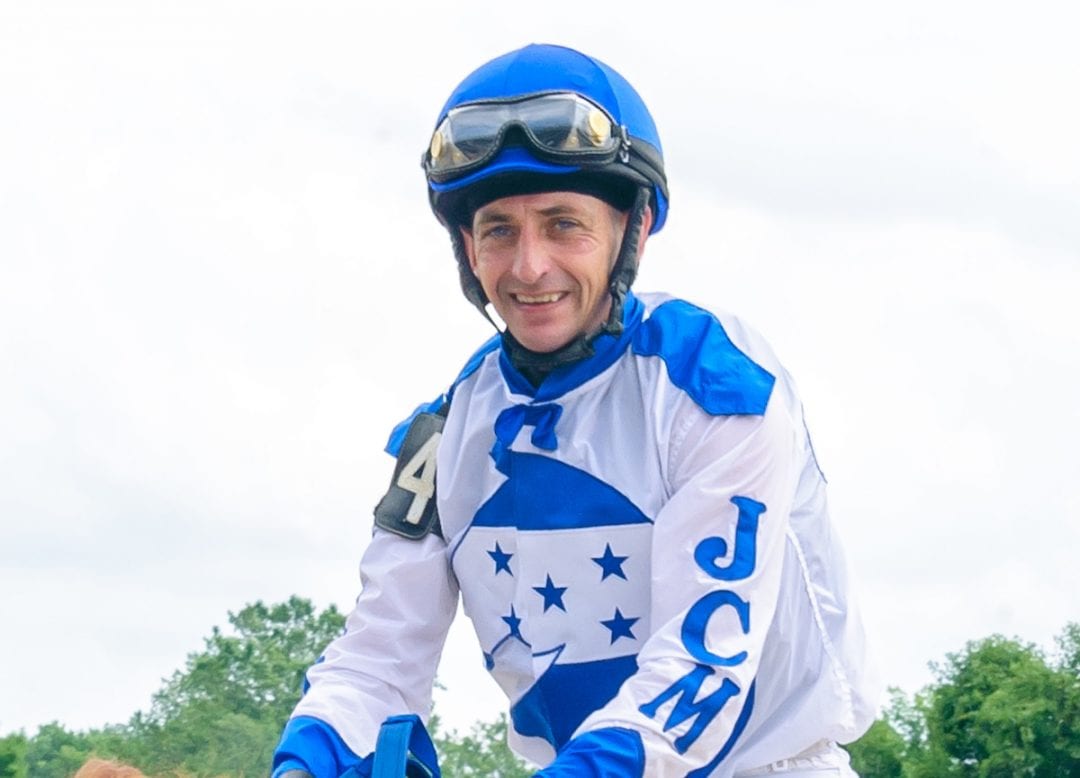 Vince Halliday aboard a winner at Delaware Park. Photo by HoofprintsInc.com.
Drive, patience, perseverance: these are all qualities the top jockeys in thoroughbred racing employ. But just as important as they are to the Mike Smiths and Irad Ortizes of the game, these qualities are just as crucial to those riders who are working hard day in and day out trying to stay in the game and make their mark in one of the most competitive occupations in sports.
Take the story of Vince Halliday.
Born in Ireland, Halliday grew up in horse country and like many youngsters on the Emerald Isle, was determined to be a rider from an early age. He rode in Ireland and the U.K., competing against such jockeys as Feargal Lynch and winning more than 100 races. He then went to Dubai where he rode for a year before coming to the U.S.
He began at Gulfstream Park and later went to work for such notables as Kiaran McLaughlin, Dale Romans and Nick Zito and was set to begin riding in the spring of 2009 at Churchill Downs when he suffered the first of a series of injuries.
"I went down with a horse and suffered six fractures of my pelvis," Halliday recalled. "This was less than a week before I was supposed to start riding in the U.S."
That was the first of a series of setbacks to the rider's career, most due to injuries incurred during training hours, and a period where Halliday was hanging on to his dreams to ride in the U.S. by a thread.
He moved to the DelMarva region and settled near Delaware Park, mainly because of the number of tracks in the area.
"With all the tracks clustered in the area I felt I might be able to get mounts other places than where I was headquartered, but the injury bug continued to bite me and it seemed like every time I would get some momentum going I'd get hurt," Halliday said. "It's been a frustrating period. Its not easy when you get very few chances to ride anything that has a shot to win. But now I'm finally healthy, I've been given more shots with competitive horses this season, and things are looking up."
Halliday has eight winners thus far in 2019, the highest number of winners he has booted home in a single season since he came to this country. He works for leading trainer Jamie Ness which gives him some sense of stability. While he admits it's tough competing against some of the more high-profile riders in the area, he's confident he can compete if he's got the horsepower to work with.
"I know riders like myself face a battle getting, and keeping mounts against riders with a big name, and if I'm riding a horse that shows promise their agents come around selling their riders, trying to get that mount," the rider pointed out. "It's tough to lose mounts that way, but it's a part of the business you have to live with. Fortunately this season I've had some trainers display some loyalty to me, which I appreciate. And I've been lucky enough to do some good when the opportunities have been there. It's been a long, tough battle but If I can stay healthy and continue to get chances to show what I can do, I think I can."
Vince Moscarelli, who was one of the first to ride Halliday on his horses, says the rider employed the European approach when it came to working with horses in the morning,
"Vince liked to stick with the same horses and handle them every day until he gained a rapport with them," said Moscarelli, who has since retired from training and runs the Delaware Certified Thoroughbred Program, "He wasn't afraid to work with a tough horse, a horse who was hard to handle or control, but if you gave him enough time with a certain horse, he usually got them to come around and become manageable. He was very loyal, worked hard and was as honest as the day is long."
Halliday's mounts have earned just shy of $150,000 this year — easily his top-earning year in the States — and Moscarelli, for one, is happy for the jock.
"I'm happy to see him finally do some good because he's a good guy and a lot better rider than people give him credit for," Moscarelli said. "Hopefully, he'll continue to get more chances to show what he can do on a horse."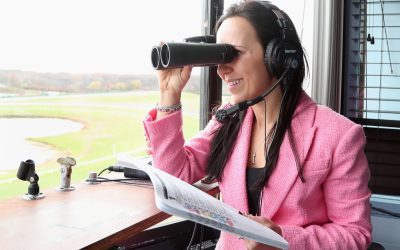 We caught up with Parx Racing track announcer Jessica Paquette on the eve of her becoming the first woman to call a US Grade 1 race.