Delaware Park Handicappers' Notebook 2019 Vol. 13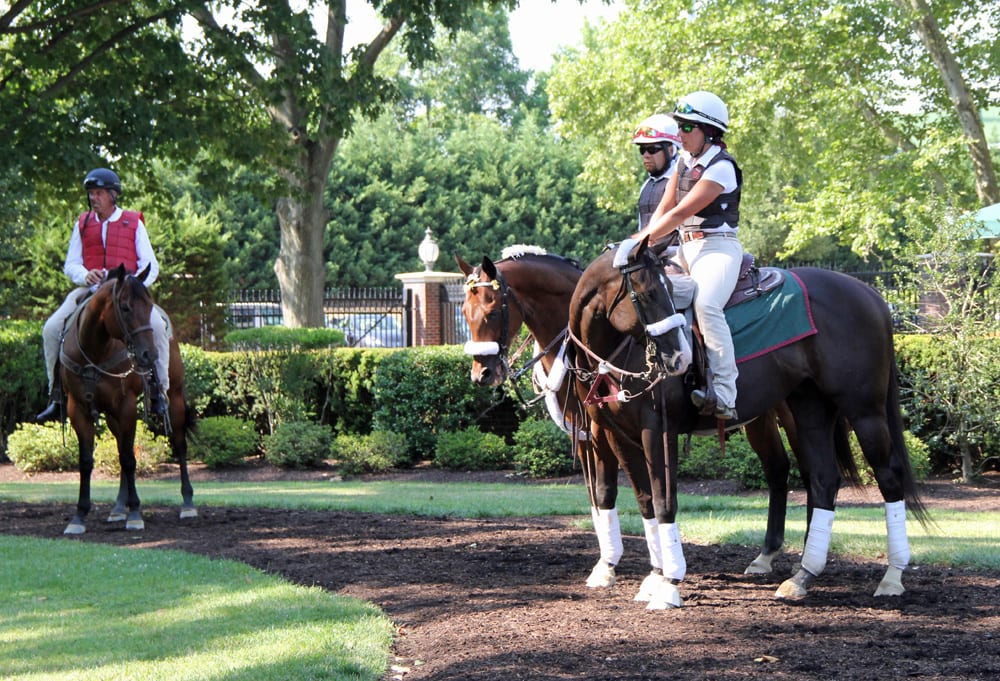 In the paddock on Delaware Handicap day. Photo by Allison Janezic.
Correspondent Doug McCoy returns with his weekly Delaware Park Handicappers' Notebook, featuring horses to watch, bet-backs, and more.
Horses and races to watch
KID SLIPPER (AUGUST 12, RACE 1): This Bennett sprinter cut out blistering fractions that included a half in 44 4/5 seconds then continued gamely through a long drive before just getting caught by the 4-5 favorite in the final stride of a sprint run in 1:10.3. There are few 3-year-old sprinters on the grounds who possess that kind of gas, and he'll take some catching next time out.

MISDRIVEN (AUGUST 8, RACE 2): Made a good middle move but couldn't stay with a runaway winner in first start in eight months. Look for this one against non winners of three distaff routers next start.

I AM IT (AUGUST 7, RACE 2): Had to be hustled along after breaking slowly but kept on well through the drive in a five-furlong sprint run in 59.36. An alert start and a bit more distance should make this Cronk runner hard to handle.

DIGITAL DIVA (AUGUST 7, RACE 5): Never looked comfortable when trying to be rated inside and just off the pace and then was boxed into the stretch. A change of riders and outside placement might be enough to make this one a winner.
Jock/trainer Watch: Performers of the week
Trainers often post high winning percentages at the beginning of race meetings but when you carry that percentage past the midpoint of the meet it's obvious you've got a formidable stable. Anthony Pecoraro, whose outfit is winning a sizzling 42 percent of the time at Delaware Park, had another banner week last week, winning with three of his four local starters. And he also scored at the "big show" when Hardcore Folklore won his fourth race since moving to the Pecoraro barn when he beat a strong group of $25,000 claiming sprinters at Saratoga. A master developing young horses, 16 of 18 of Pecoraro's wins at Delaware Park have been with two or three year olds. He is currently second in the standings behind Jamie Ness, two wins ahead of Gerald Bennett.
Handicapper's tool box
GOOD MANNERS CAN MEAN GOOD RESULTS
If you watch activities between races (and you should), you need to pay particular attention to the behavior of young horses, especially first-time starters. One of the main things that concerns sharp trainers is how a horse will handle all the distractions and unexpected things that can happen in the paddock and post parade before a race. We've often had trainers tell us, "I know this horse can run, but I'm not going to bet until he or she gets out of the paddock and breaks off after the post parade, then I'll bet!"
Whenever there's a race with several first-time starters in the field, you should watch what goes on in the paddock. You may spot horses that act up, rear up, be anxious and nervous, and in general, be psyched out from their first pre-race experience. Horses sometimes "leave their race in the paddock," meaning they used so much energy and strength in the paddock they had little left when they sprung the latch.
To a lesser extent, watching first-timers warm up will also often reveal nervous, headstrong horses who fight the rider's attempts to keep them under control in the minutes before the start. Many times the same horse who was a handful going to the gate the first time out will be a perfect gentleman going to the post for his second start. And the horse that scattered people around the paddock prior to his first race will be calm and collected the second time he visits the saddling area.
They'll often go out and run much improved races. So watch the manners.
LATEST DELAWARE RACING NEWS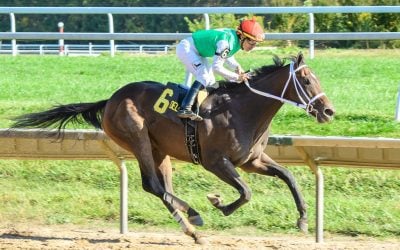 When owner Chuck Zacney began looking for a name for his Street Sense colt, he remembered a late friend who had been one of the WWII era Tuskegee Airmen.