For Grams barn, what's old is new again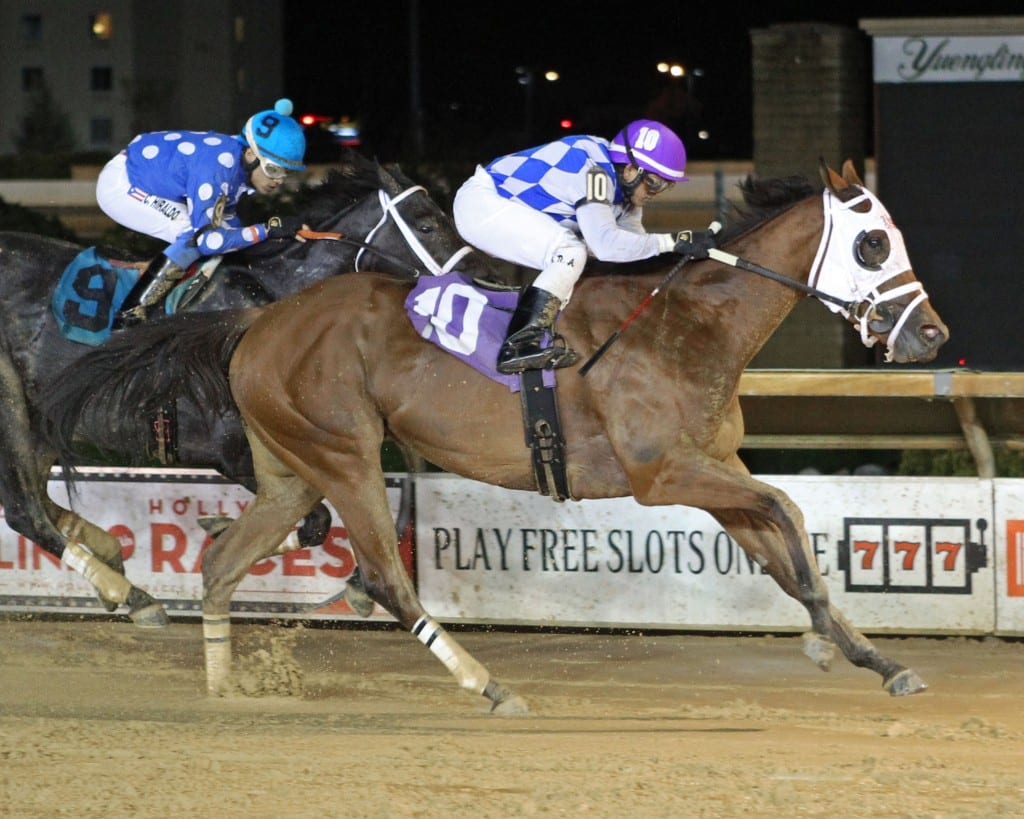 Noblame edged Moonlit Song to win the 2018 Fancy Buckles Stakes. Photo by Coady Photography.
They're West Virginia racing royalty, Moonlit Song and Runnin'toluvya.
In each of the past two editions of the West Virginia Breeders Classics cards, those two runners helped trainer Tim Grams make his presence known. Moonlit Song was the heroine of the $125,000 Cavada in 2017 and runner-up the following year. Runnin'toluvya, winner of the $300,000 West Virginia Breeders Classic last fall, then returned six months later to capture the Grade II, $1 million Charles Town Classic.
The pair — the former a mare, the latter a gelding — never faced each other, thus saving Grams a little bit of a headache.
The same, however, cannot be said of the two runners' most recent siblings to hit the track.
On Saturday, July 20, amid a tremendous heat wave that forced numerous tracks to cancel their cards entirely and wreaked havoc on the Haskell Day program at Monmouth Park, Grams trainees Loving Touch and Moonlit Night, finished one-two in a two-turn allowance for state-bred runners.
Loving Touch, the winner that night at 1-5 odds, is a three-year-old full-brother to Runnin'toluvya, while Moonlit Night is a sophomore half-brother to Moonlit Song. They were a little less than two lengths apart and well clear of their rivals in the entry-level allowance.
Loving Touch, who won a two-turn maiden special weight event in his career debut on July 4, did not have a good deal of time between races when he returned on July 20 to capture the seven-furlong allowance as the 1-5 choice in 1:25.87, but Grams noted the Fiber Sonde gelding did not have many options.
"He came out of that first race really good, but that second race came up a little quick," Grams said recently. "He had a few nagging things that kept him from running at two, including some shins and a splint in his right front, but once we took care of that he's been training super. He looks like he's going to be okay. It's a little early to tell and begin comparing with Runnin'toluvya. They have a few similarities in their behavior. He's not as ornery, but he's got a little spunk to him."
Loving Touch is entered back on August 2 in a never-won-three allowance for state-breds, in which he is the 5-2 morning line favorite.
Loving Touch and Runnin'toluvya are both sons of Fiber Sonde out of the Not For Love mare Lov'emnrun and were bred by former Charles Town jockey, Leslie Cromer. In fact, the efforts of both Runnin'toluvya, a winner 13 times in 18 career tries with earnings approaching $940,000, might loft Cromer into the spotlight more now than she enjoyed during her brief riding career, when she won 449 of 4,948 mounts and earned just over $2.8 million.
"That mare has certainly been good to Leslie," Grams said. "I don't think she ever expected anything like these two colts to come along."
While Loving Touch has enjoyed a quick start to his career by winning his first two starts for Grams, Moonlit Night is gradually rounding into form. The half-brother to Moonlit Song was third in each of his first two outings then garnered his diploma at third asking on May 9. Then following sixth- and fifth-place efforts in each of his first two tries against winners, Moonlit Night finished a sharp second to Loving Touch in their July 20 allowance clash.
"He's probably going to be better in the longer races," Grams said of Moonlit Night. "He's just one of those horses that really takes time to get into stride. He's doing okay, but the three-turn races up here will probably be better for him. He really doesn't have much in common with Moonlit Song. She was really good training down right away, and she was quick and loved to race. He's just starting to come into his own, but I think the longer races will be more to his liking."
Moonlit Song, whom Grams retired in the weeks leading up to the Charles Town Classic, concluded her career with 14 wins and over $400,000 banked from 26 lifetime tries. She was denied her second straight score in the Cavada last fall by Late Night Pow Wow, who then ventured to Laurel Park to capture a pair of open stakes and then the Grade 3, $250,000 Barbara Fritchie Stakes. Moonlit Song peaked late in her three-year-old season when she won the Sylvia Bishop, Sadie Hawkins and Cavada en route to being West Virginia-bred horse of the year in 2017.
Grams noted that Runnin'toluvya, whose perfect season was snapped when fifth in the Grade III, $150,000 Philip H. Iselin at Monmouth, could run next in an open allowance race at Charles Town, or perhaps train his way up to the Frank Gall Memorial on September 22. That race figures to be a prep for his title defense in the West Virginia Classic on WVBC night in October. He used his victory in the Gall last season as a springboard to the Classic.
LATEST WEST VIRGINIA NEWS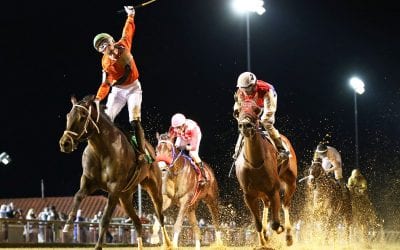 Full-card picks and analysis for this evening's live racing card from Charles Town Races!