Sacco brothers square off for first time – in G1 Haskell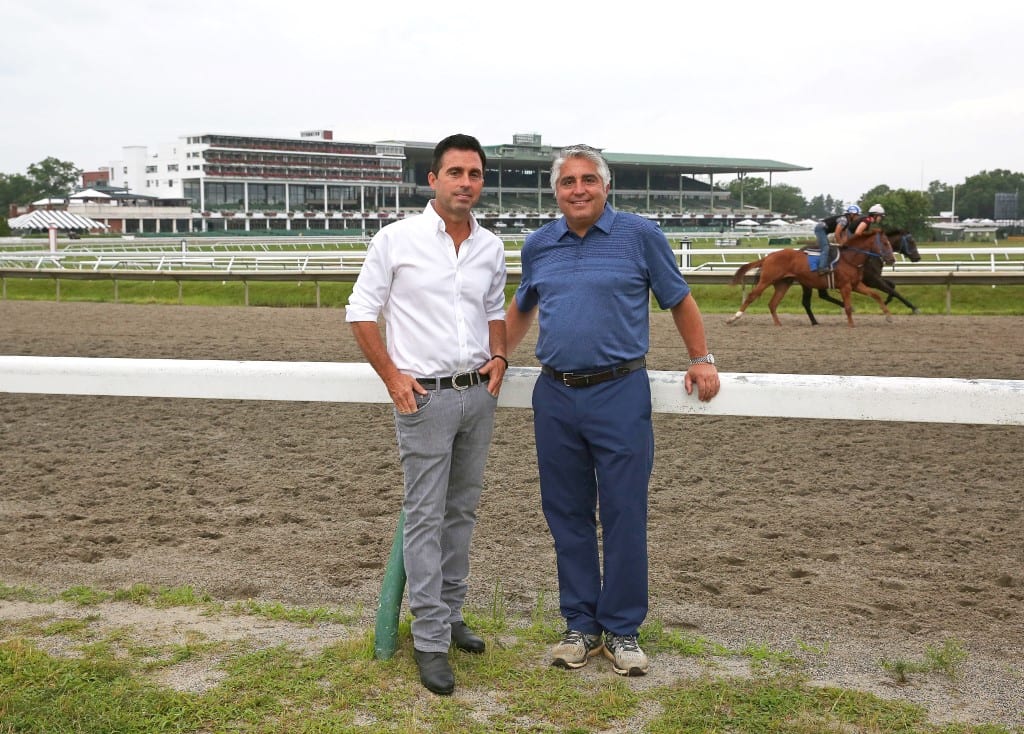 Rick (left) and Gregg Sacco at Monmouth Park. Photo by Bill Denver/EQUI-PHOTO.
Growing up in West Long Branch, N.J., the Sacco brothers, Gregg and Rick, were never really competitive with each other.
"Even when we played sports, we were always on the same team," said Rick Sacco, the younger of the two brothers by only 15 months. "We grew up doing everything together."
"Our friends are close to us as well," said Gregg Sacco. "If we were ever really competitive, I don't remember it. At least it hasn't happened with horses."
Until Saturday. The Sacco boys, born into one of the most influential families in New Jersey Thoroughbred racing, will be on different sides in the 52nd running of the TVG.com Haskell Invitational at Monmouth Park.
Gregg is the trainer of Joevia, who has won both of his races at Monmouth and finished third at the Belmont Stakes. Joevia has won twice in his career and collected $281,600. He is 10-1 on the morning line.
Rick is now the general manager and racing director for Red Oak Stable, which will send King for a Day to the post in the Haskell. King for a Day has won three times, including a stunning upset win in the TVG.com Pegasus Stakes June 16 over Florida Derby champion Maximum Security, who won the Kentucky Derby but was disqualified for interference in the stretch. Maximum Security, who is the 8-5 morning line favorite in the Haskell, was 1-20 in the Pegasus when King For A Day pulled off the upset at 6-1.
It'll be strange for the brothers to line up on opposite sides, and stranger still to do so at Monmouth Park, where they have so much shared history – history dating back generations.
Their grandfather, Joseph Sacco, was an immigrant from Italy, who arrived in New Jersey in 1909 with a dream to build a farm where he could breed and house horses. He bought a 100-acre spread and called it Monmouth Stud, which is where he raised six boys and a girl.
The family tree grows on. The boys eventually got involved in the family business. Vincent Sacco took an interest with show horses and polo ponies. Sam Sacco was an exercise rider who did a lot of work with Vincent. John Sacco was a jockey who eventually became a trainer. And then there was William J. Sacco.
All of the Sacco brothers, except John, went off to serve in World War II. Bill Sacco was an expert rifleman, an award-winning marksman who served in Burma.
When Bill Sacco came home from WWII, he made sure of having a highly successful career as a breeder and trainer working from Monmouth Stud. When Monmouth Park opened in 1946, he was among the inaugural trainers. He eventually sent out hundreds of winners and won the trainer's crown as the top trainer at Monmouth Park in 1962.
Bill Sacco introduced the sport of thoroughbred racing to his two sons, Gregg and Rick, who vividly recall running around the track and cleaning stalls.
"We grew up on Mitchell Terrace, about 5/8 of a mile from here," Gregg Sacco said Wednesday in a press conference for Saturday's $1 million Haskell Invitational. "We have a strong horse racing family."
There are seven horses in this year's Haskell field, and two of them have ties to the Sacco brothers, who will be on opposing sides for the first time in Jersey's biggest race.
"It's unbelievable," Rick Sacco said. "We've been coming here since we could walk. I haven't missed a Haskell in 52 years."
That's good, because Saturday will mark the 52nd running of the Haskell.
"It's very cool circumstances that it happened this way," Rick Sacco said. "We both have very good horses."
"It's crazy that it turned out that way," Gregg Sacco agreed. "But it's great. We're blessed and fortunate to come from such a great family. My Dad would be so proud right now, seeing his boys racing in the Haskell."
King for a Day is the 5-2 third choice in the field of 10. Despite his two wins over the strip and dead-game third in the Belmont, Joevia is 10-1 on the morning line.
This Haskell will mark the first time in his 31-year career that Gregg Sacco is sending a runner postward. Sacco won the 700th race of his career on July 12, has captured 31 stakes races and three graded stakes wins, and his horses have collected almost $21 million in purses, yet this is his first Haskell. And he has to do it with his brother as a foe.
"It's going to be odd seeing the Red Oak colors out there and I'm rooting against it," Gregg Sacco said. "It's ironic, but you really couldn't have written a better script."
Joevia, a $32,000 auction purchase as a two-year-old in training, broke his maiden at Monmouth almost exactly a year ago – on July 15, 2018 — and romped home in the slop of the Long Branch Stakes May 12. Considering he's collected almost $300,000 thus far, it's safe to say Joevia was an excellent purchase. He's owned by Michael and Jeff Fazio.
King for a Day, trained by Todd Pletcher, is a Red Oak Stable homebred by Uncle Mo out of the French Deputy mare Ubetwereven. King for a Day broke his maiden last October at Belmont Park in his second outing and won his second race in the undercard of the Preakness Stakes at Pimlico in the Sir Barton Stakes May 18.
"He's a typical Uncle Mo horse," said Pletcher, who has won the Haskell three times, with Bluegrass Cat in 2006, Any Given Saturday in 2007 and Verrazano in 2013. "He even looks like his sire. He's an enthusiastically training colt. I couldn't be more pleased with him. He's a very consistent horse to train. He goes out with enthusiasm. I'm excited to see how he's running coming into the race."
"I'm extremely proud to be participating in the race," Rick Sacco said. "King for a Day is a special horse to us."
So it should be an interesting race, especially for the family with deep roots in the Haskell.
"It's beyond anything anyone could have drawn up," Gregg Sacco said. "We have two really nice colts. It should be a great race. If we can't win, then I hope King for a Day wins. If we ran 1-2, well, that would be a dream come true."
Both veteran horsemen know that Maximum Security is the one to beat.
"We have to prove ourselves again," Rick Sacco said after his horse beat Maximum Security the last time out. "There's a lot of speed in this race. It's a short field. But this is incredible. I'm going to see all my old friends all weekend, all the guys I went to Shore Regional High School with. And, of course, my brother. I don't know how this happened."
"I'm just shocked how this all turned out," Gregg Sacco said. "I couldn't be happier."