After Haskell Invitational delay, some fury, some resignation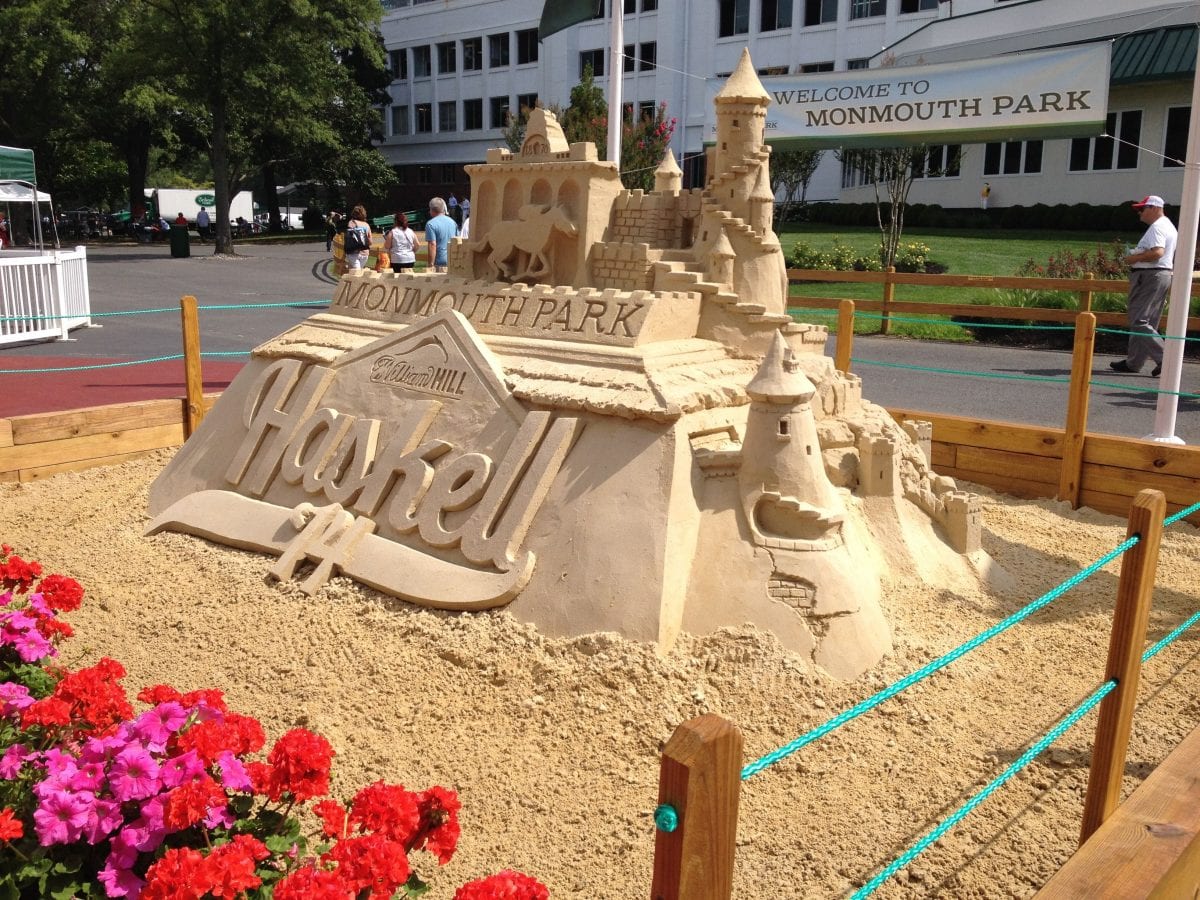 A previous Haskell sandcastle. Photo by The Racing Biz.
Dennis Drazin made like Nostradamus Wednesday afternoon when the chairman and CEO of Darby Development , LLC, the operators of Monmouth Park, predicted what might happen on Haskell Invitational day if the temperatures soared over 100 degrees as expected. Was there a chance that the race would be canceled?
"None," Drazin said Wednesday. "We have to keep the safety of the horses in mind. If we have to, we will delay the races until 6, 7, or even 8 o'clock when it gets cooler."
Bingo! Drazin was right on target.
Monmouth did run the first two races of the expected 14-race card, albeit after a 38-minute delay before the post of the first race.
But after the second race of the day went off and after seven horses were scratched from the first two races, organizers decided to scrap all non-stakes events for the remainder of the day, postpone the five stakes races until 6 p.m. and schedule the $1 million Haskell Invitational, the most important event on the Monmouth Park schedule, at 8:05 p.m. Eastern Daylight Time.
Drazin announced the cancellation of the six races and postponement of the five stakes events in a statement that was released some 30 minutes after making the decision.
"We've been carefully monitoring the heat for days, including today," Drazin said in the statement. "And we have a staff of veterinarians and state veterinarians, independent vets and consultants, all of whom tell us it's safe to run, that we're below the level required for the recommendation for cancellation."
Drazin added, "However, given the heightened concern from the public about the heat, and in the interest of the safety of the horses, we've decided to proceed with an abundance of caution, to cancel the remaining non-stakes races and to delay the six stakes races until a later post time. We're doing this to err on the side of caution."
It meant that six assorted races – one claiming, two maiden, and three allowance optional claiming – were canceled. The abbreviated card was slated to begin with the $150,000 Grade III Oceanport Stakes at 6 p.m., the $150,000 Grade III Molly Pitcher Stakes at 6:25 p.m., the $75,000 Wolf Hill Stakes at 6:53 p.m., the $200,000 Grade III Monmouth Cup at 7:15 p.m., the $150,000 Grade III WinStar Matchmaker Stakes at 7:40 p.m. and the $1 million Grade I Haskell Invitational, a "Win and You're In" race for the Breeder's Cup, at 8:05 p.m.
At the press conference on Wednesday announcing the Haskell draw, Drazin told The Racing Biz that Monmouth Park "always care[s] about the horses, the jockeys, the people working on the track. We will have cooling stations for everyone. The fans can come in where it's air conditioned. I don't foresee the race being delayed, but we had to have a backup plan in place. I've been here at Monmouth on some of the hottest days and we get that ocean breeze coming in."
But apparently, New Jersey Gov. Phil Murphy knew that the Summer Wind was not blowing on the Jersey Shore and that the temperatures at the track were calculated at 102 degrees and the heat index at 117. Murphy, who has been a supporter of thoroughbred racing in New Jersey and helped racing to receive a $100 million subsidy over the next five years, received reports from his staff that the conditions at the track were unsafe for everyone present – equine and human.
Drazin told NJ.com that he had been in contact with the Governor's office but said that the decision to cancel had been left to him, though all of the reasons cited in his statement also were true in the days before the Haskell, when other tracks throughout the Mid-Atlantic decided to cancel.
There were mixed emotions at the track about the postponement and cancellation.
Sally Underhill, a former horse owner and thoroughbred racing fan, said that she hadn't missed a Haskell in "more than 30 years," so the West Long Branch, N.J. resident made sure to be in attendance, despite having recently undergone hip replacement surgery. But Underhill said that she wasn't happy with the decision to go ahead with the race.
"They're not racing at Saratoga today and from what I understand not running at Parx and Delaware (Park), as well," Underhill said. "Well, they should have canceled here, as well. This is really unsafe for anyone to be out. What did they need? A horse to drop dead? Or perhaps a person? This is unacceptable."
Underhill said that she planned to "go home, get a vodka and soda and cool off," and then determine if she was coming back to watch the Haskell later on. Monmouth Park officials punched patrons' tickets so they were allowed to return if they left and another line was processing returns and refunds for others that wished to leave.
One worker, who asked not to be identified, was livid over the decision to hold the Haskell.
"The whole thing is a clusterf—k," the worker said. "It's a sh-t show. They all knew they could have called this off, but they went ahead with it because of the almighty dollar. It's a shame. They could have held this with the five races on Monday afternoon and given people the chance to enjoy Haskell Day. Not like this."
One longtime horse player, Marge Bohannon, drove up from Maryland to see the Haskell.
"Of course, I'm disappointed with the delay," Bohannon said. "Now I have to drive home at like 8:30 and I won't get home until way past midnight. That was unexpected. But I'm here and I'm sticking it out to see the race."
Another old-time horse player, George Ackerman of Eatontown, N.J., said he wasn't going anywhere.
"Where am I going to go?" said Ackerman, an 82-year-old retired laborer. "Am I going to go home? Hell, no. My wife is there. I'm not going there. I'm going to sit right here, have a few more beers, listen to the music and bet on the races. Maybe I'll bet on the Mets game."
Of course, sports betting is now permitted at Monmouth Park in the William Hill Sportsbook that is air conditioned. It was a suitable way to beat the heat.
Attendance was considerably down for Haskell Day, but that could be because of the seven-horse field with no true Triple Crown race winner. Sure, morning line favorite Maximum Security did cross the wire first in the Kentucky Derby, but he was disqualified after interfering with rivals. Country House was awarded the Kentucky Derby title after Maximum Security was taken down.
The other two Triple Crown race winners, War of Will (Preakness Stakes) and Sir Winston (Belmont Stakes) decided to forego this year's Haskell Invitational.
But the weather could well have been a factor limiting the crowds, too. It was the hottest recorded July 20 around these parts since meteorologists started recording temperatures.
Avid racing fan Billy McDermott of nearby Colts Neck, NJ, would have been at Monmouth Park if the temperatures were just a little lower.
"I usually get to the Haskell," McDermott said. "I probably have been to about 30 Haskells. I collect the hats."
Patrons are given a free hat as part of their paid admissions. General admission prices were almost doubled Saturday, up to $8.00, up from the regular price of $5.00.
"But I wasn't going out in this heat," McDermott said via a phone interview. "I wasn't going anywhere. I guess I won't get a hat this year. It's stifling out there. I can't breathe. I'll miss going and seeing some of my buddies, but I wasn't about to risk my health."
There was a group of people from "Horseracing Wrongs" that were protesting outside the entrance to Monmouth Park, with placards of injured horses, signs that said, "Stop Racing Horses to Death," and chanting "Horses die on racing tracks, get the jockeys off their backs."
Maria Wojciechowicz of Howell has adopted two former race horses that were, in her eyes, "discarded and no longer wanted."
"We're trying to raise public awareness," Wojciechowitz said. "The sport is not as glamorous as people think it is or people want it to be. The horses are pushed too hard and too young. All Monmouth Park wants is the money. We're better than this."
Approximately 70 people protested, but after an hour or so, they dispersed.
"It's just too hot out," one protester said.
But the day was summed up by Eddie Shannon of Neptune, who is a "self-made horse racing junkie."
"What's everyone complaining about?" Shannon asked. "What's the big deal? It could be worse. It could be raining. I'm not going anywhere. I'm staying."
And so were hundreds of other New Jersey racing fans. After all, it was in fact Haskell Day at Monmouth, the pinnacle of thoroughbred racing in the Garden State. Despite the temperature, it's a day that all horse racing fans look forward to.
Oh, and one other point. This year, the Haskell was moved up from its traditional slot on the last Sunday in July. The early prediction for next Sunday is a picture-perfect, mostly sunny day with a high temperature of 84 degrees.
Note: An earlier version of this story said that New Jersey Gov. Phil Murphy was on vacation in Italy. That is incorrect — his vacation begins this week — and has been changed. We regret the error.