Laurel Park picks and ponderings July 18, 2019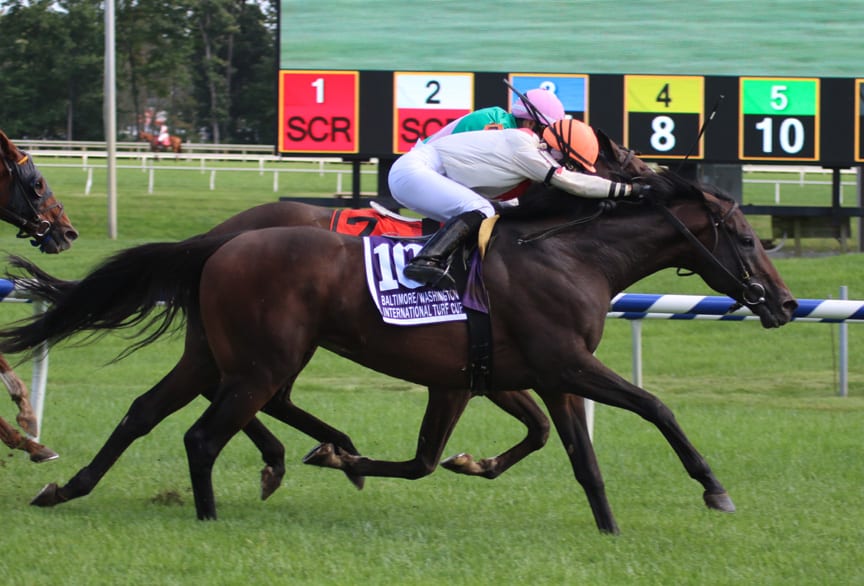 Doctor Mounty held off Projected narrowly to upset the 2018 G3 BWI Turf Cup at Laurel Park. Photo by Laurie Asseo.
by Frank Vespe
In which we pick the races from Laurel Park each day…
Post time: 1:10 p.m.
Carryovers: Rainbow Jackpot Pick 6 — $1,544; Super High 5 — None; Late Pick 5 — None
Stat of the day: Six of eight races today were scheduled for the turf but have been moved to the main track.
ANALYSIS
RACE 1 — OFF THE TURF
Two-year-olds square off in this one, and #8 On the Turf (9-5) — no, seriously, that's his name — has the most promising form of those who've started. Also of note are a couple of first-timers, including #1 Audacious Quality (12-1), a well-bred Phil Schoenthal trainee who is out of the mutliple stakes winner Staged Affair, and #2 Really Felix (6-1), a son of Seville who fired a bullet in his last work.
RACE 2 — OFF THE TURF
It's first time in the Claudio Gonzalez barn for #11 Rage Away (20-1), who cruised last out at the never-won-two level at Churchill. Gonzalez is 24 percent with runners first off the claim, and this off-the-turf group looks essentially similar to what he saw in that last contest. Of course, the two main-track-only entrants — #10 Revolutionary Road (5-2) and #2 I'mthetapitnow (5-1) — both are worth a look. The former has the consistently best Beyers in the group, while the latter may be the controlling speed.
RACE 3 
This is one of four maiden races among the first five tests today, and the word appears to be out on #3 Friend Me Charlie (8-5), who will make her career debut. The Rodney Jenkins-trained daughter of Bandbox is out of the multiple stakes winner Access to Charlie, who earned $260,000, and she's been working fast. We'll have her on the ticket, but those odds are a little bit daunting. We'll look for a little better value from the well-bred #4 Gentle Thoughts (4-1), who's also making her career debut. The daughter of Bodemeister is the first foal out of an unraced Curlin mare, but her granddam was a stakes winner of $320,000.
PICKS
RACE 1
RACE 2

11-10-2-1
SCR: 3, 4, 6, 8, 12

RACE 3
ANALYSIS
RACE 4 — OFF THE TURF
Out of the speedy stakes winner Miss Behaviour and by top sire Speightstown, #3 Miss Guided (7-2) is bred to be a star, and while she hasn't run badly in three previous starts, including a second last time out, she hasn't graduated yet. That can chang here in this off-the-turf contest. Also notable and at a price is #9 Hanky Panky (12-1); this Liaison filly is a half-sis to the stakes winners Talk Show Man and Just Jack. The Kenny Cox trainee has been training steadily since mid-May and will have Jorge Ruiz up.
RACE 5 — OFF THE TURF
The improving Amanda Rawlings trainee #8 Blessed Arion (7-2) gets the nod in this one. The Kantharos gelding ran a good second last time out, beating, among others, #6 Lost in Limbo (3-1), who was another length-and-a-half back in fourth. We'll also use the only first-timer in the race, #1 Slippin Jimmy (6-1), a $65,000 auction purchase who is a half to some solid sorts.
RACE 6 — OFF THE TURF
It's a tough day for Laurel to be off the turf — six of the eight races were on the lawn — and in this race there's not even a main-track-only entrant to hang your hat on. We'll take #2 Wildcattin (3-1) on top; though she broke her maiden on the grass, she ran competitively on the main track at the $40,000 maiden level, which suggests this is the right spot for her first try against winners.
PICKS
RACE 4

3-6-9-5
SCR: 1, 2, 10, 11, 12

RACE 5
RACE 6
ANALYSIS
RACE 7
Nickel claimers go postward for a one-turn mile in this event, and we'll look for the mild upset with #2 Free to Trump (4-1). His form is a little bit in-and-out, but a closer look reveals that his last four races include two good efforts — both at Laurel in one-turn mile races — and two poor ones, both going shorter distances elsewhere. Back home and doing what he likes to do, he can have a say in the outcome. This is a pretty contentious group, though, so probably best to spread. If the pace heats up here, then one likely beneficiary will be #1 Southeast (9-2, part of entry), who makes his second start in Jose Corrales' barn. He saw much better horses than these last time out, and while he didn't have any impact on the outcome, he ran pretty much his race. He will certainly appreciate the easier group here. And favored #7 City Gold (5-2) is a likely candidate, coming off a race against similar wherehe led late before missing by a nose. One concern: he hasn't run since June 1 and has only a single published work in the meantime.
RACE 8 — OFF THE TURF
You have to figure #3 Baron of Bluegrass (5-2) — winner of today's "Most Grandiose Horse Name" Award — will go favored in this event. Two back he graduated at the $40,000 level at Pimlico, also on the main track, and a reprise of that effort will put him right there. We'll try to beat him, though, with the intriguing #8 Spicy Meatball (6-1) — link to the famous Alka-Seltzer "spicy meatball" commercial — making his first start in the Kieron Magee barn. This one galloped against lower level maidens last time out on the synthetic at Arlington Park and fired a bullet work at Pimlico in his last recorded move. Magee likes what he's seen enough not just to move this one up a notch but also to protect him from being claimed. Note the late jockey change from Trotman to Trevor McCarthy.