Bethlehem Road, Curry take scenic route to Haskell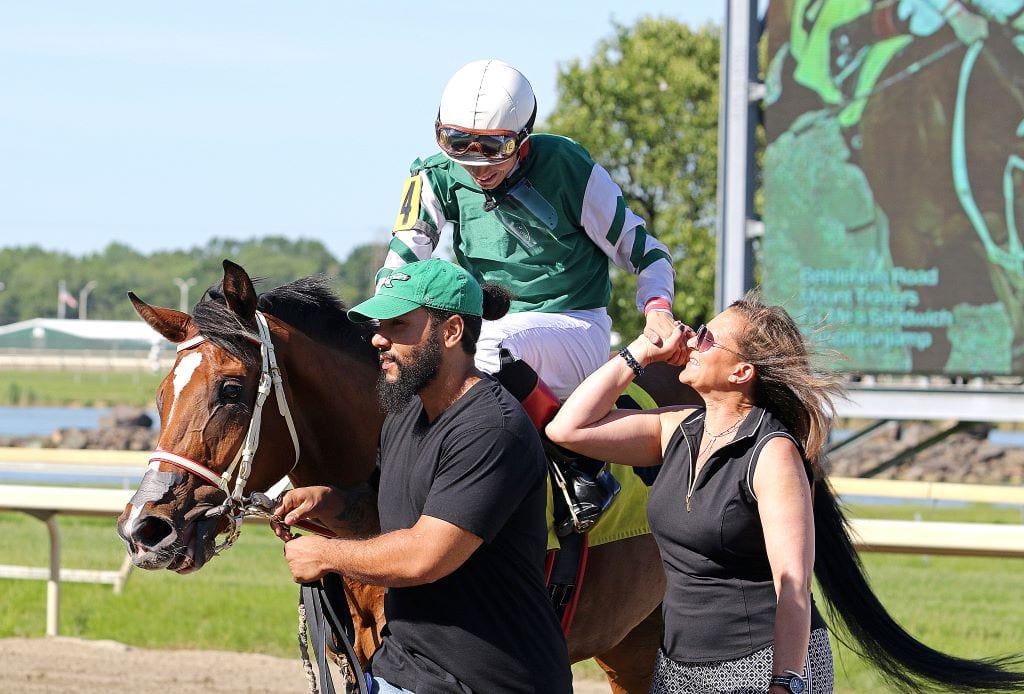 Trainer Dee Curry (R) congratulates jockey Luis Rodriguez Castro after Bethlehem Road won the Parx Spring Derby. Photo By Bill Denver/EQUI-PHOTO.
Dee Curry grew up an Air Force brat.
Born in Roswell, New Mexico – yes, that Roswell, NM – she moved to with her military family to Germany and later England as a child.
It was in England where she developed her love of horses, because her mother, born in England, came from a family that owned their share of horses.
"They all had racing in their blood," Curry said. "It was natural that I got involved."
Curry started as a groom, then an exercise rider, for her family's horses in England. When she moved back to the United States, settling in Burlington City, N.J, where she attended high school, her love of thoroughbred horses flourished.
"I got the bug," said Curry, who attended Rowan University and started working with horses at Philadelphia Park, thanks to her friendship with Jeff Bowen, who races as Gryphon Investments LLC.
"I knew Jeff from high school," Curry said. "I was thinking about becoming a veterinarian, but Jeff said, 'I can only trust you.' So I became a trainer. He bought five horses right away."
Curry saddled her first horse as the trainer of record in 1996 but went winless that year. She registered her first win in January 1997, when Duke's Lightening won a claiming race at Garden State Park. Now, two decades later, Curry is coming home to New Jersey with a 3-year-old gelding named Bethlehem Road, a son of Quality Road with a somewhat complicated past.
Bethlehem Road is 20-1 on the morning line, the longest shot in the seven horse field for Saturday's $1 million TVG.com Grade I Haskell Invitational at Monmouth Park. But Bethlehem Road was always a long shot even to make the races, so perhaps bucking the odds suits him.
One day, when he was a foal, "His head was tilted to one side with his ear flat down," Curry said. "We thought he broke his neck. We couldn't find out what was wrong with him."
Bethlehem Road was shipped to the Hagyard Equine Medical Institute in Lexington, Kentucky, where veterinarians performed a series of tests. They determined that he had a golf ball-sized tumor inside his ear. He underwent surgery to remove the tumor, which luckily turned out to be a cyst.
"He had to get physical therapy," Curry said. "He had to have his ears massaged."
But still, the head was tilted.
"We thought we could make him a riding horse (for owner Randy Reed's daughter), if anything," Curry said. "Maybe he could become a show horse."
First, though, Curry and the owners decided to give the whole racehorse thing a try. They shipped Bethlehem Road to Dean Keller's South Carolina farm, to take his first steps in that direction.
"Dean put a bit in his mouth and rode him," Curry said. "Dean said he was fine. He started breezing him a little as a 2-year-old. Dean just kept working with him."
When Bethlehem Road arrived at Curry's Parx Racing-based operation, she was immediately impressed.
"He was popping out of the gate," Curry said. "I saw right away that he could run."
Bethlehem Road won a maiden special weight race at Parx by 4 ½ lengths and then won twice more at Parx, including the Parx Spring Derby.
Curry then entered Bethlehem Road in the Grade 3 Ohio Derby in June, but after getting bounced around leaving the gate and into the first turn, he faded to be a well-beaten-fourth.
Nevertheless, Curry decided, after speaking with Monmouth Park reps, to go hunting even bigger game, in the Grade 1, $1 million Haskell.
"We felt like we had nothing to lose," said Curry. "There's no pressure at all. His speed is all natural. He'll do whatever he has to do. We were planning to go to Saratoga, but once Monmouth called, we felt that this was a good opportunity."
Linemaker Brad Thomas has made Maximum Security the 8-5 favorite. The Jason Servis-trained colt won the Kentucky Derby but was disqualified for interfering with rivals. Mucho Gusto, the Bob Baffert-trainee with four graded wins on his resume, is the second choice at 2-1. Baffert is looking for his record ninth Haskell championship.
King for a Day, the Red Oak Stable-owned colt trained by Todd Pletcher, is 5-2 in a contentious field.
Three other runners – Joevia (10-1), Everfast (10-1), and Spun to Run (15-1) – are, like Bethlehem Road, longshots in the seven-horse field.
So Curry is the 35-year overnight story with a horse that was given little chance to make the races. Luis Castro Rodriguez will be aboard Bethlehem Road. It's Curry's first-ever starter in a Grade 1 stake.
"It is an amazing story," Curry said. "He sleeps all the time. I have to wake him up to train. I had to wake him up for the Ohio Derby. I love a horse that sleeps all the time. I've had so many horses that are nervous all the time. Bethlehem Road has always been a sleepy head."
The horse was named after the road where HomePride Farms in Kentucky is located. That's where Bethlehem Road was born to the Henny Hughes mare Alydarla.
Bethlehem Road has won $124,300 in the four starts with three wins. He is owned by Randy Reed, Gryphon Investments LLC, and Don Ameche III, the grandson of the famous actor who stole the show in the movie "Trading Places" with Eddie Murphy and Dan Ackroyd and won the Best Supporting Actor Academy Award in 1985 for "Cocoon."
"I spoke to [Ameche's] father and he remembers going to horse races with Jimmy Stewart and Joan Crawford," Curry said. "He's had horses before, but none as exciting as Bethlehem Road."
Curry will be only the fourth woman to ever saddle a horse in the Haskell.
"It's huge for me, being from Jersey," Curry said. "I've had horses run on Haskell Day. I had a maiden named Bruiser win after the Haskell about 15 years ago. I hope this is an eye-opener for women in the business. We're losing women in this business… Women just don't get the opportunity to train. I hope this helps."
HASKELL NOTES Post time for the Haskell, which will be televised nationally by NBC from 5-6 p.m., is 5:47 p.m. and will go off as the 12th race of 14 that are scheduled on the card – heat index permitting. First post Saturday is 12 noon, with the gates opening at 8 a.m… There will be four additional graded stakes races: the $200,000 Grade III Monmouth Cup at 1 1/8 one the dirt for three and up; the Grade III WinStar Matchmaker for fillies and mares ages 3 and up at 1 1/8th and on the turf; the $150,000 Grade III Oceanport for 3 and up at 1 1/16th on the turf; and the Grade III Molly Pitcher for fillies and mares ages 3 and up at a 1 1/16 on the main track…