MATCH Series: Growing clarity on the track, but some concerns off it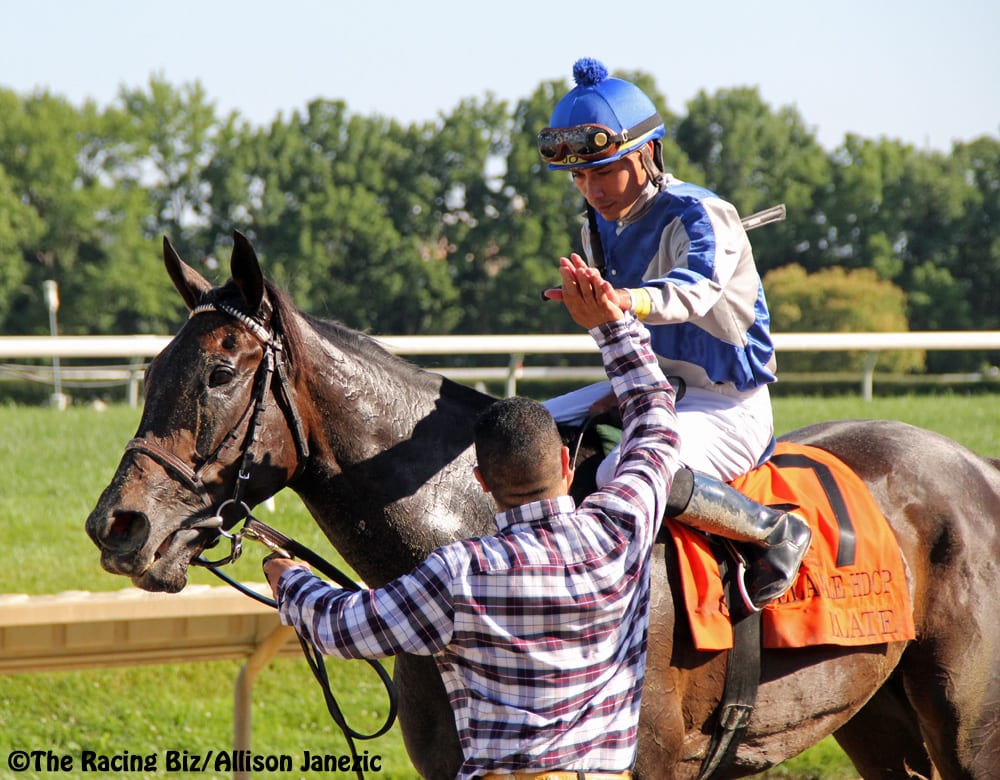 A high five for Jose Ortiz, who won the Delaware Handicap aboard Elate. Photo by Allison Janezic.
Saturday's racing at Delaware Park provided a bit of clarity to the points race in the MATCH (Mid-Atlantic Thoroughbred Championship) Series – but also a bit of concern about the series itself.
A pair of sprinting fillies moved to the head of the MATCH leaderboard with their second consecutive one-two finish. A month-and-change after she wore down Ms Locust Point to win the Penn Ladies Dash at Penn National, Bronx Beauty reprised that effort in claiming the Dashing Beauty Saturday at Delaware Park.
Under Jose Ortiz, who took four of the day's five stakes in a perfect four-for-four effort, Bronx Beauty broke alertly to hold a brief lead, which she then ceded to Ms Locust Point. She chased outside that runner, and then, at the head of the lane, dived down to the rail and rallied gamely to win by a neck.
"That was my plan," Ortiz said. "I wanted to go out of there, make the other filly work if she really wanted the lead, make her work for it. If not, I would have taken it."
"That was one of the best races in the Series, even going back 20 years," said Alan Foreman of the Thoroughbred Horsemen's Association, which runs the Series. "It's a great rivalry that I hope we'll see through the Series."
Time, of course, will tell, but it certainly is a distinct possibility. The final two races in the series are the Roamin Rachel Stakes on September 2, followed by the Regret Stakes on September 28. The former is at Parx Racing – where Ms Locust Point is trained by John Servis – and the latter takes place at Monmouth Park, where Anthony Margotta trains Bronx Beauty.
And maybe – just maybe – Margotta will be able to entice Ortiz back for one or both of those races.
"She's very nice," Ortiz said of the four-year-old Bronx Beauty. "She's a PA-bred. She's got great connections. I just appreciate the opportunity."
Bronx Beauty, a daughter of Liaison, is owned by 2W Stables LLC and now has seven wins from 12 career starts with earnings of nearly $400,000.
She also has 20 points on the MATCH Series leaderboard. That leaves her in second, right behind – you guessed it – Ms Locust Point.
Ms Locust Point has run in all three legs of the Series to date – the first of them was the Primonetta Stakes at Laurel Park in April, which she won – and has a win (10 points) and two seconds (seven each) for her total of 24. Bronx Beauty has the two wins but did not run in the Primonetta.
Horses must compete in at least three of the five races in a division to be eligible for the financial bonuses available.
"We're getting down to the real deal now," Foreman said. "I think we'll have a great day at Parx because of that."
Foreman was dealing Saturday with some frustration from Delaware Park officials. The four MATCH Series races had a total of just 24 horses – up from the 22 that were in the MATCH races at Penn National but still a disappointing turnout.
Some of the paucity of the fields came from a recent issue with a horse that was diagnosed with the strangles, a generally treatable but highly contagious bacterial infection. Though that horse has been isolated off the grounds, it led Maryland Jockey Club officials, and then those of other states, to refuse to allow on its grounds any horses from Delaware, either shippers of returners.
Though that ban had been scheduled to expire July 14, MJC officials extended it Friday night, announcing via text that the ban would continue "until further notice." A text on the morning of July 17 indicated that the ban be lifted as of July 19.
But John Mooney, Delaware's executive director of racing, said that the equine health situation had not changed at all and that the purpose of extending the ban was a mystery to him.
"I have no idea what that's about," Mooney said. "I really am amazed that Maryland keeps putting out these texts without calling and asking what's going on. Nobody here even knows what they're talking about."
Of more long-term concern, at least as far as the Series is concerned, is the scheduling by MATCH participant tracks of non-MATCH races in competition with MATCH races. That very much goes against the intent of the Series.
In this case, the Grade 3 Parx Dash – a turf sprint for three-year-olds and up – took place July 6. That $200,000 race drew runners that might otherwise have run in Delaware's $100,000 Glasgow Stakes Saturday, which is a MATCH Series event. And on Sunday, July 14, Laurel Park held the $75,000 Twixt Stakes, a sprint for fillies and mares that drew runners who might otherwise have run in the MATCH Series analog at Delaware, the Dashing Beauty.
"The Series will never work when tracks won't cooperate and run races against the MATCH races," a clearly irritated Mooney said. "It's ridiculous."
Maryland Jockey Club racing secretary Chris Merz called the scheduling of the Twixt "an oversight on everybody's part."
"When we had the MATCH Series meeting together, I think everybody kind of forgot what everybody else did," Merz explained. "It's definitely something we didn't want to do."
But Delaware Park's Mooney wasn't so sure.
"It looks like it's pretty deliberate to me," he said. "We all sit in a meeting, come up with a series of races to run, and we agree not to run anything that will overlap or take away from them, and they do it anyway."
Regardless, Foreman agreed that getting this problem fixed is paramount for the Series going forward.
"The idea behind this Series was to try to eliminate competition, not only protect the Series but protect the tracks on their big days. That didn't happen here and it's not acceptable," he said. "We have to fix it. It defeats the whole purpose of the Series. If the tracks aren't going to cooperate, then we shouldn't do the Series."