Owner-breeder-trainer John McKee looking forward to returning to action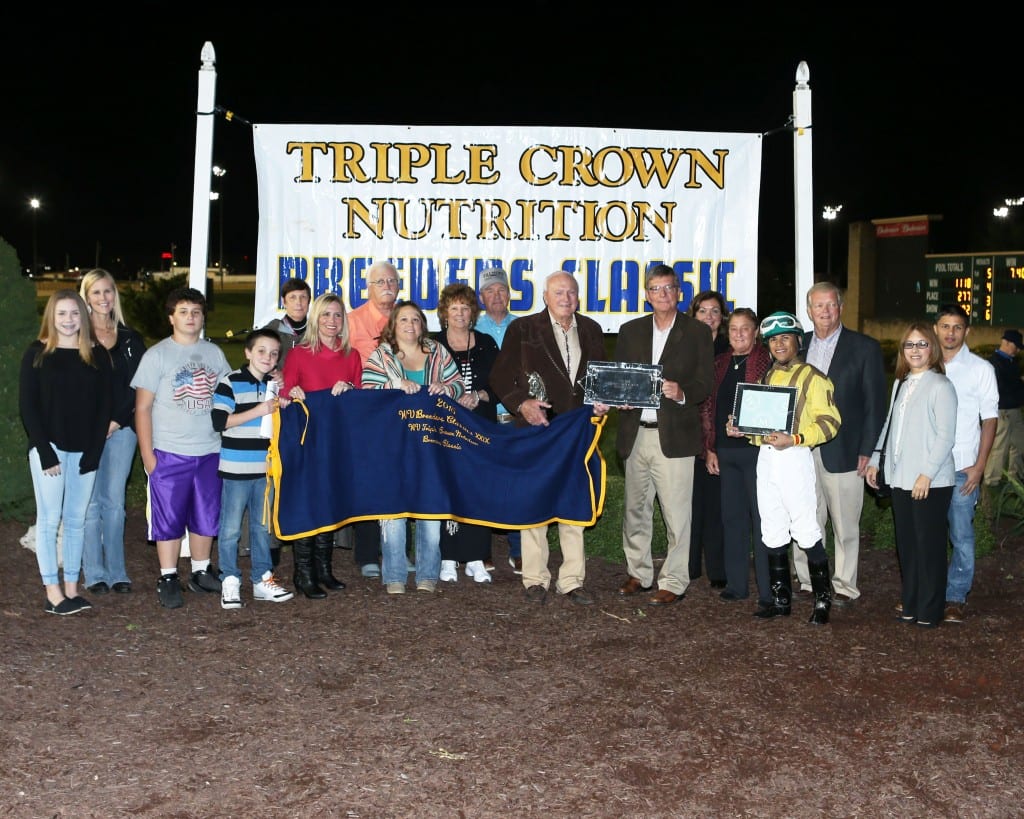 John McKee, center right in brown blazer and holding end of saddle cloth, after Aye a Song won the West Virginia Triple Crown Nutrition Breeders Classic. Photo by Coady Photography.
Winston Churchill once said, "There is something about the outside of a horse that is good for the inside of a man," and Charles Town owner-breeder-trainer John McKee subscribes to that.
McKee, 79, owner of Beau Ridge Farm where Fiber Sonde, the top sire in West Virginia, stands, is recovering from having his gall bladder removed rcently. McKee has battled kidney stones for the past three decades, and last month his latest attack prompted longtime girlfriend Cynthia O'Bannon to take him to Jefferson Memorial Hospital where the prognosis was that he would require surgery to have his gall bladder removed within two weeks.
"When John had his [gall bladder] attack, we thought it was something he ate that night," O'Bannon said. "But he's been dealing with kidney stones for a long time."
"I'm doing much better, but still in a lot of pain," McKee, who has saddled 21 winners from 148 starters this year and now sports 1,174 career winners with earnings of over $13.7 million, said on July 8. "I'm hoping to get back to the barn next week. Right now, it still hurts to try to do anything. I miss being at the barn every morning. I can't move as well as I once could, but I still like to get to the barns."
As a trainer, McKee will perhaps always be linked with his talented homebred filly, Rachel's Turn. Toiling in the days before slots revenue boosted local purses, Rachel's Turn enjoyed considerable success both at home and on the road, including a win in the 1991 Morris County Stakes at the Meadowlands. She finished her career with 15 wins from 35 starts.
While McKee has continued to enjoy success as a trainer, throughout the current decade, his Beau Ridge Farm has gained prominence as the home of Fiber Sonde, an unraced son of Unbridled's Song and half-brother to Breeders Cup Sprint champion and Eclipse Award winner, Speightstown.
Fiber Sonde currently leads all West Virginia stallions with 47 wins and nearly $2.3 million in progeny earning this year – more than double his nearest rival. But despite his success stands for a meager $1,000 stud fee.
O'Bannon actually bought Fiber Sonde for $8,000 to use as a sire, and his progeny have exceeded all expectations. His two richest runners, Runnin'toluvya, hero of the Grade 2, $1 million Charles Town Classic, and Late Night Pow Wow, winner of the Grade 3, $300,000 Charles Town Oaks last fall and Grade 3, $250,000 Barbara Fritchie at Laurel Park this past winter, have helped put Fiber Sonde and West Virginia-breds in the national spotlight.
"He's been a real blessing," O'Bannon said of Fiber Sonde. "He's had nine or 10 good years for us. John has thought about raising his fee, but he likes seeing all the Fiber Sonde's out there."
While Runnin'toluvya and Late Night Pow Wow have garnered the spotlight this year through their success in graded stakes company, a rarity among West Virginia-breds, McKee, O'Bannon and Fiber Sonde have earned some local recognition through one homebred that ties them all together – Grand Fiber.
Although yet to win a stake, Grand Fiber has won twice in six starts this year, including an allowance score on June 21, and he now owns a solid 5-3-7 slate and nearly $110,000 banked from 23 career outings. Owned and bred by O'Bannon and trained by McKee, Grand Fiber has helped both cope with McKee's latest health issue.
"He's always been a nice horse," McKee said. "Anytime one of the Fiber Sonde's wins it makes me happy. He's been quite a find. The fact that it's Cynthia's is even better. Anytime one of hers wins she's happy, and that makes me happy. I can;t get around too good anymore, but it will be good to get back to the barn and look at the horses again."