For Blue Prize, added ground could be key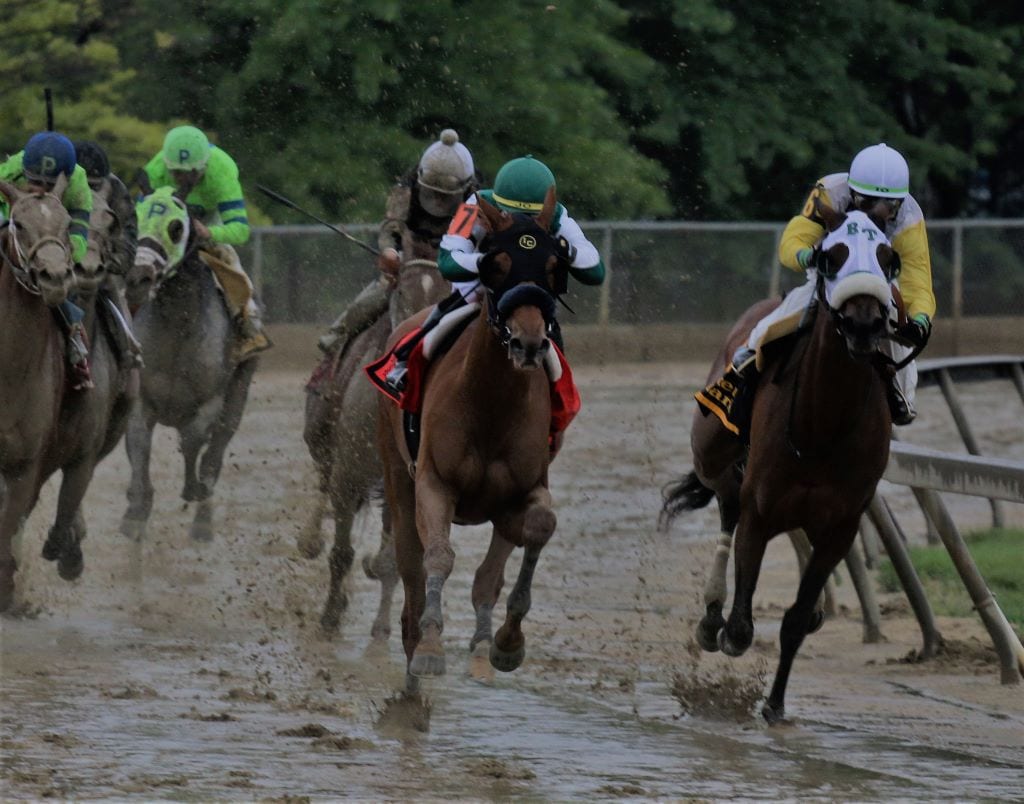 Blue Prize (center) ran second in the 2018 Allaire DuPont Distaff. Photo by George Adams.
Saturday marks the 82nd running of the Grade 2, $750,000 Delaware Handicap and from the looks of the eight rivals who will challenge defending DelCap champion Elate, Billy Mott's star mare faces a tougher and deeper group than the one she easily defeated at 2-5 last July.
For starters there's a good bit more speed in this year's edition of the 1 ¼-mile fixture. Gotham Gala set a solid pace that included a half of :47.4 and six furlongs of 1:11.2 en route to a front running win in the $100,000 Obeah, the traditional local prep for the DelCap.
Goodonehoney chased Gotham Gala home in the Obeah and has done her best work on the lead. And Escape Claus, the fascinating 20-time winner from the plains of Manitoba, has used her tactical speed to advantage throughout her career and just missed winning a Grade I when she lost a photo to the very tough Midnight Bisou in Oaklawn's Apple Blossom in a race where Elate finished third, beaten almost three lengths.
Then there's Blue Prize, the Argentine-bred daughter of Pure Prize who has finished first or second in 15 of her 19 career starts while amassing earnings of some $1,162,253. Blue Prize is listed as the second choice on the morning line at 7-2 (versus Elate's 7-5) but a lot of folks think the two are pretty evenly matched at this point in their careers.
The first time Elate and Blue Prize raced together came on June 15. in the Grade 2 Fleur De Lis going nine furlongs on the dirt at Churchill Downs. The pair carried equal weight of 120 in a race that featured a very slow pace of :49.3 and 1:13.4. Early in the race Blue Prize and her rider, Javier Castellano, didn't seem to be in synch. Castellano attempted to wrangle the mare back off the pace into the first turn, and Blue Prize seemed to resent that action and fought the bit to the backstretch before settling down.
Then in the second turn Castellano made a power move outside to challenge for the lead. Blue Prize stuck a head in front turning for home then dueled through the stretch with She's a Julie but when a fresh Elate ranged up outside inside the final furlong, Blue Prize finally weakened a bit near the end, winding up a length-and-a-half back of Mott's star while saving the place.
Blue Prize will be in receipt of two pounds on Saturday — weight that could be a factor.
Blue Prize's trainer Ignacio Correas agreed his star may not have had the best of trips in her last but was quick to point out that took nothing away from a fine performance from Elate.
"I'm a big fan of Elate and Billy Mott, as well, and I thought she (Elate) ran a very professional race at Churchill. I expect she'll be just as tough Saturday," Correas admitted. "To be second choice to a horse like Elate is an honor as far as I'm concerned."
Blue Prize is a six-year-old daughter of Pure Prize out of the Not For Sale mare Blues for Sale, and while Elate has demonstrated her ability to get the 10-furlong trip, Correas points out that so, too, has Blue Prize.
"I'm very happy to be able to run her a mile-and-a-quarter," Correas said. "She won going a mile-and-a-quarter when she won the Argentina Oaks and I really wished there were more races for her at a mile-and-a-quarter or longer."
The lengthy trip and the potential pace scenario both seem to work for Blue Prize, Correas said, but again, that could be said of Elate, as well.
"It's true we may not have had the best of trips last race, but you know, you can do all the planning and plotting you want but when they open the doors all that goes out the window," he explained. "It does look like there's enough speed in the race to ensure an honest pace and I think that will benefit both my horse and Elate, I would hope so. I know she's been training up the race good, we've had the race on our calendar for some time, and I think it's got a chance to be a really exciting race."
Joe Bravo will be aboard Blue Prize Saturday, and Correas is pleased he was able to secure the veteran's services. Bravo put up a cracking good ride when he guided Blue Prize to a win from the 11 post in the nine-furlong Grade I Spinster last fall at Keeneland and was also aboard Blue Prize when she ran fourth, beaten just a length-and-a-half by Monomoy Girl, in the Breeders' Cup Distaff last fall.
"It's always good to be able to have a rider who's had success on your horse back on her, and they (Bravo and Blue Prize) seem to get along well," Correas pointed out. "Now we'll see whether they're going to be running at us or we're going to be running at them."