Delaware Park Handicappers' Notebook 2019 Vol. 9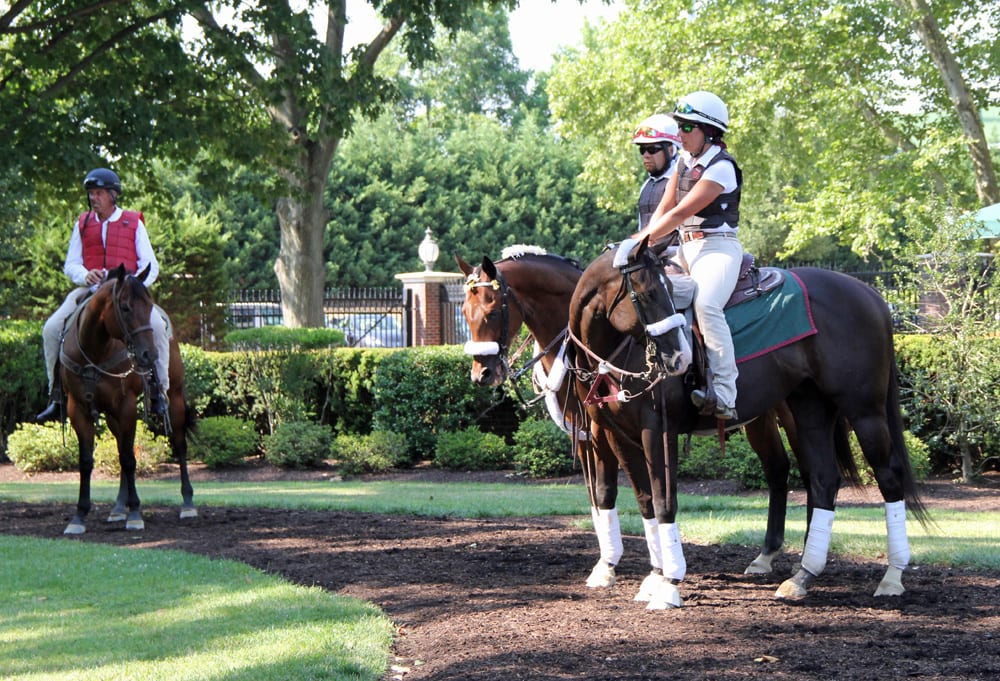 In the paddock on Delaware Handicap day. Photo by Allison Janezic.
Correspondent Doug McCoy returns with his weekly Delaware Park Handicappers' Notebook, featuring horses to watch, bet-backs, and more.
Horses and races to watch
NOT ROCKET SCIENCE (July 6, Race 1) – Bennett first-time starter broke slow from rail post as many who make their first start in the one-hole do, recovered to chase a hot pace that included a :21.4 opening quarter, and then didn't fade that badly in the drive as stablemate won the sprint. Better post and the experience gained from this one should make this one a threat next start.
DOUGLAS ROAD (July 6, Race 5) -This Delacour runner was the only horse to tried to challenge the ageless wonder Dr Blarney when that one posted his 20th career win in the Carl Hanford Memorial. He ran up outside the favorite through a third quarter-mile of :23.26 seconds but couldn't crack the nut and understandably tired from that move to fade in the stretch. There aren't many Dr Blarneys around, and when Douglas Road returns next he'll deserve a long look.
SURF AND TURF (July 6, Race 6) – This Kitten's Joy colt made his first career grass start in the Kent Stakes and made an eye-catching middle move in that nine furlong turf test to look like a contender turning before the first two finishers kicked on late. This one could show up in a stake at Saratoga next month and be a healthy price.
DELAWARE OAKS (July 6, Race 7) – It's no secret Jaywalk turned in a scintillating winning performance to return to prominence in the Grade III Oaks but Fashion Faux Pas also turned in a very courageous effort in defeat and while the others were well back, it was more Jaywalk's dominance than their lack of ability that kept them out of contention. We'd give any horse that exits this year's Oaks a long look, and of course it looks like Jaywalk's going to rejoin the list of top three-year-old fillies.
Jock/trainer Watch: Performers of the week
This week's Spotlight Performer isn't a jockey or trainer but an ageless four-legged wonder who is a rarity in today's racing: a tough, veteran stake runner who still has that spark to win. When Dr Blarney went to the front and never looked back to take the Carl Hanford Memorial for his second stakes win at Delaware Park, it was the 20th career win from 28 lifetime starts for the 6-year-old Dublin gelding. The $30,000 winner's share of the purse raised Dr Blarney's career earnings to more than $628,000. The first winner by Dublin in 2013, Dr Blarney has been cannily managed by trainer Karl Grusmark and owner Joseph DiRico, finding plenty of easy spots against state-breds while making occaional forays into deeper waters. And Dr Blarney and jockey Tammi Piermarini have a stellar partnership. Piermarini rode Dr Blarney for his fourth start, and the pair have been a team ever since. Dr Blarney has won eight of his last 12, all three this season, and may be seen next defending his title on Owner's Day in the Governor's Day Handicap. He is a true warrior and one of the best products of all time from the Massachusetts-bred program.
Handicapper's tool box
MIDDLE QUARTERS POINT OUT FUTURE WINNERS
Racing analysts often talk about fast quarter-miles. Sometimes it's the opening quarter-mile of a sprint, while at other times they're crowing about a fast final quarter-mile.
While those portions of a race are important, the shrewd players in the business use the "hidden" quarter-mile to spot future winners and value plays. That hidden quarter is the middle quarter mile clockings in races from seven furlongs and longer on dirt and turf.
Sharp handicappers and bettors pore over fractional times, looking for those strong "middle of the race" performances through fast middle quarters than are often overlooked by the general betting public.
Take Saturday's Kent Stakes for example. The opening half mile was run in a relatively slow :49.48 but they ran the middle quarter in a solid :24.13; that was the fastest of the first three quarters. They then finished up the race in a sharp 35.65 for the last three-eighths (11.36 for the final furlong).
One horse in that race, Surf and Turf (one of our horses to watch horses this week) made up a length-and-a-half in that third quarter, according to Equibase charts, which means he ran a sub :24 quarter mile while advancing to a threatening position turning for home. He didn't quite kick on from there — running evenly through the lane — but that sharp move through the middle portions of the race point him out as a horse to keep an eye on.
Players should take into consideration that some tracks, be it turf or dirt, are just faster than others.
But fast middle quarters (sub :24 quarters are even more impressive) and following horses who make up ground through those blistering "middles" can give a smart player a list of runners sitting on top efforts.
LATEST DELAWARE RACING NEWS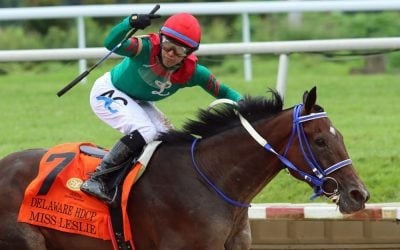 Racing returns to Delaware Park May 24, and we return with Delaware Park picks and analysis for the track's 86th racing season.