She's back: Jaywalk dominates in G3 Delaware Oaks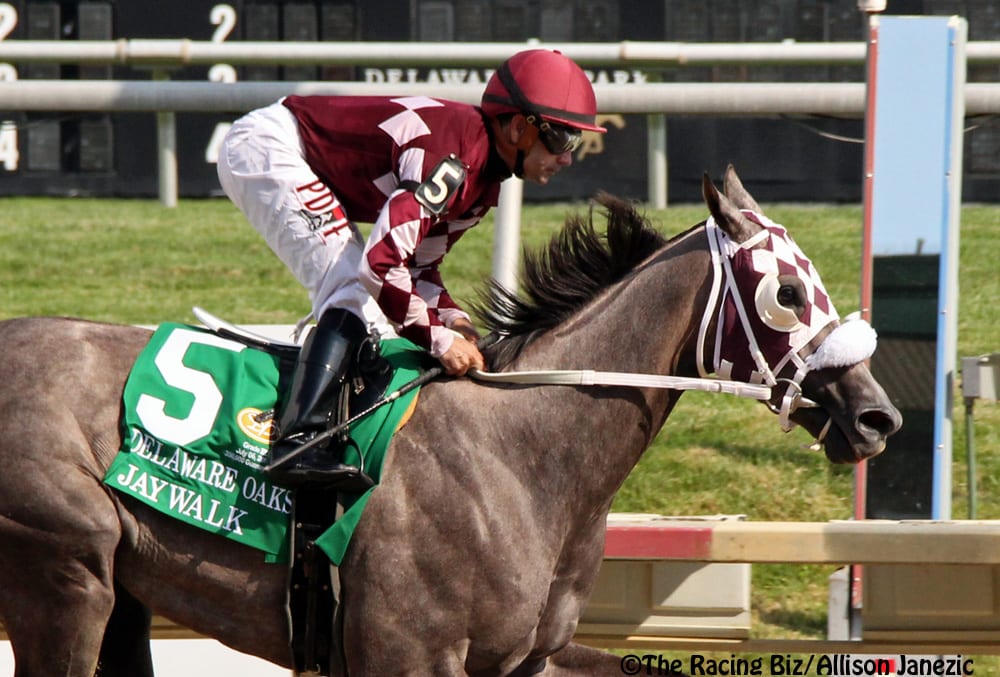 Jaywalk wins the Delaware Oaks. Photo by Allison Janezic.
She's baaaackkkk… and that might just make the rest of the three-year-old distaff division a little bit nervous.
Coming off three subpar efforts — and sent off as second choice in the field of six — last year's two-year-old champion filly Jaywalk made short work of her rivals in Saturday's Grade 3 Delaware Oaks and with the win signaled that the second half of her season may look very different than the first.
"I was standing with [co-owner Leonard] Green, and he said, 'She's back,'" said winning trainer John Servis. "And I said, 'Yeah, it's been a long time coming."
Perhaps not that long, in truth, but for a filly who ripped off four wins and a second in five 2018 starts — culminating in a dazzling win in the Grade 1 Breeders' Cup Juvenile Fillies — a trio of race with no better than a third-place finish may seem like a lifetime. Even if those races were in Grade 1 and Grade 2 company.
"[For] me, [it was] very frsustrating," said Chuck Zacney. His Cash Is King LLC co-owns Jaywalk, along with Green's D J Stable LLC. "We did everything right: we had the two-year-old filly of the year. We gave her time. She didn't need time but just to gear up a 3-year-old campaign. We thought we were doing everything right."
Jaywalk, a daughter of Cross Traffic, was fourth in the Grade 2 Davona Dale at 1-5 odds in March and then third in the Grade 1 Ashland as the even-money choice. In the Grade 1 Kentucky Oaks, she was a well-beaten sixth and then disqualified to 13th for bumping rivals leaving the gate.
Servis took the blame for the early season struggles.
"When she came back early in the year and the first race, I thought maybe she just needed the race, so I started bearing down on her with the works," Servis said. "It was probably the worst thing I could have done. She just didn't respond to it."
So after the Kentucky Oaks, it was back to the drawing board.
"We just wiped the slate clean, gave her a little bit of time, freshened her, and went back to what we did last year," Servis explained. "The old routine: the two-minute licks and putting those long quicker miles in her, and she responded to it."
In the two months since the Kentucky Oaks, Jaywalk had posted just two recorded works: a five-furlong move on May 26 and a half-mile work on June 12.
It turned out to be more than sufficient.
With blinkers on for the first time and new pilot Joe Bravo in the irons, Jaywalk was away alertly to seize the early lead in the 1 1/16-mile test and held a one-length advantage after an opening quarter-mile in a modest 24.12 seconds. Her nearest pursuer was also her toughest challenger, the post-time favorite Fashion Faux Pas, the Arnaud Delacour trainee who won the Light Hearted Stakes over the strip by 14 lengths.
It was in the middle fractions, though, where the race was won. Jaywalk threw down successive quarter-miles of 23.65 seconds and then 22.95 seconds; she passed six furlongs in 1:10.72. Even though Fashion Faux Pas stuck with her and even gave her a try nearing the quarter-pole, she proved no match in the lane. Jaywalk pulled away to win by nine lengths in a solid time of 1:43.21. Fashion Faux Pas was easily second best, and 69-1 outsider Ujjayi finished third.
Jaywalk paid $4.80 to win, and the one-dollar exacta was good for $4.40.
"That's my girl. That felt very very good," Servis said afterwards, and Zacney agreed.
"Everything seemed to click today – very, very happy," the owner said. "This is the filly we've been kind of looking for all year."
Servis, who said the tentative plan was to send Jaywalk to another Grade 3 event, the Monmouth Oaks, before tackling the Grade 1 Cotillion over her home strip of Parx Racing, was philosophical about his star's struggles.
"They're horses. Sometimes, you gotta figure them out," he said. "You get caught up in the shuffle sometimes. You've got to go back to square one."
For his part, Zacney was more down to earth.
"We'll probably go to a bar, have a couple cold ones, watch the replay a few times," he said. "Not a bad way to spend a Saturday afternoon."