Delaware state vet outlines steps taken to prevent spread of strangles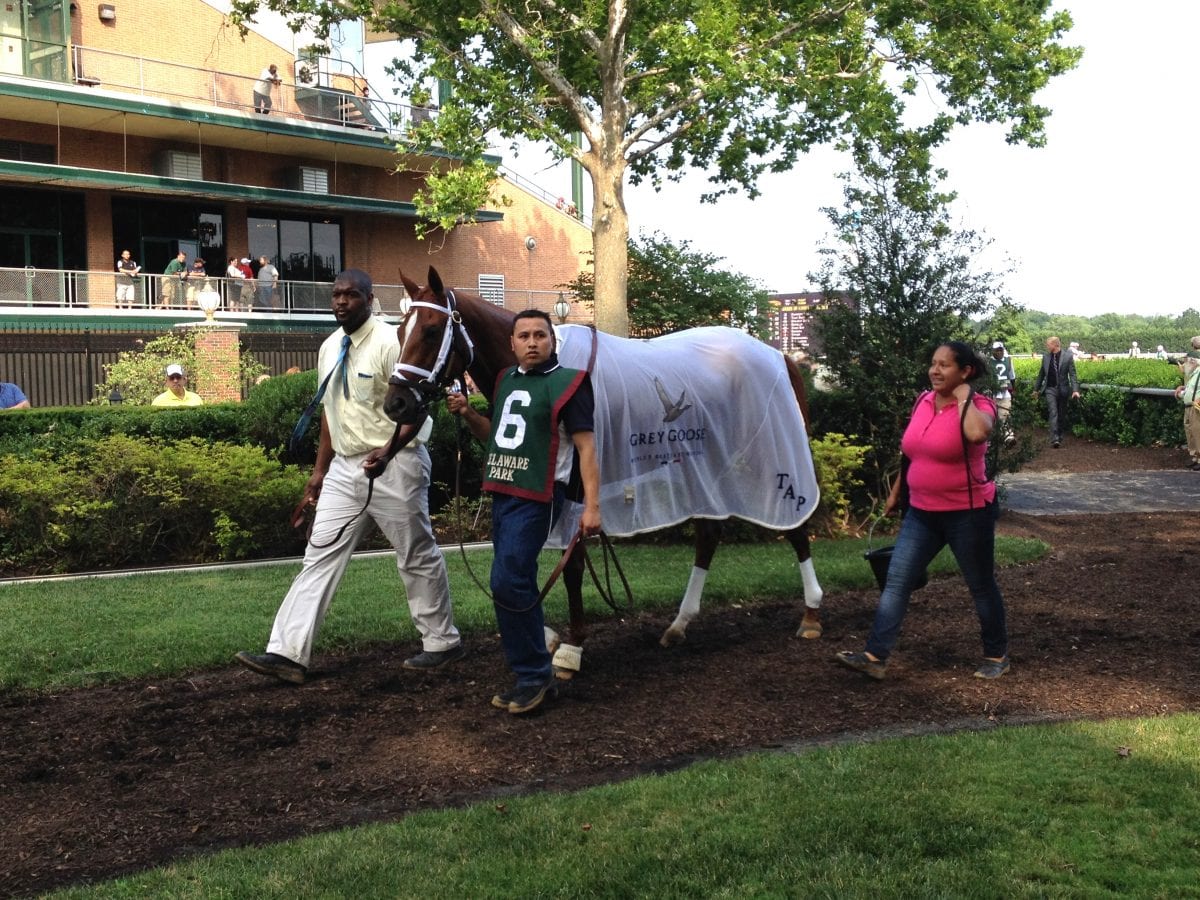 Racing at Delaware Park. Photo by The Racing Biz.
The Delaware state veterinarian weighed in Saturday evening on the strangles case that has caused Maryland Jockey Club officials– and reportedly those at the New York Racing Association – to prohibit horses currently at Delaware from shipping to Laurel Park or Pimlico.
State vet Dr. Heather Hirst issued a memo seeking to provide some clarity to the situation, which came to public awareness suddenly on Saturday and which could have a negative impact on Delaware Park's upcoming signature weekends. The Grade 3 Delaware Oaks is scheduled for July 6, with the Grade 2 Delaware Handicap – the featured event of the race meet – a week later.
Strangles is the informal name for a bacterial infection whose symptoms include coughing, wheezing, and throat inflammation. Though most horses make a full recovery within a few weeks, the condition is highly contagious.
"One horse at Delaware Park tested positive for streptococcus equi (Strangles) after being examined by its veterinarian for stiffness and neck pain on 6/21/19," Hirst wrote. "The horse was moved to isolation immediately, and to date has not developed clinical signs of Strangles. The horse will remain in isolation until test results are negative."
Delaware Park's John Mooney said Saturday he expected that he expected it would be three weeks from the horse's having been isolated before the horse would receive the all-clear to rejoin the population.
In addition to the isolation of the affected horse, Hirst also detailed how the state vets are handling those horses who had been stabled in the same barn.
They "are having their temperatures taken twice daily and may only train when all other horses have left the track and are in their barns," she wrote, adding, "Bio security measures are being followed to prevent the spread of disease."
Hirst also used the memo to exercise what she called "rumor control." Delaware Park officials have expressed concern that some horsemen may believe that equine herpesvirus has been found on the Delaware Park backside, and Hirst knocked that rumor down. "There are no cases of equine herpesivirus (EHV-1) neurological disease at Delaware Park," she wrote.