Three horses, riders fall in last-race spill at Laurel Park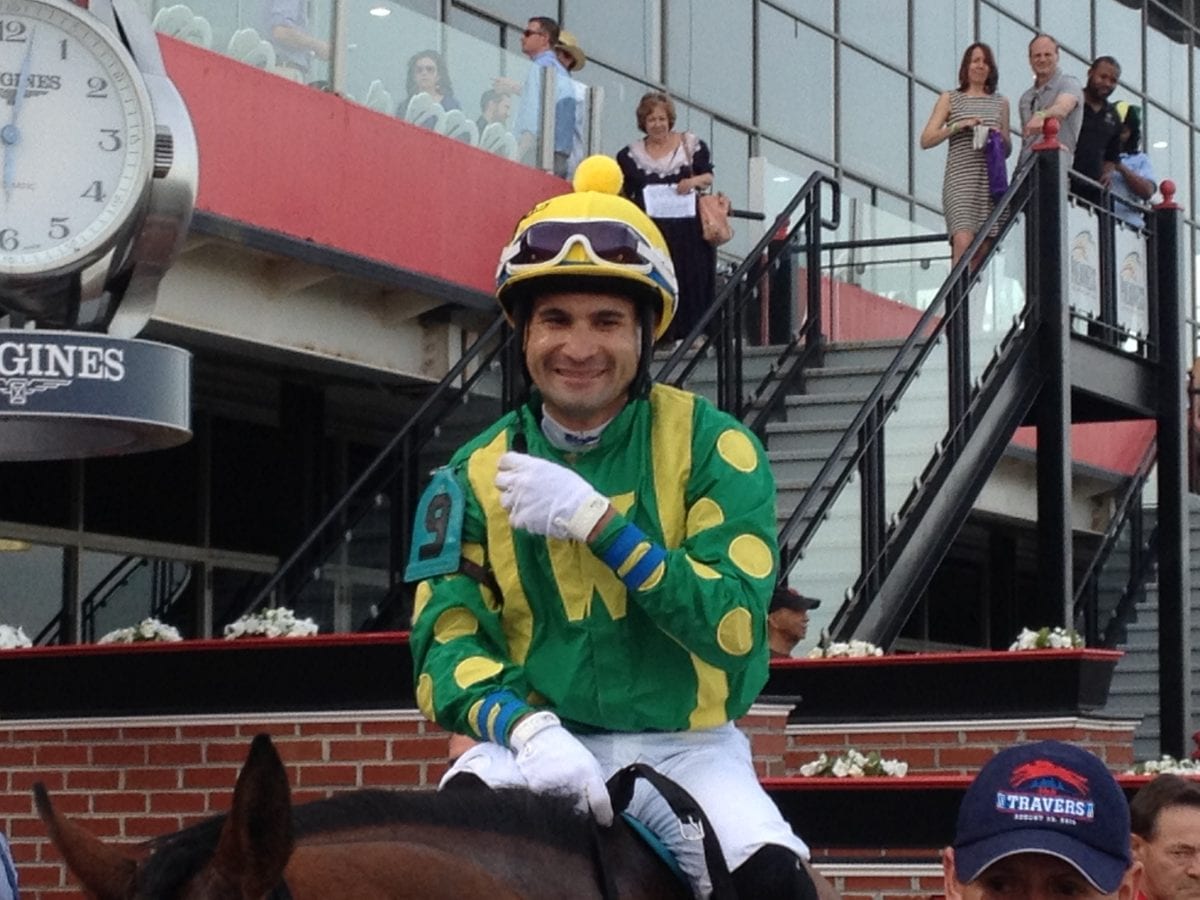 Xavier Perez smiles after a 2015 victory. Photo by The Racing Biz.
A chain-reaction spill in the 10th and final race at Laurel Park Saturday afternoon sent three horses and their jockeys tumbling to the ground. But for two of the jockeys and two of the horses, at any rate, the early news appeared to be good.
According to jockey agent J. D. Brown, who represents two of the three jockeys involved in the spill, both Xavier Perez and apprentice Felix A. Pinero escaped the incident basically unscathed.
"They're going to be fine," Brown said. "They had the wind knocked out of them."
Felix E. Pinero, the third jockey in the incident and the father of Felix A. Pinero, was being transferred to Shock Trauma at the University of Maryland Medical Center in Baltimore for further evaluation, according to Laurel Park racing secretary Chris Merz.
The incident occurred near the half-mile marker in the $8,000 claiming event, which was contested over a good, sealed main track. Favored Hot Sriracha, with Perez up, had vied outside a rival for the early advantage, taken a short lead, and then suddenly broke down.
Two other runners, Detroit Cowboy (Felix E. Pinero) and Wilko's Goldeneye (Felix A. Pinero), fell over their stricken rival. Detroit Cowboy, trained by Beth Worton, and Wilko's Goldeneye, trained by Donald Souder, both rose and completed the course under their own power. Both walked off following the race. Hot Sriracha suffered a catastrophic injury in the incident.
It was the second time in three racing weekends that Laurel had seen a chain-reaction accident. On June 15, Hero's Welcome fell near the sixteenth pole, and Time Flies By and Homefield both fell over him. Time Flies By walked off following the incident, while the other two runners were vanned off. All three riders in that incident — Jevian Toledo, Jorge Vargas, Jr., and Sheldon Russell — were able to ride their mounts later on that same card.