Healthy and confident, jock Alex Cintron riding hot streak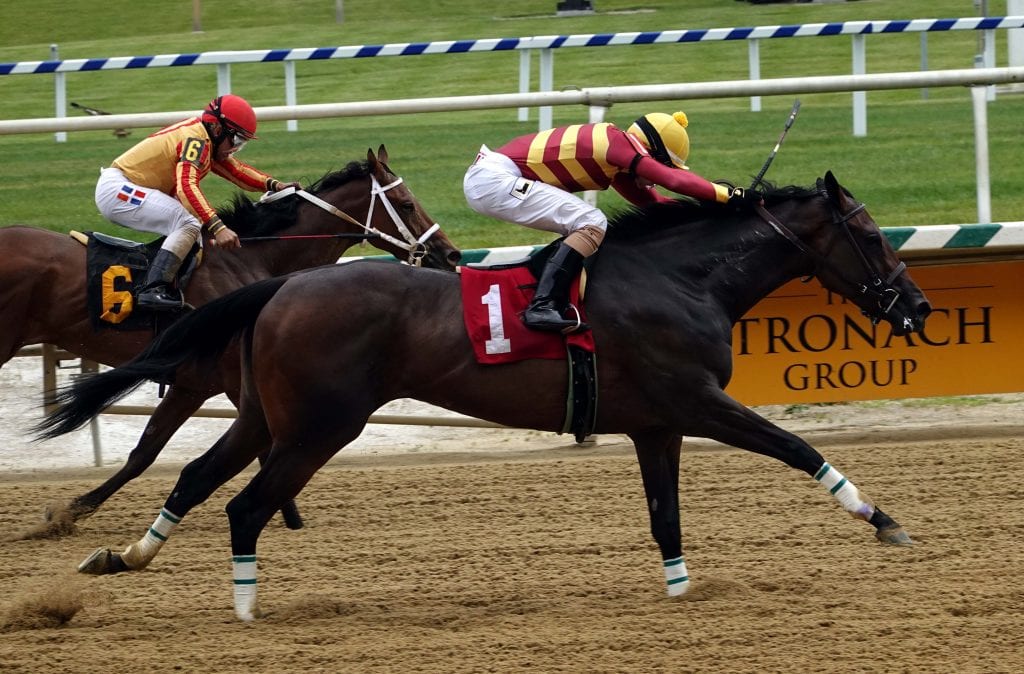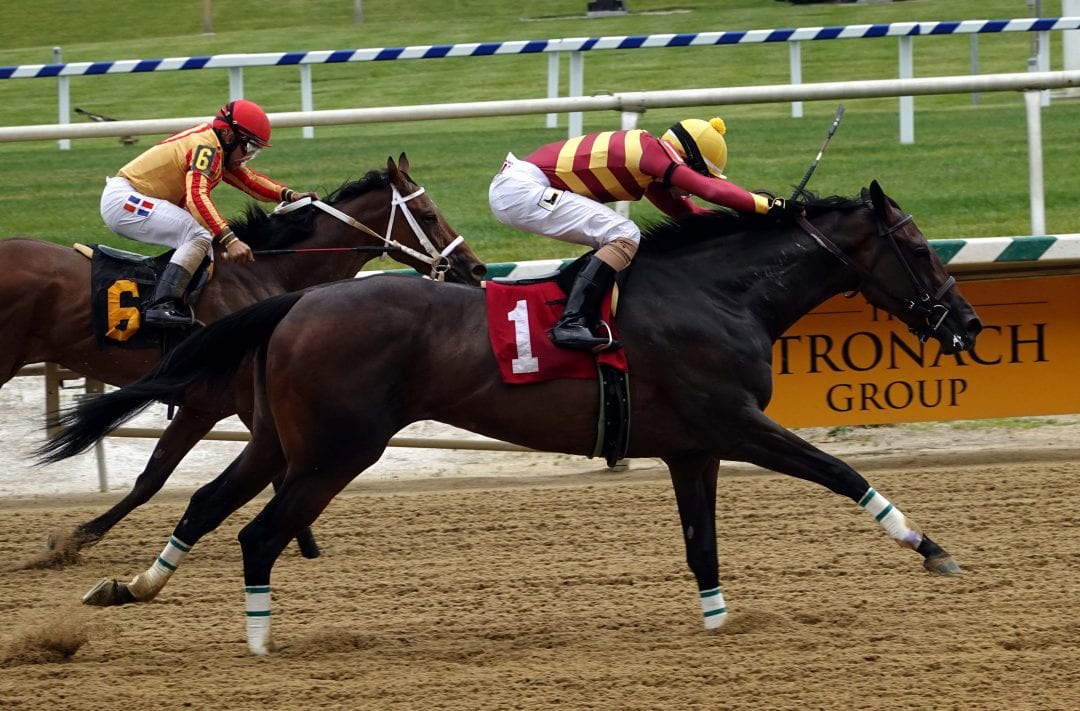 Alex Cintron and Please Flatter Me won the Alma North Stakes. Photo by Laurie Asseo.
Jockey Alex Cintron's career has been one full of ups, downs, and unexpected turns.
His talent has never been in question. But throughout his career Cintron has had the misfortune to go down in spills just when he was riding at peak form. Six times over the past 11 years the rider has been forced to the sidelines to recover from injuries that have ranged from a broken shoulder to multiple fractures of his facial bones. Often the recovery period was long and painful, but time and time again Cintron, with strong support from his family, has managed to come back and return to the saddle.
He returned to riding in late May last season and had a respectable season once back, registering over $2.3 million in purse earnings, but he won only 14 percent of his starts.
So some six weeks ago, after starting 2019 somewhat slowly, Cintron split with his long time agent, Mark Mace, and retained veteran Tom Stift handle his engagements. Stift, who also handles former Eclipse Award winner as top apprentice Victor Carrasco, got Cintron into some new barns for new trainers and his business took off.
Cintron has won 30 races since the beginning of May – giving him 41 victories thus far in '19 — including a pair of stakes, and he has ridden multiple winners for top trainers like Michael Trombetta, Claudio Gonzales, Tom Ianotti, and Gary Capuano. He's winning at a sizzling 26.5 percent clip since May 1.
In short, Cintron is in the zone.
"Mark [Mace] and I had been together for more than 8 years and we had a good run," the rider said. "He (Mace) had stuck with me through the periods when I was injured and on the sideline, which I appreciated, but this year I was healthy and wanted very badly to show people that Alex was back, that I still had what it takes to win races and be successful. Business had not been that good early in the year, and things just weren't clicking."
His last half-dozen stakes mounts have come for six different trainers. That includes wins in the Alma North Stakes aboard Please Flatter Me for conditioner Mark Reid and in the Get Serious Stakes on Wet Your Whistle for Mike Trombetta.
"You know, every agent has certain trainers and stables they have relationships with, and I just felt moving to another agent I would get a chance to ride for some new outfits and outfits with horses that were capable of competing and winning," Cintron said. "I had watched how Tom handled his business and was impressed."
Cintron said he'd known Stift for some time, and, after checking in with Carrasco to be sure there would be no friction between the riders, Cintron made the move.
"I wish Mark all the best, but I feel like this is my second chance to make my mark and make a statement about my riding," the rider said. "I want to show everyone that I'm back, I'm healthy and I'm ready and able to compete with anybody."
With the change has come a new kind of energy, the confidence begat by success.
"Right now I'm riding with so much confidence, I'm so relaxed and self-assured when I go to the gate, and I feel like I have a chance to win with every horse I ride," Cintron revealed. "And the horses sense this, they feel it in your hands and in your actions and they respond by giving you all they've got. It's a great feeling, I hope it lasts a long time."
Cintron currently leads all Delaware Park by Thoroughbred wins and is tied for third in limited action at Laurel Park.
One of the things Cintron was committed to doing this year was concentrating his riding at Delaware Park. He lives less than five minutes from the track with his wife Carmen Reyes and four children, Alana, age five, Mikaela, age six, Yalexa, age 14 and his godson Yatniel, age 17.
The rider says being just minutes from home makes a big difference in keeping fresh and rested.
"It's nice not to spend half of every day driving to and from tracks," he said. "Now I can be home with the family, enjoy the time together and be sharp and ready to go the next morning. And the kids love to come out and watch me ride."
Speaking of the kids, Cintron's next mission will be teaching Yatniel to be a jockey.
"He wants to follow in my footsteps," the rider said. "He's seen the good parts of riding and the bad parts, like the injuries, but he's committed to being a rider, so it's up to me to do all I can to teach him the ropes, show him how to be a professional, and most importantly, how to ride safe and stay away from situations where he's going to get hurt."