Little but strong Parisian Diva makes her statement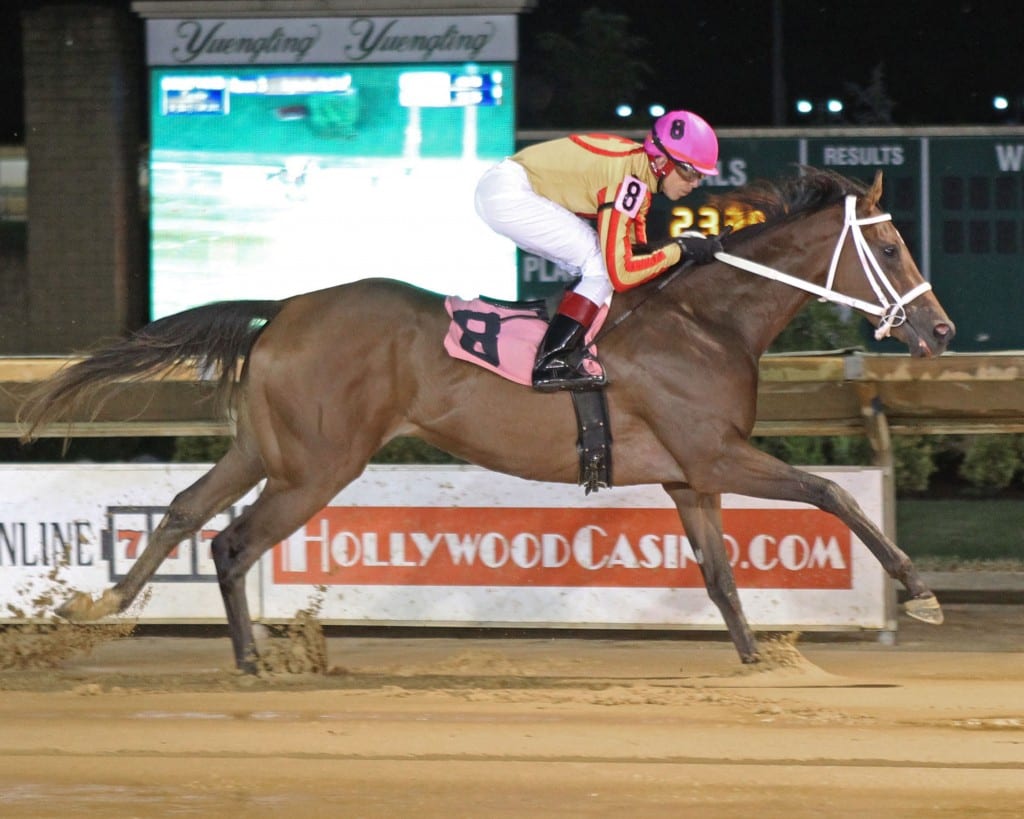 Parisian Diva broke her maiden at first asking at Charles Town last September. Photo by Coady Photography.
In the weeks leading up to last Sunday's $100,000 Alma North Stakes at Laurel Park, trainer Stacey Viands was cautiously optimistic about how well his West Virginia-bred three-year-old filly, Parisian Diva, would fare in her first attempt against open stakes rivals while venturing outside of Charles Town to compete for the first time.
And that was before jockey J.D. Acosta told Viands that, if the race played out the way he expected, Parisian Diva would be right in the mix at the wire. That turned out to be exactly right, as Parisian Diva rallied from just off the pace to finish second to 2-5 choice Please Flatter Me (Alex Cintron), beaten less than a length in a race that went in 1:22.44.
"You never know how they're going to ship and how they're going to handle a different surface," Viands said. "Plus, we were running against open stakes company and [Please Flatter Me had run second to Pimlico record-setter Covfefe and in the G3 Miss Preakness] and my filly is a homebred whose sire [Freedom Child] stands for $2,500. But J.D. told me that he thought the race would go in 1:22-and-change, and he thought she could go 1:23, and that would put us right there. Well, the race went [1:22.44], and she was right there at the end. I was thrilled with her."
Owned and bred by Melinda Golden, Parisian Diva arrived at Laurel having won five straight races, including stakes scores last December 1 against West Virginia-bred two-year-old fillies in the Eleanor Casey Memorial and against three-year-old state-bred fillies in the It's Binn Too Long Stakes on the undercard of the Grade 2, $1 million Charles Town Classic. Overall, she entered the Alma North with six wins from eight starts, but despite her winning ways, Parisian Diva was the 11.80-1 fourth choice in the Alma North Stakes, which was fine with Viands.
"Even though she was the little West Virginia-bred filly coming over from Charles Town, she was getting a little respect," Viands said. "Everyone was comparing her to Late Night Pow Wow. Well, that filly's four and my filly is only three, and I'm hoping we don't face her this year. Sunday was the first time my filly ever got on a scale, and she only weighed 954 pounds… My filly is small, but she's all muscle."
Viands didn't give Acosta any last-minute instructions in the paddock and just wanted his filly to be in a good stalking spot heading into the far turn. While Please Flatter Me and Never Enough Time battled through the early stages, Parisian Diva sat third roughly three lengths off the pace through the first three calls. Acosta began to ask his filly for run midway on the turn, and the West Virginia-bred responded, rallying inside of Please Flatter Me to gain the place spot, beaten three-parts of a length.
"J.D. had her in a perfect spot the whole way around, and he wanted to go outside [Please Flatter Me] at the top of the lane," Viands said. "But that filly drifted out a couple of paths, so my filly had to go inside of her. J.D. said she looked up at that big screen in the infield and hesitated for a second. I think if she had been able to go outside the winner, she might have gotten closer. But I really couldn't be happier with the way she raced. I was really happy."
Parisian Diva owns four wins and one second-place finish from five starts this year and boasts six wins and over $155,000 banked from nine lifetime tries. Viands now is mapping out her summer and fall campaign, and her performance against a legit field in the Alma North could open the field a bit. 
"There's a non-winners of three allowance at Charles Town next month that I'm hoping fills," Viands said. "Melinda's not too keen on going in there, but the winner gets $14,000 and it's not a tough spot and on our home track. She's got another stakes here in September [at Charles Town, in the Sylvia Bishop for state-bred three-year-old fillies]. Then I have to decide on whether to stay here or go to Laurel for the Maryland Million. She's not Breeders Classics-eligible, so we would have to supplement her to one of the stakes, or we could go to Laurel and run for a bigger pot and not have to supplement. But that's still a long way off."