Delaware Park Handicappers' Notebook 2019 Vol. 5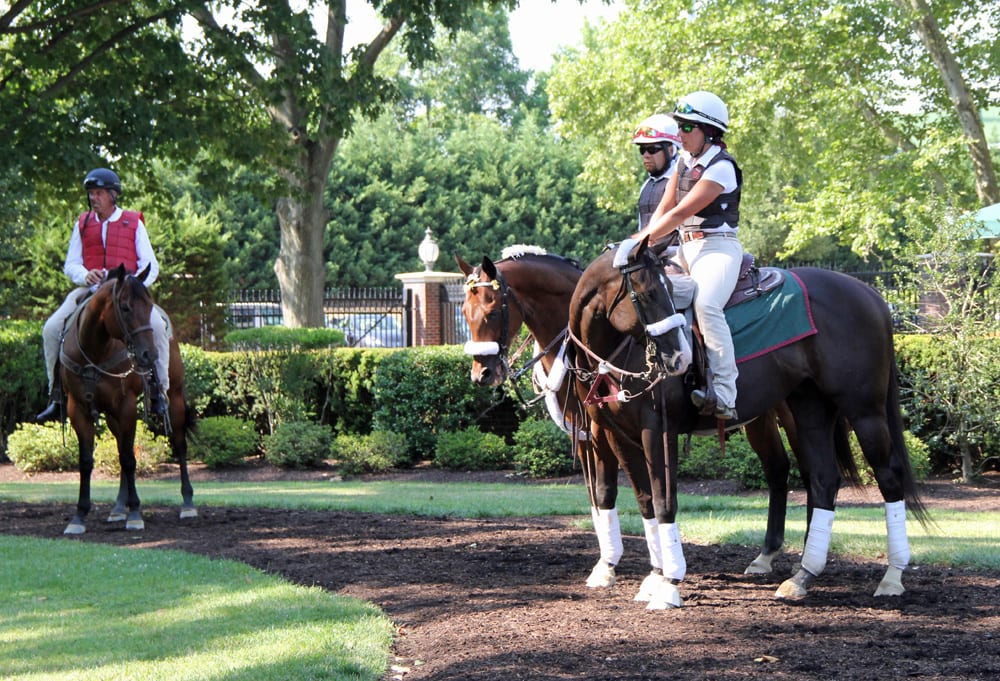 In the paddock on Delaware Handicap day. Photo by Allison Janezic.
Correspondent Doug McCoy returns with his weekly Delaware Park Handicappers' Notebook, featuring horses to watch, bet-backs, and more.
Horses and races to watch
PRINCESS LUCKY: (June 5, Race 4) – Keith Nations filly wouldn't rate or relax for Cedeno in her second start, dragging the rider up outside for five furlongs before challenging for the lead in the second turn and into the stretch. Despite using a lot of energy fighting the rider, she still hung close to the late stages. Nations is good working out immaturity in his young horses, and we look for improvement and a better attitude for this one given time.
CAMBELIZA: (June 5, Race 4) – First-time starter by Curlin trained by Arnaud Delacour suddenly got interested and kicked into gear when swung to the rail in the drive of a maiden special weight on turf and was quietly making up ground behind the top two late. Sitting on a big race next.
PAMINA: (June 6, Race 4) – This $330,000 two-year-old purchase made her 4-year-old debut an impressive one, stalking the pace outside then making an eyecatching move to challenge for the lead after a middle quarter of :24.3. Cruised home with something left in the tank and looks ready to move back to stakes level company soon.
FRIPPERY: (June 6, Race 4) – Rebounded nicely from a poor effort over the Monmouth turf course by chasing the early leader, moving to the front after five furlongs then resisted Pamina to late in a solid effort. Like most of the Delacour barn right now, this one looks to be in the pink of health mentally and physically.
FASHION FAUX PAS: (June 6, Race 7) – This one may have earned a start in the Delaware Oaks with her 14-length romp in the Light Hearted Stakes. Headstrong and a bit speed crazy last season, Delacour (yes, him again) patiently waited for the Flatter filly to mature and calm down and she has done just that. Now she allows herself to be rated and she's back on dirt which appears to be her best surface. No matter who the heavyweights send in for the Oaks, you should give this one a long look if she's in the field.
Jock/trainer Watch: Performers of the week
Ageless Sam Cronk, 83 years young and still going strong, sent out five starters last week and three won, averaging a $14,40 mutuel payoff.

Trainer James "Chucky" Lawrence, who did such a masterful job with Glorious Empire last season, won with three of the four runners he sent out.

Through June 12 action, trainer Anthony Pecoraro is tied for the lead among trainers by wins with nine — despite having sent out about half as many runners as his nearest competitors. Pecoraro is 9-for-15 at the meet — 60 percent.
Handicapper's tool box
DON'T FORGET ABOUT TEMPORARY RAIL SETTINGS!
The temporary inner rail has been set out 25 feet for some time now, and if history repeats itself, that setting will remain until DelCap week.
If that's the case handicappers should keep a calender with the rail settings marked and pay particular attention to horses breaking from the far outside posts in route races from seven and a half furlongs and up. With the sharper turns and shorter run to the wire from the head of the stretch, horses who get hung wide over this course setting face a distinct disadvantage, Catching a horse who lost almost chance with an outside post when he or she pulls an inside post position next out can produce some healthy payoffs.