Pricey purchase Gnarly Mo cruises to maiden score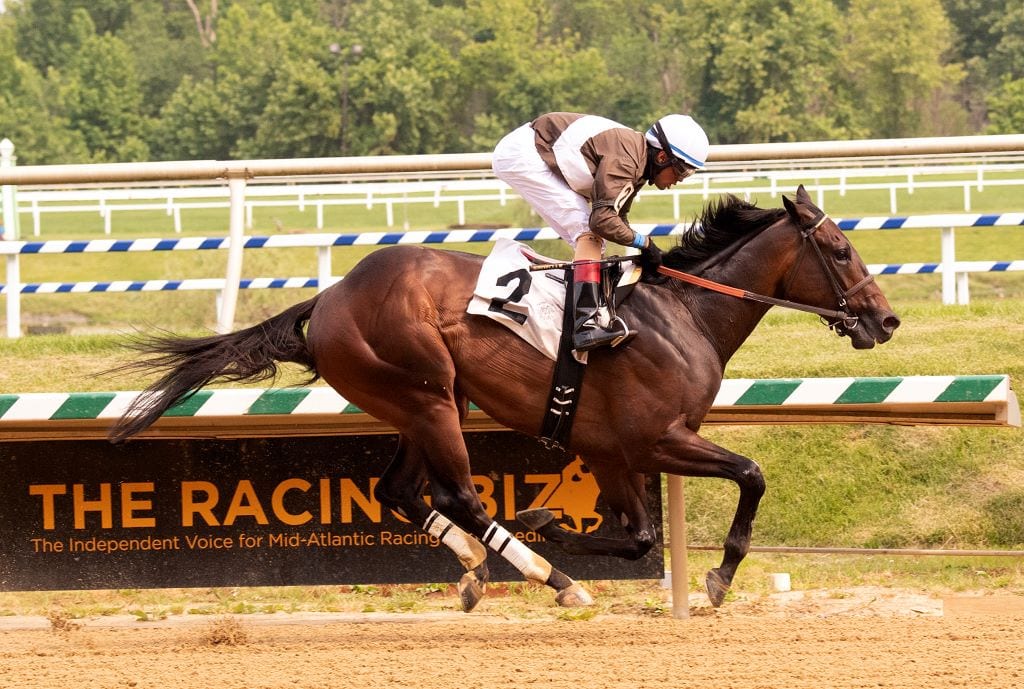 Gnarly Mo broke his maiden at Laurel Park. Photo by Jim McCue, Maryland Jockey Club.
Mrs. Ellen Charles has spent a lot of money in horse racing over the years, so it didn't necessarily turn any heads when she dropped $385,000 to get a Maryland-bred Uncle Mo yearling at Keeneland January two years ago.
While he still has a long way to go to earn that investment back, the colt in question, now named Gnarly Mo, took a step in the right direction Sunday at Laurel Park when he cruised to a dominant five-length win in a $40,000 maiden special weight test.
"We saw him down at the January sales, loved him," Charles said. "He's a wonderful horse. So we bought him, and he was a tough customer: scared a lot of people. But he's settled into a lovely horse."
It was nothing major, Charles said, just that he was "full of himself." When he returned from a South Carolina sojourn at Cary Frommer's operation, he was, in Charles' description, "a perfect gentleman."
She added, "So we kept our fingers crossed about him. He's really turned out to be what he thought he'd be."
That, perhaps, may be a bit premature, but in his two starts to date, Gnarly Mo, trained by Rodney Jenkins, certainly has flashed potential. His debut came in the 14th and final race on Preakness day, and despite a somewhat tardy start, an evident dislike for getting dirt in his face, and an overall erratic performance, he still rallied stoutly for the place spot.
"He ran really well," Charles said. "He got some dirt in his face, and he was going backward and forwards, green as grass. But had the race been a little longer he probably would have won it."
Gnarly Mo went off at 9-2 that day, and Sunday, after the scratch of a first-timer by Tapit, bettors made him the overwhelming 2-5 favorite.
Gnarly Mo broke alertly in the one-mile test, and jockey Victor Carrasco had him on the move early — no dirt in his face this time. The three-year-old exchanged the lead back and forth with longshot Sperry's Run. Those two navigated the opening half-mile in 47.30 seconds while just a head apart, Gnarly Mo in the lead and outside his rival.
"You're always worred," Charles said of the early duel. "But we had a lot of confidence in the horse."
Gnarly Mo disposed of Sperry's Run mid-turn, opened up a clear lead in upper stretch while being urged, and then was permitted to relax late. The final margin was five lengths, and Gnarly Mo completed the mile trip in 1:36.08 on a fast track. Edict edged Creative Budgeting for second, while Galerio was fourth.
Gnarly Mo paid $2.80 to win and topped a one-dollar exacta worth just $2.90.
Gnarly Mo was bred in Maryland by Nicewonder Stable LLC. He's out of the Salt Lake mare Gone to Utah, some of whose offspring Jenkins also trained, including the stakes-placed runners Gallivanting and Powder Mountain.
And that's not the Charles-Jenkins team's only pedigree connection to Gnarly Mo. Charles' mother, Adelaide Close Riggs, a major horsewoman in her own right, owned Uncle Mo's third dam Cyane's Slippers, and, for the early part of her career, his second dam, Dixie Slippers.
"So that's nice, too," Charles said.
Next up for Gnarly Mo, Jenkins said, is most likely a first-level allowance, and if all goes well, a Maryland-bred stake down the line and, perhaps, more distance.
"He's tough," Jenkins said with a laugh. "He might go longer than we want."
"That was so good," Charles added. "These Uncle Mos are wonderful."