Mark Casse: Preakness score "my biggest victory"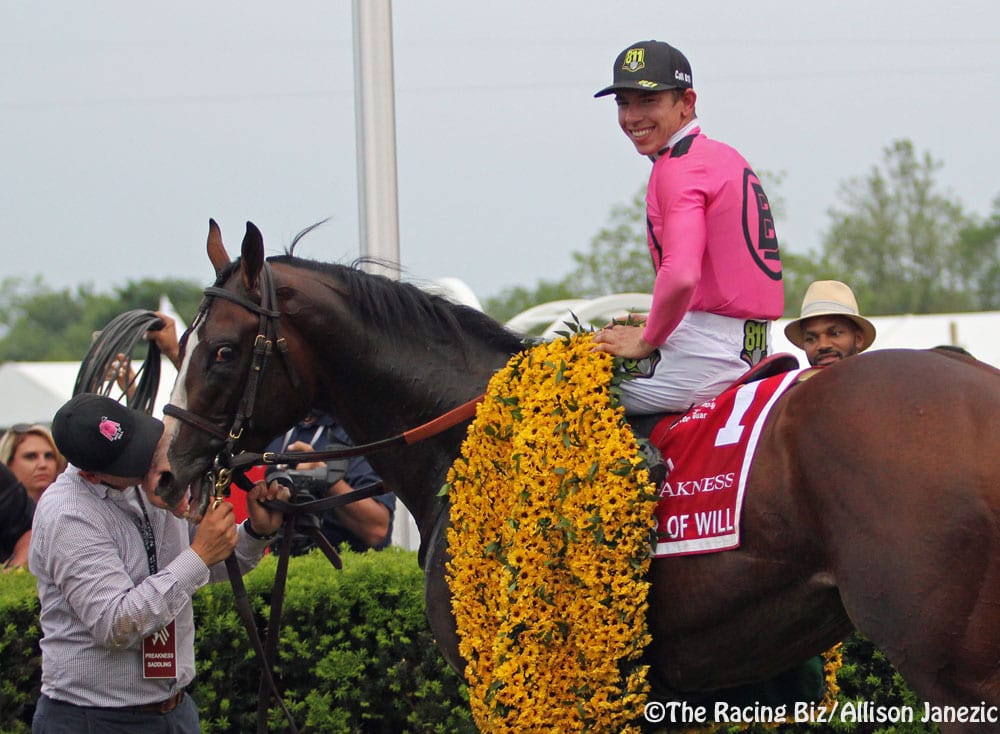 Mark Casse has won nearly 2,700 races in his career. He's won 28 Grade 1 events and five Breeders' Cup races.
But he's quite sure which was the biggest of those: last Saturday's Preakness Stakes, won by his trainee War of Will.
"I was asked if this was my biggest victory," he said Saturday morning on Off to the Races radio. "At the time, I said, 'Well, it's one of them.' But I've come to the conclusion that, yes, it is."
Casse, 58, is a racing lifer, and while he acknowledges the importance of races like the Pegasus World Cup and Breeders' Cup events, he says that some things never change. 
"I've been training horses for 40 years," he said. "When I started following horse racing, there were only three races: the Kentucky Derby, the Preakness, and the Belmont. Those are the three races that everybody cared about and wanted to win. It hasn't changed a whole lot."
Back in 2017, Casse entered the Triple Crown series with the highly regarded two-year-old champion, Classic Empire. That runner was a troubled fourth in the Kentucky Derby and then a tough-luck second in the Preakness, in which he held a three-length lead leaving the furlong grounds but could not contain Cloud Computing and had to settle for second, beaten just a head.
This year, Casse's highly regarded War of Will was an even more troubled seventh (after being moved up a slot via disqualification) in the Derby, in which he was fouled at the head of the lane by first-past-the-post Maximum Security. Given this history, then, perhaps it's no surprise that Casse was, shall we say, cautious about claiming victory in the Middle Jewel.
"I didn't believe it until they went across the finish line," he said. "Two years previously, with Classic Empire, I though we were a winner and we got beat right at the wire. So I kind of held that thought back for a little while."
This time, of course, he could take a deep and relieved breath at the end. Under a patient ride by Tyler Gaffalione, War of Will spurted clear with three-sixteenths of a mile to go and held his rivals safe to win by more than a length in 1:54.34 for  1 3/16 miles.
It was almost as if Casse had drawn it up.
"I had told a friend of mine the day before, 'If he breaks good and settles,' I said, 'they won't beat him,'" the trainer recalled.
LISTEN TO THE INTERVIEW

War of Will was a $298,550 auction purchase as a two-year-old in training in May. Oddly enough, though he is a Kentucky-bred son of War Front, that sale was at Arqana, in France. Casse's younger brother, Justin, signed the ticket for Gary Barber, and when War of Will went to Mark to train, the trainer naturally figured that War of Will's best surface would be the grass.
That led to four straight turf starts to start the horse's career, and while none of those netted a win, three were in graded stakes company, the last of those a fifth-place finish in the Breeders' Cup Juvenile Turf.
"The best thing that ever happened to us is he had a terrible trip in the Breeders' Cup," Casse said. "Probably should have won it and had he won it, we wouldn't be having this conversation right now. Shortly after that, Gary Barber and I, we were talking, and Gary goes, 'Good, now we can run him on the dirt.'"
Switched over to the dirt, War of Will ran off three consecutive wins, including scores in the Grade 3 LeComte and Grade 2 Risen Star. But it was after the first of his wins that Casse divined the future.
"When he broke his maiden at Churchill on the dirt, I told Gary at that time — I'd thought it previously — I said, 'I think we can win the Kentucky Derby this year.' That was just based on his breaking his maiden. That's how much I thought of him."
Of course, he didn't win the Derby, but picking up the Preakness makes for a pretty nice consolation prize. And now, Casse says, he expects War of Will to race in the Belmont, and he likes his runner's chances there. In the meantime, you'll forgive him if he wants to wring a little more joy out of his first victory in a Triple Crown race.
"Nothing is ever enough," he said. "Soon as you win this race — and he had many, many reasons not to win it — instead, it's, well, this one wasn't there, that one wasn't there. I don't care who was there. It's the Preakness, and we just won it, and it was amazing… There was a lot of satsifaction for so many reasons."