Veteran jock Jose Ferrer home and happy at Monmouth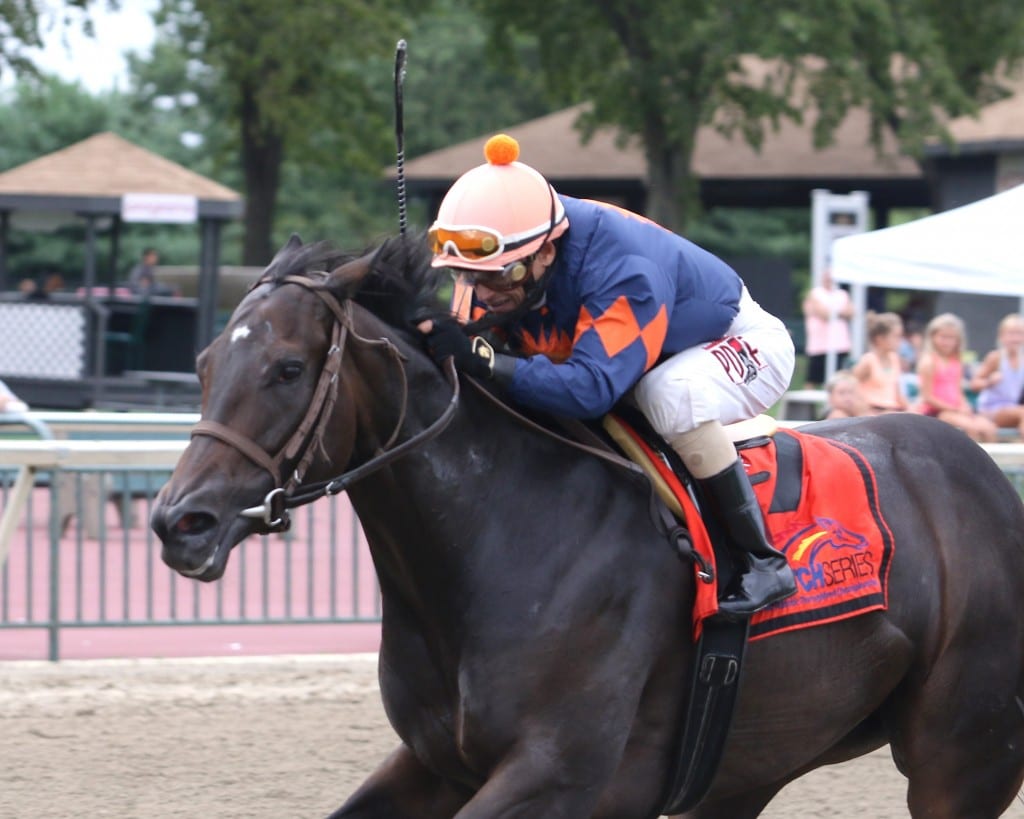 Jose Ferrer and Liz's Cable Girl teamed up for three 2018 victories. Photo by Bill Denver/EQUI-Photo.
Jose Ferrer is hoping this year to defend the Monmouth Park riding title he won in 2018 — a title that came just a year after he suffered what looked to be a career-ending injury.
Ferrer is 54 years old these days, a far cry from the shy teenager who arrived in New Jersey from his native Puerto Rico, hoping to get involved with his family business.
"I first wanted to be a baseball player," Ferrer said. "But my uncle and cousins were already involved in horse racing. And once I got into it, I knew right away I wanted to be a jockey."
It only made sense that Ferrer followed along the family lines, considering that his uncle, Carlos Lopez, Sr. and cousins Carlos, Jr. and Chuck C. were already firmly entrenched in the sport.
"In the beginning, the expectations were pretty big," Ferrer said. "Because of my background, I was just expected to win. It was in my blood. I just had to do well. The whole family is involved. I have like six or seven cousins involved. We tried to get together to have a race with all the family once, but it didn't happen."
All told, the Ferrer-Lopez family connection has reached the winner's circle in North America more than 14,000 times over the last four decades.
And ever since he got that start at Monmouth Park in 1982, no one in the family has won more races than Jose Ferrer, who has been aboard nearly 4,400 winners.
Last year, Ferrer achieved a goal he always dreamed of doing – being the top jockey at the place where it all began, Monmouth Park. He was aboard 95 winners and collected over $1.9 million in purses.
"Monmouth Park was the first track I came to," Ferrer said. "It was the first track I ever saw when I came to the States. It's where I rode my first horse. It's a special place, extremely special."
Ferrer has always considered New Jersey to be a second home to him. He and his wife, Steffy, maintain homes with their two young sons, Derek (age 4 ½) and Joey (age 3), in Tampa, where he races half the season, and in New Jersey, where he races the other half.
"But Monmouth Park is home," Ferrer said.
Never mind the age, though. What makes Ferrer's first-ever riding title at Monmouth Park remarkable is the way he recovered from a near-fatal accident at Delaware Park.
On Sept. 14, 2017, Ferrer was aboard a horse named Golden Earrings on the turf. As the field of seven horses made the move toward the homestretch, a horse named Really lost its footing on the slick turf and went down hard. Ferrer and Golden Earrings fell over their fallen rival, and Ferrer took a beating from oncoming horses. In all, five of the seven horses in the race either went down or lost their rider.
Ferrer doesn't recall much of the accident.
"It all happened so fast," Ferrer said. "I didn't have time to do anything."
None of the horses involved in the accident were seriously hurt, but Ferrer and jockey Victor Carrasco, aboard Really, got the worst of it. Ferrer ended up in critical condition in intensive care with three shattered vertebrae, nine broken ribs and a collapsed lung.
"It was terrible and very scary," Ferrer said. "The last time I saw it was two years ago. I didn't want to bring back bad memories. My uncle taught me a long time ago that if you go down, you don't stay down for long. You move on. That's what I did."
It was the type of accident that can end the career of a jockey approaching senior citizen status.
"I just took it one day at a time," Ferrer said. "I believe in God and I prayed a lot. I knew I wanted to come back. I never really thought it was over. Even though I was in a lot of pain, I never thought that it was it. I never thought of throwing in the towel."
The recovery process was slow and tedious.
"Doctors told me to take two steps a day, then three steps a day, then four," Ferrer said. "I wanted to walk right away. To tell you the truth, I knew I could do it. I told myself, 'You can do it. I was going to do whatever it took to come back. I'm not going to lie, I was really worried."
Ferrer busted his tail rehabilitating the injuries.
"I worked out so much that I scared the other jockeys," Ferrer said. "I don't smoke. I don't drink. I take care of my body and that helps me."
Sure enough, on Dec. 1, Ferrer returned to race at Tampa Bay Downs — a remarkably quick recovery given the severity of his injuries.
"I was back riding within two months," Ferrer said. "Doctors told me I couldn't do it. But I did it."
So when he returned to Monmouth Park for the 2018 season, Ferrer had one goal in mind – winning that jockey title.
"I had been second a few times, third, fourth," Ferrer said. "I wanted to win. That was my goal, my dream. I wanted to have the opportunity to finally win it. When I was young and foolish, I took it for granted. But the last three, four years, I've really wanted the opportunity to win it. I now appreciate it more."
And Ferrer calls upon the strength that comes from two other athletes who, by the numbers, should be past their primes.
"Look at Tom Brady," Ferrer said. "They're not bringing in any backup quarterback to take his place. Everyone said Tiger Woods was done and look what he's done. He's back. I feel good. I'm ready to perform."
And he's poised to defend the title he earned for the first time in his storied career last October. Ferrer has gotten off to a quick start at the Jersey Shore, with 10 wins from 32 starts.
"It's definitely a challenge now," the rider said. "Now you're the champion, so everyone wants a piece of you. So you have to defend your title. It's like winning the World Series or the Super Bowl. You have to work harder to do it again. I have to work extra hard at my age, harder than I did last year. The bullseye is on my back. Others want to come and beat me. I'm ready. My beautiful wife and kids give me strength, wisdom and faith to come back.
Added Ferrer, "I had to come back from my injury, but I had to be humble and be myself. That's what I try to do every single day. It's great to be home in Jersey."