Half-million dollar horse tops day one of Fasig-Tipton Midlantic 2yo sale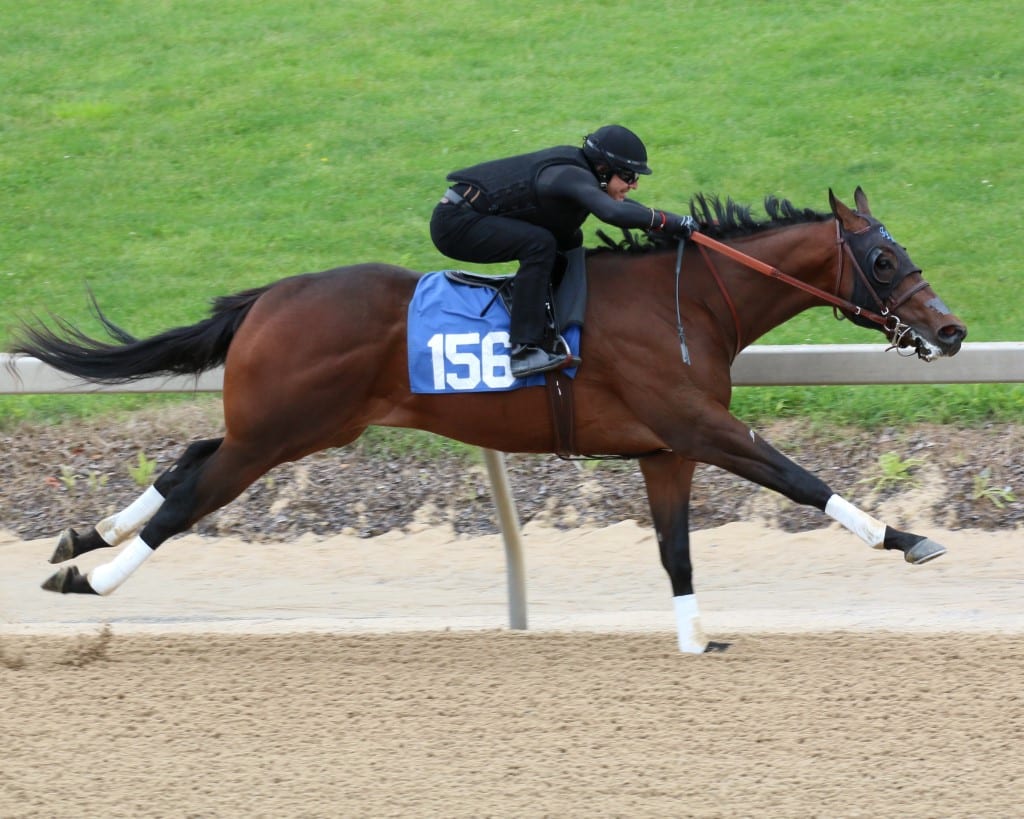 Day one sale topper, by Street Sense. Photo by George Adams.
Day one of Fasig-Tipton's Midlantic Two-Year-Olds In-Training Sale wrapped up with an average price of $73,093 for 156 horses sold on Monday, good for a 4.2% increase over last year's first-day average. The median was also up, with a 19.4% increase to $43,000 over the corresponding session in 2018. Fifty-four horses through the ring failed to meet their reserve, equal to a 25.7% buy-back rate (compared to last year's 22.9% RNA rate).
Because of the increased buyback rate, the gross for day one fell, from about $12 million to about $11.4 million.
The RNA rate notwithstanding, many consignors and buyers alike were pleased with the first day's marketplace. The second and final day of the sale is May 21, with action commencing at 11:00 a.m.
"It's a very strong market," said David McKathan, whose Grassroots Training & Sales sold 18 of the 20 horses it sent through the ring, including a $240,000 Wicked Strong colt, a Maryland-bred son of Golden Lad that brought $175,000, and a Pennsylvania-bred filly by Weigelia that sold for $120,000.
"The feeling I get," said McKathan, "the middle/bottom is what it usually is and what it should be. It feels good to me."
Clovis Crane of Crane Thoroughbred Services concurred.
"It's fair, but you have to know the value of your horse," Crane stated. His consignment saw eight of ten offered sell on day one, with a high price of $77,000 for a New York-bred Mineshaft colt. "I'm more of a middle, lower market guy, but there always is a lower/middle market here."
Becky Thomas of Sequel Bloodstock was one consignor not quite as bullish on the Timonium market today.
"Unfortunately," she said, "it's more of the same. There are some very high-priced pinhooks, and some people are being rewarded. But it's a very, very narrow market."
Thomas did note that there seemed to be numerous "active and enthusiastic" new players in the middle and lower ends of the market that had not been seen at earlier two-year-old sales this spring. But, she continued, "Look at the number of withdrawals [not just those that RNA], those are more telling."
Trainer Mike Trombetta, who topped the Laurel winter meet this year and started the Fair Hill-based Win Win Win in both the Kentucky Derby and Preakness Stakes, also noted that the top of the market was strong. Without having seen the RNA statistics, he said, "Today gives the appearance that nice horses are getting a chance to sell for good money."
The highest price paid for one of those "nice horses" was $500,000 for hip 156, a colt by Street Sense out of Forest Fashion from the Top Line Sales consignment. The colt had breezed a quarter-mile in :21 4/5 during the first breeze show day when the track was decidedly heavier than the other two days. He was purchased for the session's top price by trainer Ken McPeek as agent for Fern Circle Stable.
When asked what about the colt — his physical, his catalog page, or his breeze — made him attractive, McPeek answered, "All of it. I look at the horses first before they breeze, and he was solid. He had great strength and a nice hip. Then he breezed good, so it all adds up to a big price."
Asked about the Timonium market this year, McPeek was positive. Although he noted that he didn't make this sale last year, he cited his prior purchase of eventual Grade 2 winner Princess Warrior from the 2017 edition of this sale.
"Every time I come here, something good happens," McPeek said.
As noted above, David McKathan sold a pair of high-priced, regionally-bred horses in hip 99, a colt by Golden Lad out of Corinnaise, and hip 118, a filly by Weigelia out of Dixiewood who had attracted attention for her co-bullet breeze on the first day of under-tack works. McKathan paid $20,000 for the former and $23,000 for the latter, both at the Timonium Yearling Sale last October.
Bloodstock agent Gary Young purchased the Golden Lad colt on behalf of owner Michael Dubb.
"We didn't anticipate or intend to go that far," said Young of the colt's $175,000 price tag. "But there's no buyer's remorse."
Young noted that the colt's Maryland-bred and Delaware-certified status makes him eligible for several lucrative, restricted races, which was part of the colt's appeal, along with a sharp :10 2/5 breeze.
"He was like a big, goofy kid [in his breeze]," according to Young, "and he still did a good time." After a couple of months on the farm to get over the rigors of the sale process, Young said the plan would be for the colt to join the barn of trainer Jason Servis.
Young noted that Dubb was in attendance at the sale, and the owner prodded him to continue bidding on the colt past their initially-planned point.
"Hopefully he gets rewarded," said Young.
Another buyer who was looking forward to taking advantage of lucrative local incentives was New York-based Zilla Racing Stables' Michael Piazza, who purchased hip 47, a Virginia-bred colt by Jump Start out of Blazeaway, for $75,000 via Oracle Bloodstock. Having acquired the colt hours before the news broke of Jump Start's death, Piazza noted it "might put a little more spotlight on him if he is good. But he was good value at $75,000, especially with the 25% Virginia bonus."
The Midlantic Sale's second session begins Tuesday morning, with hips 301 through 600 scheduled to go through the ring starting at 11 am.the