Bourbon War looks to drink up Preakness score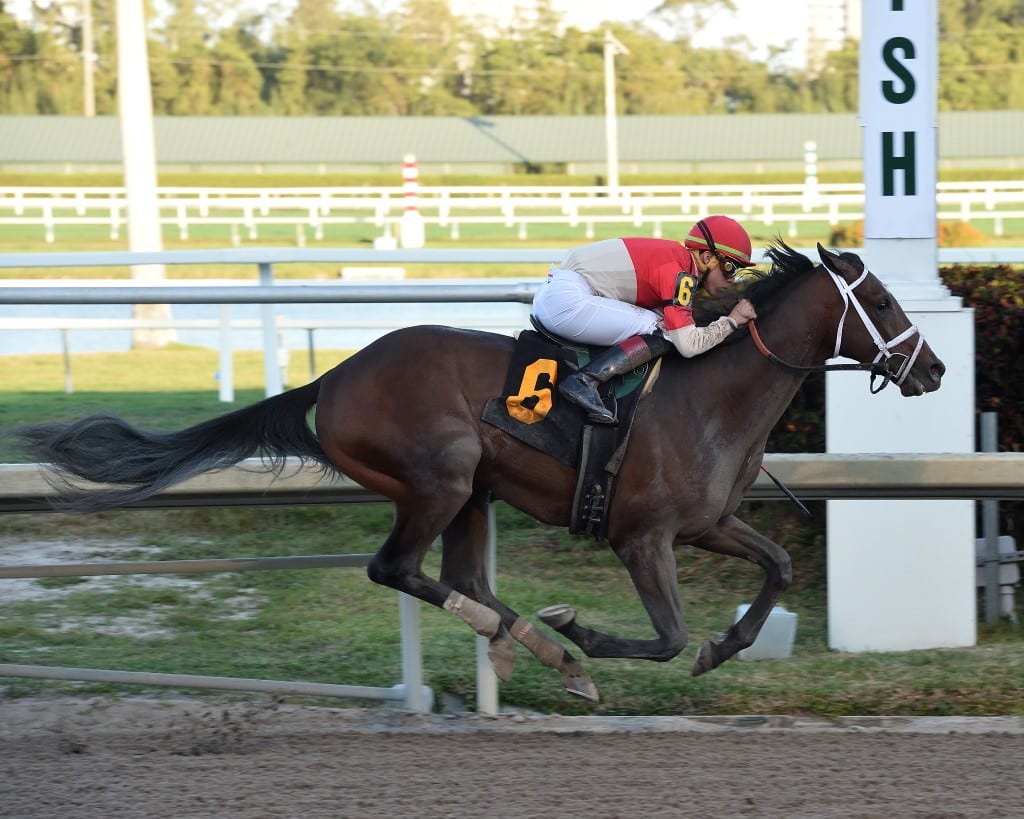 Bourbon War is a Preakness contender. Photo by Leslie Martin.
Question: How did Bourbon War get his name?
Answer: Spirits and Springsteen.

When Mike McMahon and Jamie Hill decided to keep the Tapit colt they'd intended to pinhook, they knew that he'd have "bourbon" in his name. They race in the name of Bourbon Lane Stable, and in this age of branding and name recognition, all of their horses carry the name of the unofficial official drink of Thoroughbred horse racing.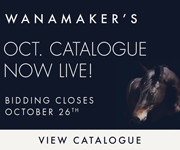 The rest of it was up to Greg Burns, whose Lake Star Stable purchased a partnership in the colt a little over a year ago.
Like McMahon and Hill, Burns has his own naming tradition.
"We name our horses after Bruce Springsteen songs," he explained, speaking from his home in Saratoga Springs, NY. "Titles, lyrics or characters. As soon as we got the horse, Mike and Jamie told us, 'We got Bourbon, you got the other half.'"
Pondering the colt's pedigree, Burns was reminded of a Springstreen cover of an Edwin Starr song that appeared on the singer's live album from a performance at the Los Angeles Memorial Coliseum in September 1985.
"The dam is My Conquestadory," he said. "I was thinking conquest, and that got me to war, and that seemed pretty fitting."
Burns has owned Thoroughbreds since 2004, and his relationship with McMahon and Hill goes back that far. Last March, he, McMahon, Hill, and trainer Mark Hennig were all at the Fasig-Tipton Gulfstream sale of two-year-olds; all of them were shopping, and McMahon and Hill were also pinhooking horses, including the Tapit colt they'd purchased for $410,000 as a weanling.
He was an RNA at the 2017 Keeneland September yearling sale, bringing a final bid of $525,000, so McMahon and Hill hoped to find more success at the Gulfstream sale.
"He's the best colt we bought in 2016," said McMahon in March, hours before the Florida Derby. "He had a little blemish before the Keeneland sale."
Working with McMahon and Hill, Burns had a short list for the sale that included a Medaglia d'Oro colt later in the sale; he liked the Tapit, but assumed that he was a seven-figure horse, way out of his price range.
"Then we noticed that he was scratched at the last minute," said Burns. "So I called Mike and asked him about what happened."
A vet report characterized by Burns as "inaccurate" had led to the late scratch, and after some deliberation, Burns asked Hennig, "Which would you rather have, the Tapit or the Medaglia?"
The trainer didn't hesitate.
"The Tapit."
An hour later, Burns had a deal to own part of the horse now named Bourbon War.
A runner-up finish in the Grade 2 Fountain of Youth at Gulfstream in March raised Kentucky Derby hopes, hopes that were dashed by the slow pace in the Florida Derby (G1) and a fourth-place finish. The bay colt fell just short of making the Derby field.
"It was a punch in the gut," said Burns.
"We knew that the Florida Derby meant we were in trouble," said Hennig. "After that, all we could was watch."
Describing the final month of Derby qualifying races as a "slow death," Hennig and the owners watched the races every weekend, each one resulting in the worst possible outcome for Bourbon War's chances.
So they looked ahead and put two possible races on the calendar: the Grade 3 Peter Pan at Belmont Park on May 11 or the Preakness.
"We all like to run in the Derby," said Hennig, "and when you lose that opportunity and feel like the horse is worthy, why would't we give him the opportunity to run in the Preakness? We watched the Derby and saw that the horses he'd been running with were competitive, and you don't get these opportunities all the time."
Indeed you don't: Bourbon War is the first horse Lake Star has owned to make it to one of the Triple crown races.
"It's really, really exciting," said Burns. "We got into this 15 years ago, and it's always been a bit of a dream."
Hennig said on Thursday morning that Bourbon War had shipped well from New York and cleaned his feed tub; his wife Rosemary tweeted that the horse "loves Pimlico."
My boy loves Pimlico! #BourbonWar #Preakness @Hennigracing @BourbonLane @LakeStarStable @iradortiz pic.twitter.com/ZsJ9jmQjOF

— Rosemary (@RHennig00) May 16, 2019

He may love the Baltimore track, but visitors? Not so much, perhaps living up to his bellicose name. "He's bitten just about everybody who's been in the barn," said Hennig. "He loves to stick his tongue out, but he's like a snapping turtle. He'll take your hand off if you're not careful. He doesn't go for little nips; he's a pretty good biter." Consequently, the warning cone is kept in front of his stall…except for when it's not.
Bourbon War being his typical ornery self…… pic.twitter.com/5XBCcjcD2X — Mark Hennig (@Hennigracing) March 5, 2019
Burns and his partners, a group which includes his son, are originally from Boston, and beginning in 1998, Burns and his friends travelled annually to the Travers.
"That first year, we were together watching Coronado's Quest win with Mike Smith in the saddle," said Burns. "That was an incredible race, and it's what pulled us into the game. Twenty years later, here we are. Mike Smith is on Improbable, and we're right there with them. It's an exciting time."