Alwaysmining has "lovely" final work for Preakness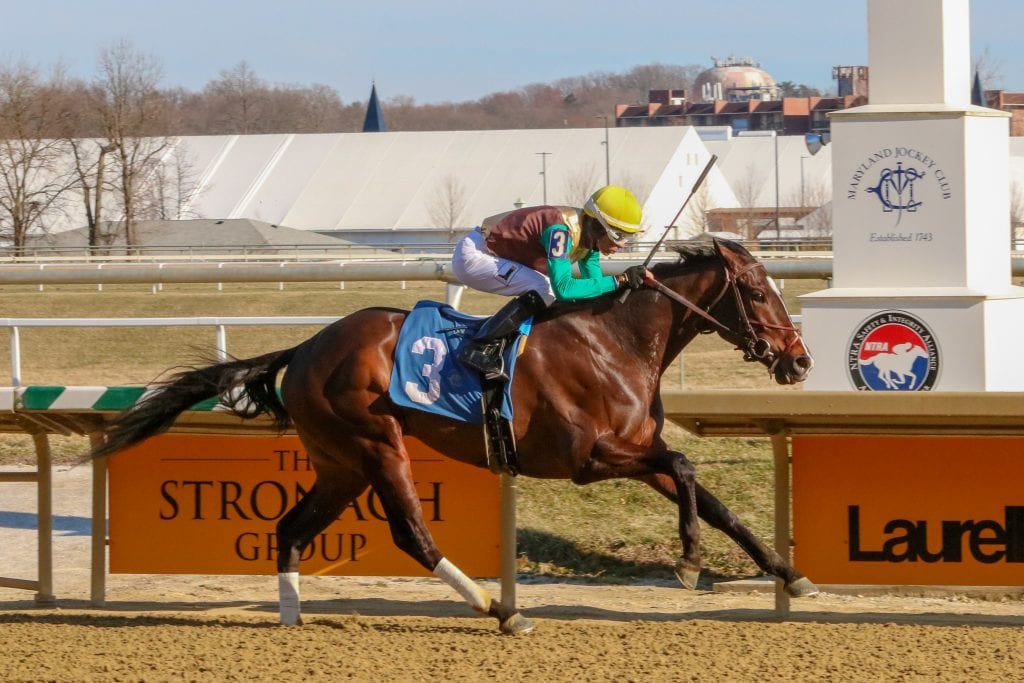 Alwaysmining cruised in the Private Terms Stakes at Laurel Park with Daniel Centeno in the irons. Photo by Dottie Miller.
Alwaysmining posted a bullet half-mile move over the Tapeta at the Fair Hill Training Center Friday morning, and now all that's left to do is wait for May 18 — and the Grade 1, $1.5 million Preakness — to arrive.
Alwaysmining breezed the four furlongs in 48 1/5 seconds. That was the fastest of 13 workers at the distance and two-fifths faster than any other horse this morning.

"I thought it was a lovely work," said trainer Kelly Rubley, who was joined in attendance by owners Greg and Caroline Bentley, who race as Runnymede Racing. "He started nice and relaxed and finished up very strong and galloped out extremely well."
It was Alwaysmining's second move since his facile score in the $125,000 Federico Tesio Stakes, a "win and you're in" race for the Preakness, April 20 at Laurel. He breezed a half in 49 seconds flat on May 3.
"We're trying to keep everything as normal as possible," Rubley said.
It took Alwaysmining four tries to break his maiden, and it wasn't until his third try after the maiden score that he logged a second victory. That was a 10-length score against allowance rivals and kicked off what's now become a six-race win streak.
Alwaysmining followed up his allowance win with a pair of seven-furlong wins, first against Maryland-breds in the Maryland Juvenile Futurity in December and then again in the Heft Stakes against open rivals in January. 
That put him on the Maryland route to the Preakness, and the gelded son of Stay Thirsty ripped off wins in the one-mile Miracle Wood Stakes, 1 1/16-mile Private Terms, and 1 1/8-mile Tesio.
"I think we've done the right thing to incrementally bring this horse along," Rubley said. "His confidence level continues to grow, and hopefully we're bringing it on nice and easy for him so he'll continue to step up."
Among the runners Alwaysmining bested in his win streak are Win Win Win and Gray Magician. The former, placed in a pair of subsequent graded events, finished ninth in the Kentucky Derby and is slated to contest the Preakness. The latter, later second in the UAE Derby, finished 19th in the Kentucky Derby.
Alwaysmining dominated local stakes foes, generally by taking it to them, grabbing the lead out of the gate, and wiring the field. But in the Tesio — albeit at 1-20 odds — regular pilot Daniel Centeno took him off the pace and settled in third-place early before pouncing after three-quarters of a mile and eventually being ridden out to an 11-length victory.
That new dimension makes Alwaysmining an even more intriguing Preakness contender: a runner who, while not having faced the best of his generation yet, has absolutely obliterated lesser foes while seeing gradually increasing distances, and one who has now demonstrated some ability to rate off the pace before moving.
And while Rubley said she and Centeno will work through a game plan for the Preakness, in the end, circumstance might make the call as to how they approach the big race.
"Once the gate opens, it's out of my hands," she said with a chuckle. "Danny's going to have to make the decision."