Signalman "fresh" for Preakness date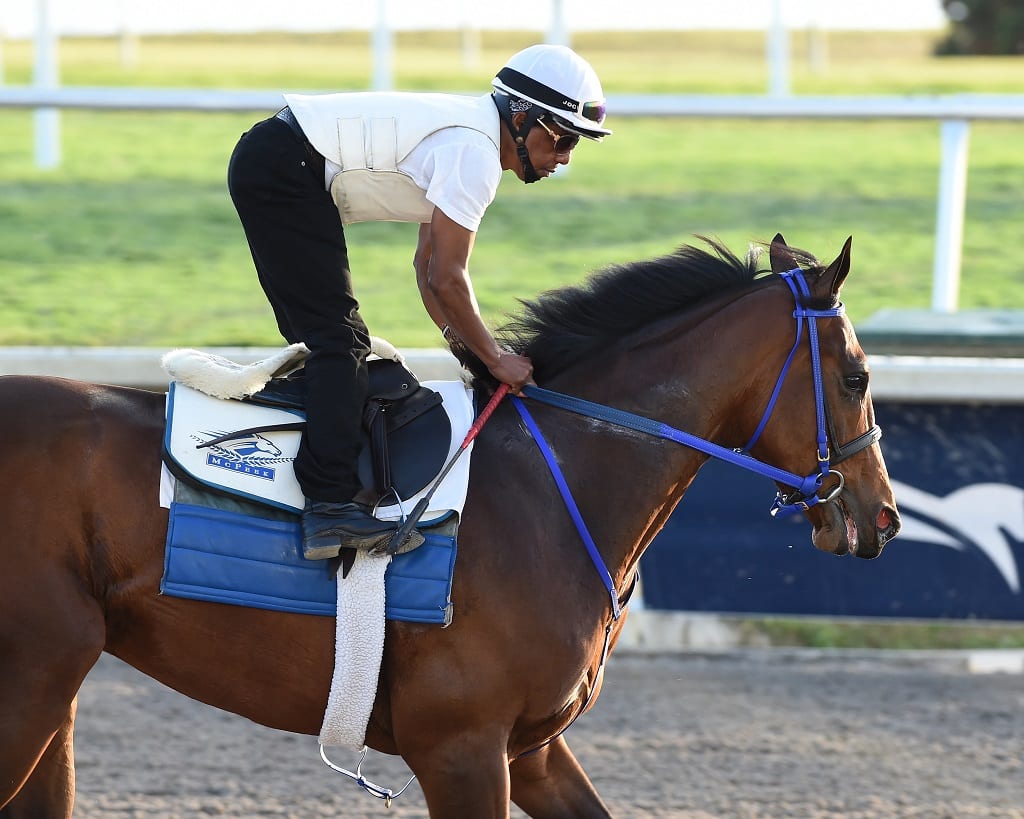 Signalman. Photo by Lauren King.
Signalman, winner of last fall's Kentucky Jockey Club (G2), looked sharp Saturday at Churchill Downs – not in the Kentucky Derby (G1), but while breezing five furlongs in a lively 59.60 seconds in preparation for a start in the 144th Preakness Stakes May 18 at Pimlico Race Course.
Signalman, third in Keeneland's Blue Grass Stakes (G2), failed to amass enough qualifying points to be included in the 20-horse Derby field when entries were taken for the Run for the Roses. As things turned out, had he been entered and included on the also-eligible list, Signalman would have drawn into the field due to the scratches of Omaha Beach and Haikal after entries were taken.
"He's doing really well. I've got some reservations whether I should have entered him or not as an 'AE,'" trainer Kenny McPeek said by phone from Keeneland. "He's done well. One more work and we'll ship him up with the rest of the group that goes.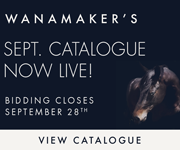 "We'll be fresh," he added with a laugh.
Had Signalman been entered and drawn into the Derby field, he would have been assigned the No. 20 post position, one stall in the starting gate outside Country House, who would finish second and be awarded the Derby victory via the disqualification of Maximum Security.
"Woulda, coulda, shoulda," McPeek said. "There have been very few scratches in the Derby over the decades, and certainly not two. But you could make the same case for Bourbon War. Brad Cox has a really good horse [Owendale] who won the Lexington, who could have run. The problem with entering as an 'AE.' is you're putting up $50,000 to be No. 20. You really don't get a fair draw."
Signalman galloped at Churchill Downs under exercise rider Danny Ramsey Tuesday. McPeek said the colt will work five-eighths of a mile or three-quarters of a mile Saturday at Churchill. Regular rider Brian Hernandez Jr. will have the call for the Preakness.
Signalman, off a maiden victory at Saratoga last summer, was second in Keeneland's Breeders' Futurity (G1) and third in the Breeders' Cup Juvenile (G1) at Churchill Downs before winning the Kentucky Jockey Club in the slop at his hometown track. In two starts this year, the son of General Quarters was seventh in Gulfstream Park's Fountain of Youth (G2), won by Derby runner-up Code of Honor, before his show performance in the Blue Grass.
Reflecting on how the Derby shook out, McPeek said, "The track was close to a sealed, plowed field. It was really, really sloppy, heavy, really gooey out there. Some of the horses he had run against didn't run well. [Blue Grass winner] Vekoma and Win Win Win didn't run well, so that gives me some concern about how he fits against the top 3-year-olds.
"But I don't know. Country House didn't look overly impressive until he won the other day. He looked like a horse we could have beaten. I do think that Maximum Security is a really good horse, and if he'd kept his path he probably would have [still] won. But he's not going in the Preakness, so that does open it up," McPeek added. "I do think it's a wide-open 3-year-old crop at this stage. Actually, there are three or four fresh horses for the Preakness. Brad Cox's horse at Keeneland was extremely impressive. Boy, he circled the field and ran off and hid. And Bourbon War is certainly no slouch. He'll handle the distance, and my horse has been really solid. All of them have to find another level. But that's what Country House did in the Derby," in earning his first win other than a maiden race.
Also at Churchill Downs: Lexington winner Owendale had a routine gallop. Trainer Brad Cox said Florent Geroux, who was aboard for the 1 1/16-mile Lexington, will have the Preakness mount.
War of Will, seventh in the Derby, returned to the track Tuesday for an easy jog.
Other Preakness prospects include: Alwaysmining, who extended his winning streak to six races in the Federico Tesio at Laurel Park on April 20; Anothertwistafate, runner-up in the Lexington and the Sunland Derby (G3) in his last two races; Bourbon War, who finished fourth in the Florida Derby (G1) after finishing second in the Fountain of Youth; Laughing Fox, winner of the inaugural Oaklawn Park Invitational; Mr. Money, the Pat Day Mile (G3) winner on the Derby undercard; and Bodexpress, 13th in the Kentucky Derby.
Preakness contenders
| | | |
| --- | --- | --- |
| Horse | Status | Last out |
| Country House | Out | Won Kentucky Derby via DQ |
| War of Will | Probable | 8th in G1 Kentucky Derby |
| Bourbon War | Probable | 4th in G1 Florida Derby |
| Bodexpress | Possible | 14th in Kentucky Derby, moved up to 13th after DQ of winner |
| Mr. Money | Possible | Won G3 Pat Day Mile on Kentucky Derby undercard |
| Code of Honor | Possible | 3rd in Kentucky Derby, moved up to 2nd after DQ of winner |
| Alwaysmining | Probable | Won Federico Tesio S. at Laurel Park |
| Anothertwistafate | Possible | 2nd in G3 Lexington at Keeneland |
| Owendale | Possible | Won G3 Lexington |
| Laughing Fox | Probable | Won "win and you're in" Oaklawn Invitational |
| Signalman | Probable | 3rd in G2 Blue Grass at Keeneland |
| Improbable | Probable | 5th in Kentucky Derby, moved up to 4th after DQ |