For Pimentel, dinner time call leads to big shot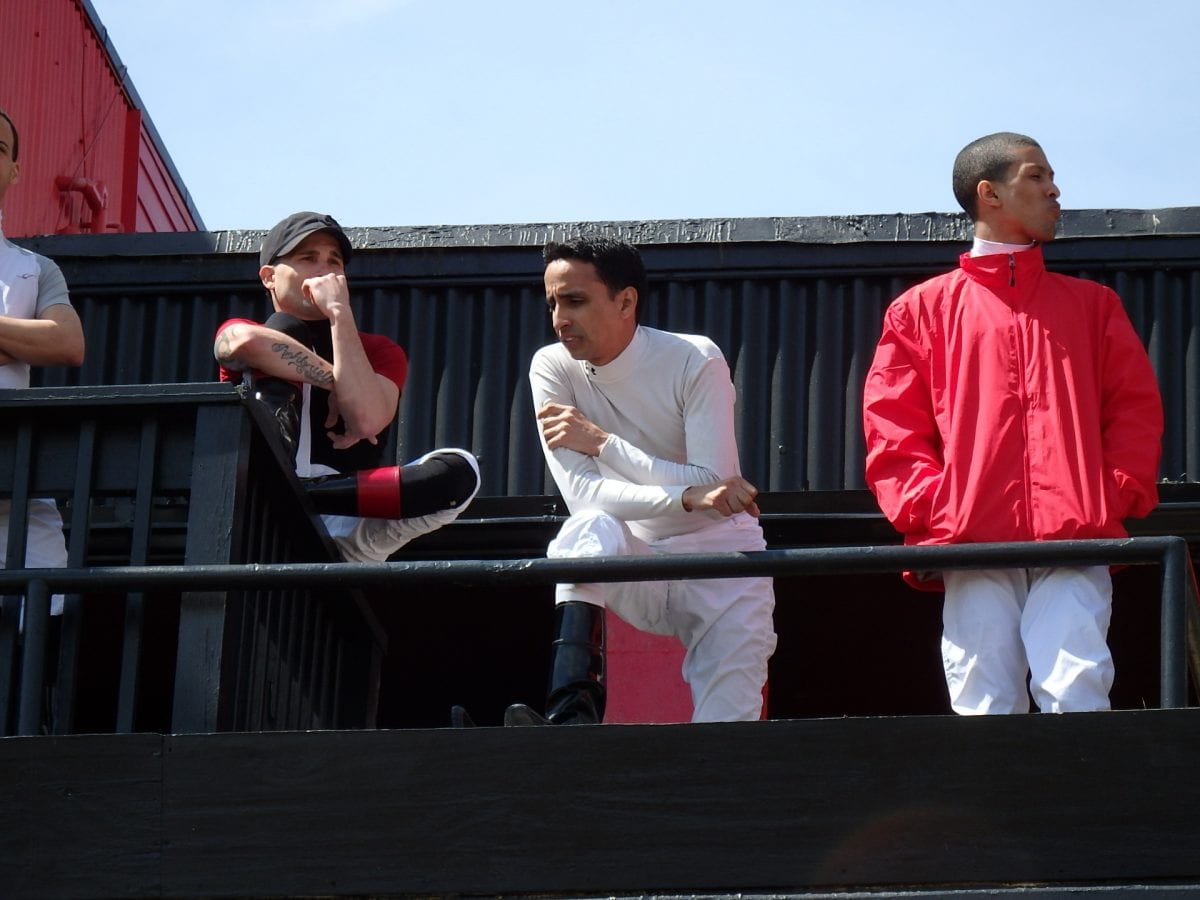 Julian Pimentel (center) watches racing at Pimlico. Photo by The Racing Biz.
Julian Pimentel was having dinner one night not long ago when he received a phone call from Mike Trombetta.
"He asked me if I have any plans for Kentucky Derby day," the 38-year-old Pimentel recalled. "He said to me, 'I've got you here on speaker with my wife. We were just wondering if you have any plans for Kentucky Derby day.'"
Pimentel laughed.
"I was like, 'I do, but I think I can cancel them.'"
As phone calls go, it wasn't a bad one to receive: an invitation to ride Win Win Win in the Grade 1, $3 million Kentucky Derby.
Pimentel and Trombetta, of course, have a history together. They've been among the most successful jockey-trainer combos in Maryland, winning 123 races together in the last five years – though, oddly enough, only one of Pimentel's seven career graded victories has come on a Trombetta trainee.
Similarly, Pimentel and Win Win Win have some history, as well. He rode the dark bay son of Hat Trick in each of his first four starts, the duo posting three wins and a second – behind the well-regarded, Preakness-bound Alwaysmining.
In the last of those four starts, Pimentel and Win Win Win blitzed the field in the $75,000 Pasco Stakes at Tampa Bay Downs, winning by seven lengths in a track-record time of 1:20.89 for seven furlongs.
That led Trombetta and the owner-breeder, Live Oak Plantation (Charlotte Weber), to dream Derby dreams – and to replace Win Win Win's regular pilot with Irad Ortiz, Jr.
"Of course you are disappointed," Pimentel said of the change in pilots. "You want to ride those kind of races. But I also understand that owners want to get experienced riders that have been in the races."
And for all of Pimentel's success – his mounts have earned more than $52 million – he hasn't been.
In two races together, Win Win Win and Ortiz managed second- and third-place finishes in the Grade 2 Blue Grass and Grade 2 Tampa Bay Derby, respectively. In both races, the late-running sophomore, who is out of the Smarty Jones mare Miss Smarty Pants, encountered traffic troubles that compromised his chances.
In the Blue Grass, when finally in the clear, Win Win Win made a strong late rally. While he was never a threat to the winner Vekoma, Win Win Win closed more than five lengths in the final furlong and was the only runner in the race – and one of a very small number on the card on a speed-favoring day at Keeneland – to close serious ground.
In the runup to the Derby, a series of jockey switches played to Pimentel's advantage. Ortiz' brother Jose, who rode Improbable in the Arkansas Derby, switched over to Tacitus for the Run for the Roses. That opened up the mount on the Bob Baffert-trained Improbable, and Irad Ortiz hopped aboard.
And that opened up Win Win Win for a reunion.
Win Win Win had an eventful final work for the Derby April 28. With Pimentel aboard, the colt broke off for a four-furlong breeze. Suddenly, Tacitus and Country House – going five-eighths in company – materialized to his inside and moved past. With Pimentel sitting chilly, Win Win Win kicked in, leaving his own workmate in the dust and crossing the wire ahead of his Derby rivals in a zippy 47 3/5 seconds for the half.
"That was a surprise for everybody," Pimentel laughed of his sudden company, adding that he liked the way Win Win Win responded. "He was just doing it easy. He was pretty comfortable."
In his recent races, Win Win Win has shown a penchant for dropping well to the rear before unleashing a late run. But he hasn't always run that way; in his first two starts he was pressing the early pace and even in the Pasco, when he was eight lengths back after a quarter-mile, Win Win Win was within a couple of lengths of the lead after a half-mile. In recent years, most Derby winners have been early or tactical runners.
"I'm just going to let him run his race," Pimentel said. "My perfect scenario would be running behind the speed. We'll see how the race develops. We've got to come out of the gate, break, and see what happens."
Win Win Win doesn't have quite the resume of some of his rivals, and his speed figures for the most part don't match up. But Trombetta says that Win Win Win has "got no quit in him." And Pimentel thinks his mount measures up nicely.
"He's proven that he's doing everything good, he's running good, and he comes running at the end," the jock said, and all of that might just be a recipe for roses.
One thing's for sure: Julian Pimentel, in the 20th year of a career that probably has more miles recorded on the odometer than left in the engine, is enjoying this moment.
"It's an unbelievable feeling. There's nothing like it, to be honest," he said. "I think we all dream of one day going to the Kentucky Derby. For me it's very special."