Correa, Ollie's Papa's Boy and more: The week in maiden winners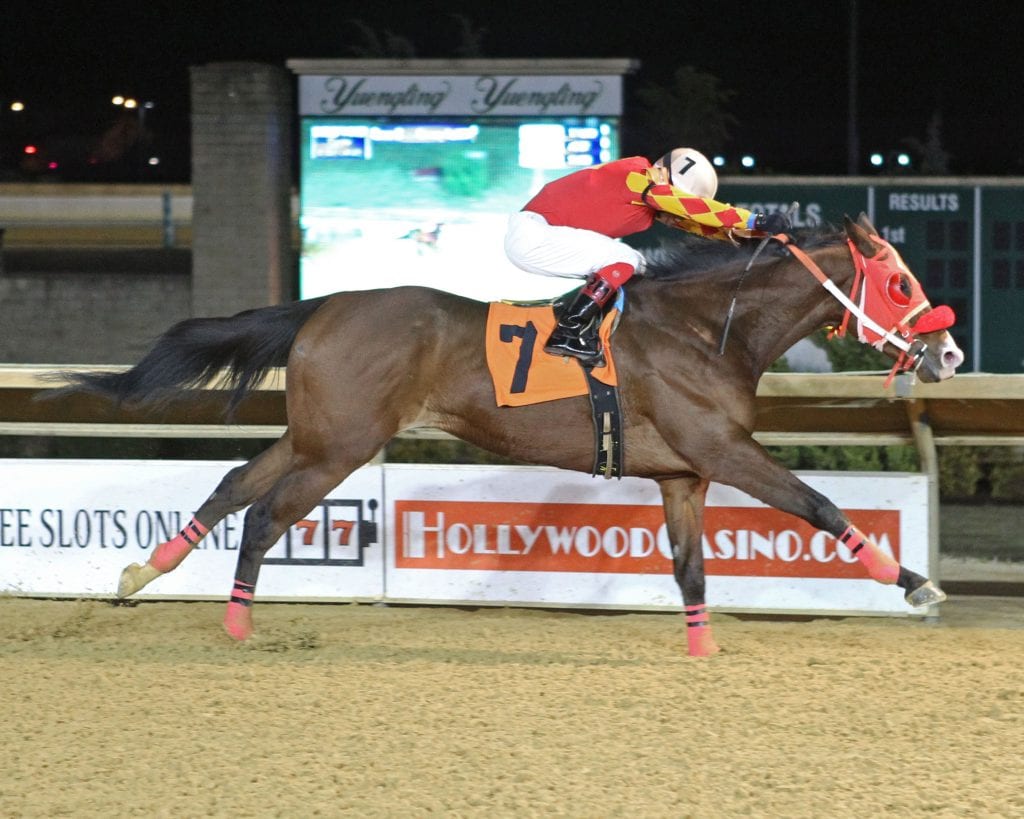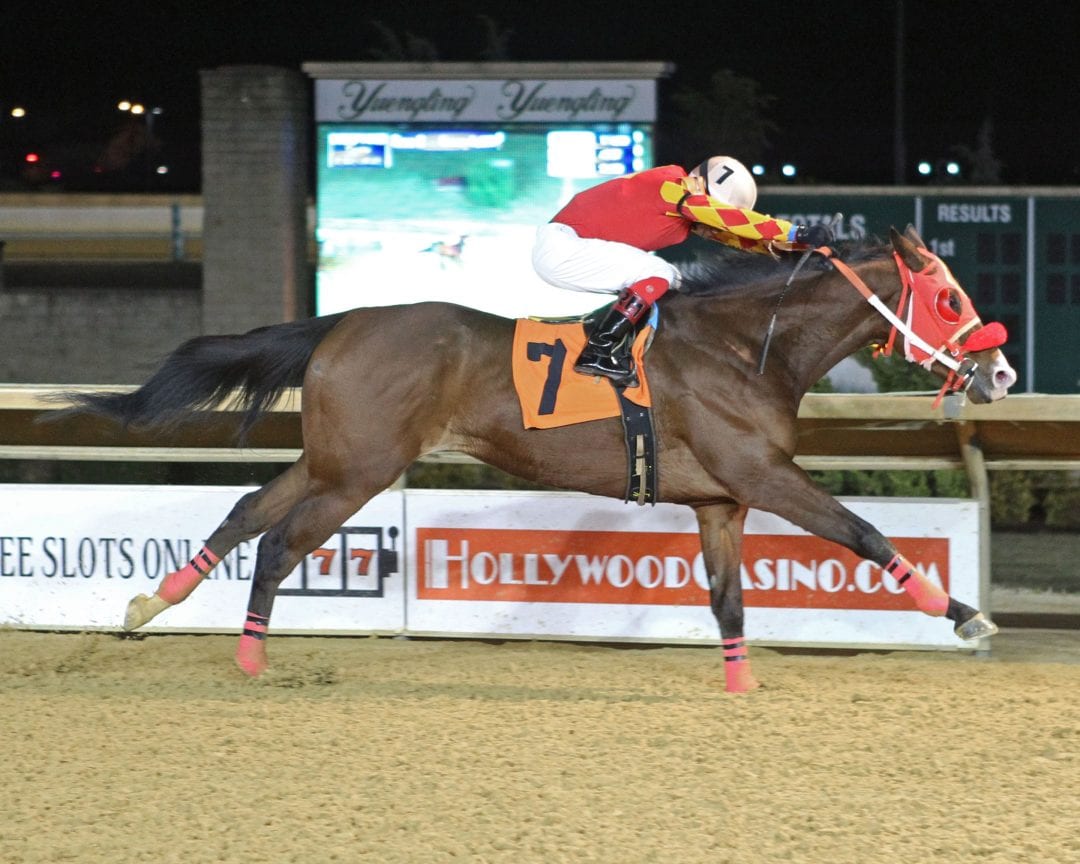 Mini Bolt took 51 tries to break his maiden, which he did February 14. Photo by Coady Photography.
Apprentice rider Julio Correa has been making waves at Laurel Park, winning with nine of 31 mounts thus far at the meeting, including five this past weekend.
Of his five wins at Laurel during the weekend, four came aboard maidens.

The biggest of his maiden scores came March 29, when he piloted Last Love to a neck victory in a maiden special weight test. The Bill Komlo trainee had finished second twice in five previous starts and went off as the second-longest shot in the field of seven. But Correa hustled him to the front early, and the four-year-old Not for Love filly had just enough in the tank to hold off Song of Mine, who is a half-sister to champion Songbird. Last Love returned $23.80 to win.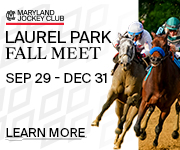 Correa also struck on Laurel's longest-priced maiden winner of the week. That was the Ham Smith trainee Hanalei's Houdini, who returned $26.20 after cruising to a five-length win in $40,000 maiden claiming company. The sophomore Jersey Town colt, who fell in the shadow of the wire in his debut, is owned by Smith's brother Franklin "Goree" Smith and won easily after stalking the early pace.
Correa's other two maiden winners were Lilo's Call, a debut winner for Chuck Lawrence, and River Sonata, for trainer Mark Reid.
LAUREL PARK MAIDEN WINNERS
| | | |
| --- | --- | --- |
| Horse (state bred), trainer, and jockey | Level | |
| Awesome Rally (Ky), trained by Corrales Jose and ridden by Pinero F A | MCL 16000 | $5.20 |
| Hanalei's Houdini (Md), trained by Smith Hamilton A and ridden by Correa J | MCL 40000 | $26.20 |
| Havennow (Ky), trained by O'Dwyer Jeremiah and ridden by Russell S | MCL 16000 | $5.80 |
| Honor Run (Ky), trained by Lawrence James L II and ridden by Vargas J A Jr | MCL 25000 | $5.60 |
| Last Love (Md), trained by Komlo William R and ridden by Correa J | MSW | $23.80 |
| Lilo's Call (Md), trained by Lawrence James L II and ridden by Correa J | MCL 40000 | $6.40 |
| River Sonata (Ky), trained by Reid Mark J and ridden by Correa J | MCL 25000 | $6.80 |
CHARLES TOWN MAIDEN WINNERS
After finishing second three consecutive times to start the year, Ollie's Papa's Boy finally broke through March 30 at Charles Town Races to earn his diploma in maiden special weight company.
The Tim Collins trainee, also owned by Collins, had lost seven consecutive times to start his career. But Saturday, the five-year-old Street Magician gelding finally broke through. Under Reshawn Latchman, Ollie's Papa's Boy was never headed in the 4 1/2-furlong dash, leading throughout en route to the win. Running time on a fast track was 53.39 seconds.
Ollie's Papa's Boy, bred in Maryland by Dr. and Mrs. Tom Bowman and R. Larry Johnson, was a $1,000 auction purchase at the 2014 Fasig-Tipton Midlantic December mixed sale in Timonium. He now has a win and four seconds from eight career starts with earnings of $32,740.
| | | |
| --- | --- | --- |
| Winner (state bred), trainer, and jockey | Level | $2 win payout |
| A Little Banged Up (WV), trained by J S Allen and ridden by W Ho | MCL 5000 s | $3.00 |
| Againstregulations (WV), trained by J P Stehr and ridden by C Hiraldo | MCL 12500 s | $5.00 |
| Flashy Ready Rick (WV), trained by C W Bass and ridden by C Hiraldo | MCL 12500 s | $6.40 |
| Nice n' Broad (WV), trained by A M Rideoutt II and ridden by W Ho | MSW s | $3.20 |
| Ollie's Papa's Boy (MD), trained by T M Collins and ridden by R Latchman | MSW | $6.60 |
| She Figures (WV), trained by J C Runco and ridden by A Bocachica | MSW s | $5.00 |
| Zenarina (MD), trained by C C Conaway, Jr. and ridden by V Rodriguez | MCL 5000 | $4.80 |
PENN NATIONAL MAIDEN WINNERS
| | | |
| --- | --- | --- |
| Horse (state bred), trainer, and jockey | Level | $2 win payoff |
| A Little Flattered (PA), trained by T M Beattie and ridden by D G Whitney | MSW s | $8.20 |
| Giacomo's Thief (PA), trained by R Oliva and ridden by W Corujo | MCL 25000 | $3.80 |
| Last Great (PA), trained by R Vega and ridden by I Beato | MCL 5000 | $4.80 |
| S W Wild One (PA), trained by G R Albright and ridden by M J Inirio | MCL 25000 | $7.60 |
| Scientist Kat (NY), trained by M Zalalas and ridden by J A Hernandez | MCL 5000 | $5.20 |
| Sweet Dancer (PA), trained by C A Cuprill and ridden by W P Otero | MCL 10000 | $44.40 |
PARX RACING MAIDEN WINNERS
| | | |
| --- | --- | --- |
| Horse (state bred), trainer, and jockey | Level | $2 win payoff |
| Bethlehem Road (KY), trained by D Curry and ridden by L A Rodriguez Castro | MSW | $15.40 |
| Cardi G (PA), trained by R E Reid, Jr. and ridden by F Pennington | MSW s | $9.20 |
| Irish Jonah (PA), trained by J Taylor and ridden by F Pennington | MCL 20000 | $6.40 |
| Pappa Rox (ON), trained by L C Linder, Jr. and ridden by J M Perez | MCL 10000 | $67.60 |
| Semi Excited (PA), trained by S A Lake and ridden by A Salgado | MCL 20000 | $8.60 |