McConnell family riding wave with aptly named Prince Lucky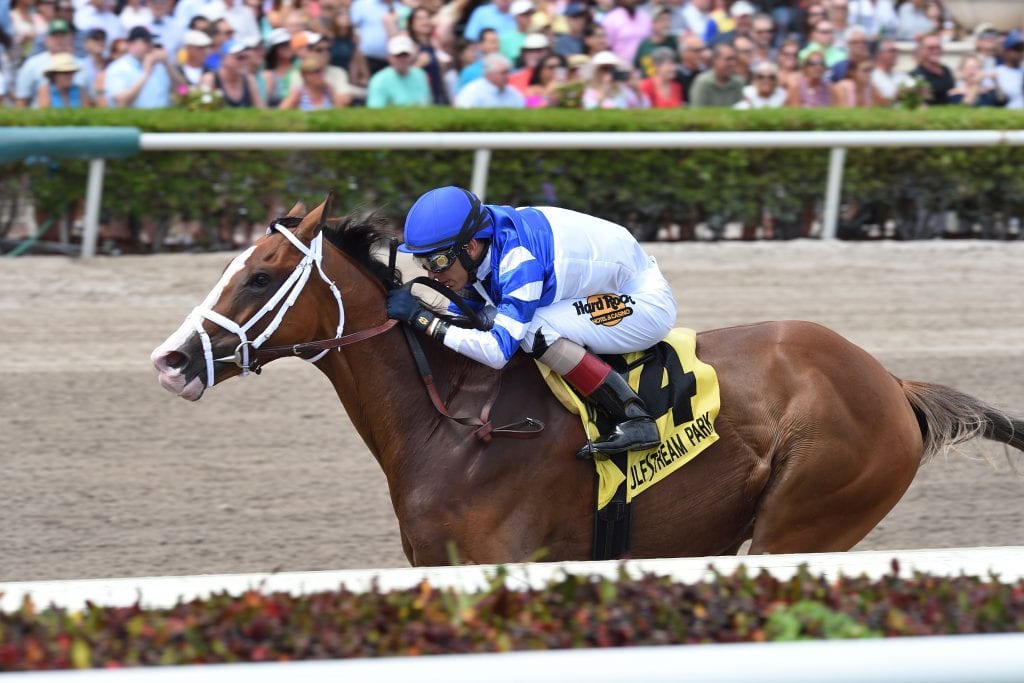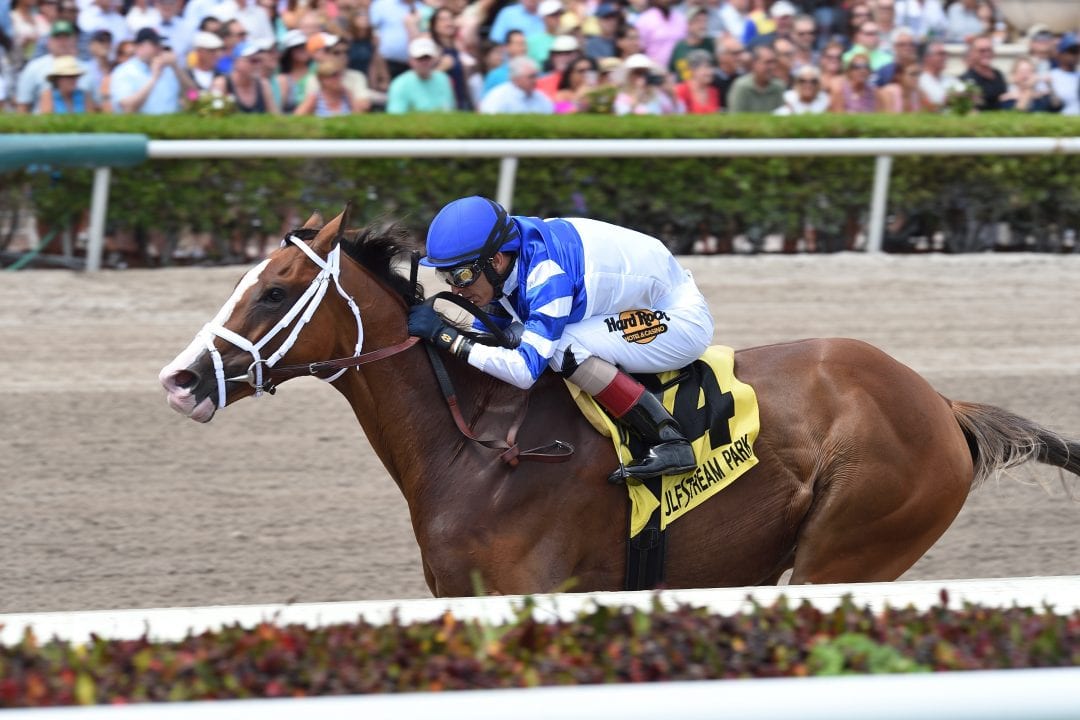 Prince Lucky wins the Gulfstream Park Mile. Photo by Lauren King.
As John McConnell walked out to the track at Gulfstream Park on Saturday, March 30, following the Grade 2 Gulfstream Park Mile, he looked almost stunned. Grabbing the shank from exercise rider Nick Bush, he walked homebred Prince Lucky in a circle, then headed towards the winner's circle, where his father Daniel was waiting.
McConnell fils shouldn't have been surprised. Prince Lucky had won two races in a row, including the Grade 3 Hal's Hope at Gulfstream in February, and went off the 1-5 favorite today. In nine lifetime starts, the Pennsylvania homebred had collected five wins and two thirds.
John's father is the owner and breeder of record, but Prince Lucky is obviously a family affair.
With two partners, Daniel bred and raced Prince Lucky's dam, the PA-bred Lucky Notion, by Great Notion, who stands at Northview Stallion Station in Maryland. Moderately successful on the track (12-5-3-2, $117,464), she has had three foals make it to the races, including the stakes-placed Saint Main Event.
"We love Great Notion, and we love Northview," said John. "We've worked with them for years."
The McConnells' isn't a big racing and breeding operation; in 2014, they bred exactly one mare. But that's all you need if it you do it right, and do it right they did.
"John did all the research," said Daniel. "He said, 'We should breed to Corinthian.' At the time, Corinthian was standing in Kentucky. John called me a week later and said, 'Dad, he's coming to stand in Pennsylvania.'"
"It was like fate," said his son.
A self-described pedigree obsessive, John describes researching nicks as "like breathing," he does it so often.
"Even for mares I don't own," he said, "just to see how the market is trending."
He characterized Prince Lucky's breeding as a "perfect match."
"With Lucky Notion, it was Corinthian on top of Gone West," he said. "I think it's still an A++ nick."
Daniel lives in Greenville, DE, just a short ride from Delaware Park, where Prince Lucky broke his maiden in late August of 2017 for trainer Larry Jones. The bay got his first stakes win in the Pennsylvania Nursery at Parx that December.
After finishing seventh in the Lecomte (G3) in 2018, his first off-the-board finish in five starts, Prince Lucky was transferred from Jones to Todd Pletcher.
"It was very amicable," said John of the trainer change. "Larry did a great job with Prince Lucky, who is Pennsylvania-bred and Delaware-certified. I think there was a change in plans; Larry was planning on coming back to Delaware Park and decided not to."
Winner of the 2007 Met Mile (G1) and Breeders' Cup Dirt Mile, Corinthian was something of a head case, and some of those genes apparently made their way into Prince Lucky.
"He had his quirks, so to speak," said John with a touch of a rueful smile. "Todd recommended castration and it made a huge difference. Todd always believed in him."
Debuting for Pletcher last March in the Sunland Derby (G3), the new gelding finished ninth, then returned to more modest company, finishing third in the Sir Barton on the Preakness undercard before winning the Easy Goer (listed) on the Belmont Stakes undercard and the Hal's Hope.
"Todd's the best," said John. "We have one horse with him, and he treats us like gold, like we have 10 or 20 horses. He's the best."
Later this year Pletcher will get a half-sister to Prince Lucky, a two-year-old filly named Lucky Olivia Rose by El Padrino, who was trained by Pletcher to a win in the Grade 2 Risen Star at Fair Grounds in 2012. El Padrino stood at Northview Stallion Station in Pennsylvania before dying from colic in 2017. Lucky Notion will be bred this year to Goldencents; she is one of three mares the McConnells will breed this year.
In the Gulfstream Park Mile, Prince Lucky easily dispatched his five rivals, making the lead by the half-mile pole and drawing off to win by 4 3/4 lengths.
"I think he's a very good miler," said Pletcher of the four-year-old that has run just once at that distance, "but I do think he'll stretch out as well. We'll see what we're going to do next. It might be a mile race for the next one, but down the road, we'll try to stretch him out a little further."
"He got into the bridle," said winning rider John Velazquez. "It wasn't a crazy pace. [After the first quarter, in 24.14], it was pretty easy. He was kind of playing, looking around. He's never been in the lead that soon."
The McConnells flew down this morning and will return to the Midlantic later today; John, who lives in Bucks County, PA, has to be home in time for his children's Sunday tennis commitments. It's a crazy day of traveling, but Prince Lucky made it worth the trouble.
"I'm thrilled to be here," said John. "It's so nice to be able to do this with my dad."