Maryland Jockey Club says better backstretch housing on the way – but allegations "unfair"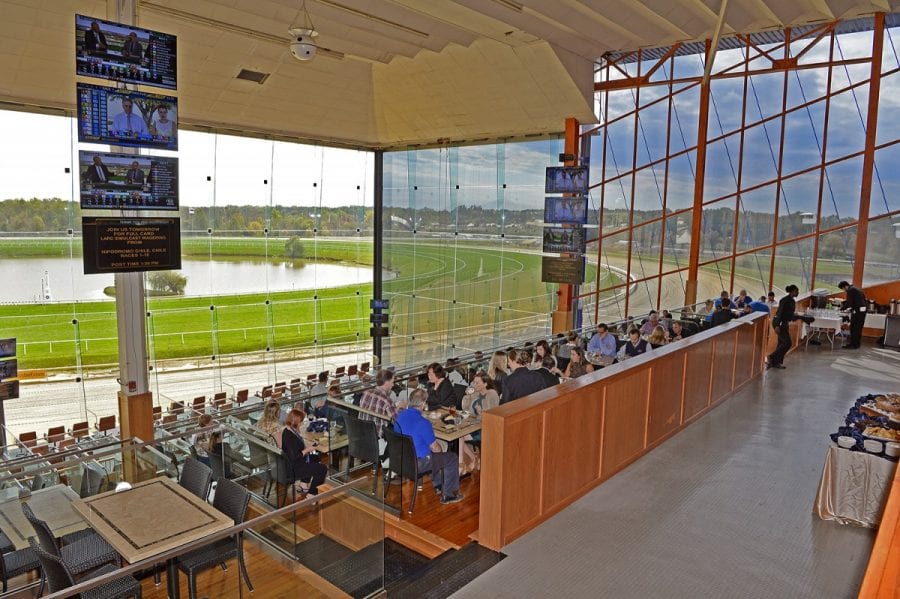 The fronstide at Laurel Park is looking good, but backstretch housing still needs some work, MJC officials acknowledge. Photo by Maryland Jockey Club.
Just days after Del. Nick Mosby (D-Baltimore City) called for the withdrawal of legislation that would help fund a so-called "super track" at Laurel Park and a revitalized training facility at Bowie because of what he called "slum like" living conditions on the Laurel backside, Maryland Jockey Club president Sal Sinatra Thursday defended his company and the condition of facilities on the backstretch.
"Dragging the grooms' quarters into the situation of the Preakness is just absurd and unfair," Sinatra said.
Mosby earlier this week had decried the condition of living quarters on the Laurel Park backstretch, calling it "deplorable" and describing it as a "shanty town." But his allegations found limited legislative traction; neither legislator who introduced the Stronach-supported legislation showed an inclination to withdraw it.
"The horses in the adjacent barns… live in better facilities," Mosby said. 
But Sinatra said Mosby's concerns were politically motivated. The city Mosby represents has been fighting a pitched battle against the Stronach Group, which owns the Maryland Jockey Club, trying in the Legislature both to advance the cause of rebuilding Pimlico — and to spike the Stronach Group's efforts to obtain state approval of a plan to work with the state-chartered Maryland Economic Development Corporation (MEDCO) to issue bonds that would be paid off via a combination of Stronach Group funds and moneys in the Racetrack Facilities Renewal Account (RFRA).
"Everybody's tying this MEDCO bill to fix Laurel up to the keeping the Preakness at Pimlico," Sinatra said.
That's true; the city of Baltimore has identified the MEDCO approach as one significant pot of funding for the estimated $424 million a new Pimlico would require.
At the same time, the MEDCO plan would only raise about $120 million — well short of what a new Pimlico needs. And even if the Pimlico plan proposed late last year by the Maryland Stadium Authority were implemented, Laurel would still need work, and Bowie would still need to be revitalized — and both of those will cost money.
Among those needs at Laurel: new housing for backstretch employees.
Sinatra told the Commission that a state inspection of that housing, which took place Wednesday, "went well" and found no major issues. Anne Arundel County Executive Steuart Pittmann is slated to visit the backside on Friday.
But he added that the longer term solution to the problem of housing is the stick barn that the company has purchased but not yet constructed. Sinatra is working to resolve permitting issues with Anne Arundel County and to identify where that barn will go but to do so in a way that has minimal impact on current housing and stabling facilities.
"There's 75 dorms on each floor to replace [the old housing]," he said. "The new dorms will be outstanding. Hopefully, this will expedite it."
MARYLAND RACING COMMISSION NOTES The Commission gave final sign-off Thursday to new regulations that will codify existing practice regarding concussion protocols, requiring jockeys to undergo, as part of their annual physicals, baseline tests to establish neurological and cognitive function. These tests help doctors determine later on if riders have suffered concussions and whether and when they are well enough to ride again…