Hall of Famer Leatherbury nears start of 60th season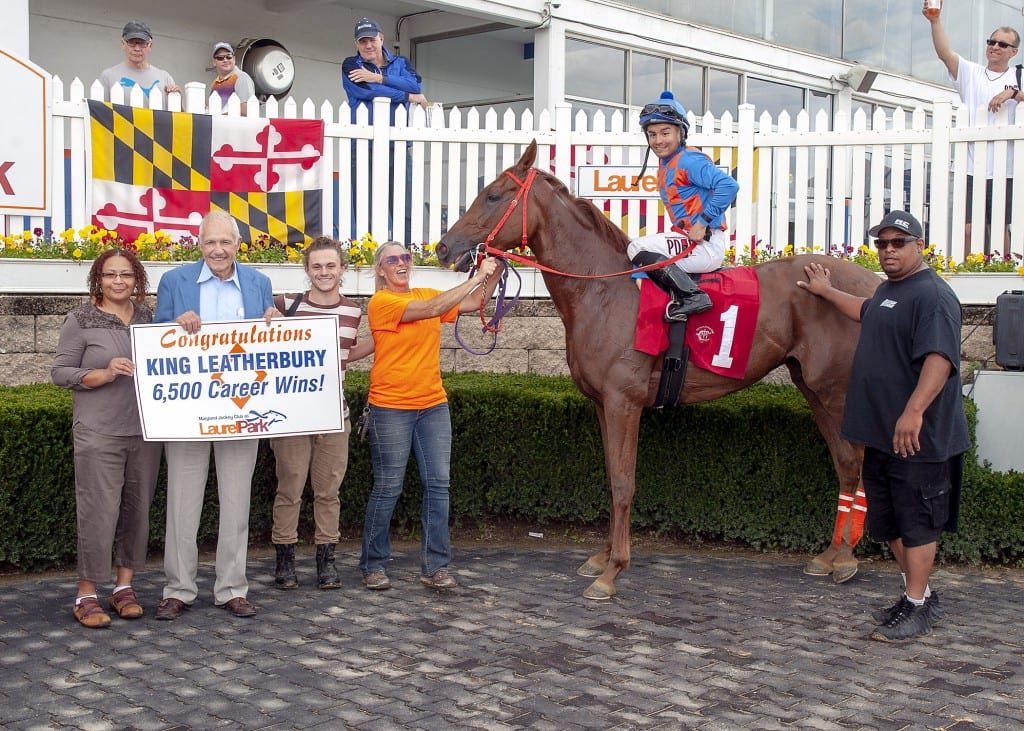 King Leatherbury celebrates yet another milestone victory. Photo by Jim McCue, Maryland Jockey Club.
Hall of Fame horseman King Leatherbury has welcomed back a small string of horses to his barn at Laurel Park in preparation for his 60th season as a Thoroughbred trainer.
Leatherbury, who turns 86 March 26, has won the fifth-most races of all-time with 6,501 since his first victory at the former Sunshine Park, now known as Tampa Bay Downs, in 1959. The nation's leader in wins in 1976 and 1977, Leatherbury went 9-for-80 in 2018, the first time in his career he failed to reach double digits.
By the end of last year, Leatherbury's stable had dwindled to two horses. His most recent starter was 77-1 long shot Auld Lang Syne in a maiden claimer Dec. 26 at Laurel.
"I took the winter off, only because the horses all went back to the farm being turf horses," Leatherbury said. "There was no sense keeping them in training all winter, so we turned them out and brought them back in February. We'll start getting some turf races, I think, in April."
Leatherbury has six horses at his familiar Barn 1 adjacent to Laurel's main track, including 4-year-old Any Given Saturday filly Happy Lantern and 5-year-old Jazil gelding Paratycachaca. Both horses worked a half-mile March 16 at Laurel, in 50.00 and 49.60 seconds, respectively.
Happy Lantern, a Pennsylvania-bred owned and co-bred by Dr. Norman G. Lewis, gave Leatherbury his 6,500th win Sept. 22 at Laurel. His most recent victory came with his own Storm Net in a Nov. 1, 2018 maiden event.
"I've got some horses in from the farm that were turf horses that we turned out for the winter. They're back in training, so right now I've got six horses in training. So, I'll just do what I can with what I've got."
Leatherbury won at least 200 races for 11 consecutive years from 1974 to 1984, topping 300 from 1975 to 1978, as part of Maryland's 'Big Four' with Dick Dutrow, John Tammaro and fellow Hall of Famer Grover 'Bud' Delp, each of whom has passed on.
The late Ben's Cat, a horse Leatherbury bred, owned and trained to 32 wins, 26 in stakes, and more than $2.6 million in purse earnings from 2010-2017, revitalized the trainer's career and was a springboard to his Hall of Fame election in 2015.
Laurel will debut the $100,000 King T. Leatherbury Stakes for 3-year-olds and up going 5 ½ furlongs on the turf Saturday, April 20 on the undercard of the $125,000 Federico Tesio – a 'Win and In' race for Triple Crown-nominated horses to the 144th Preakness (G1) May 18.
"We'll have something to run here pretty soon," Leatherbury said. "We're not going to be raising any hell, but we'll be trying to exist as long as we can, that's all."