What we learned (and didn't) this weekend at Laurel Park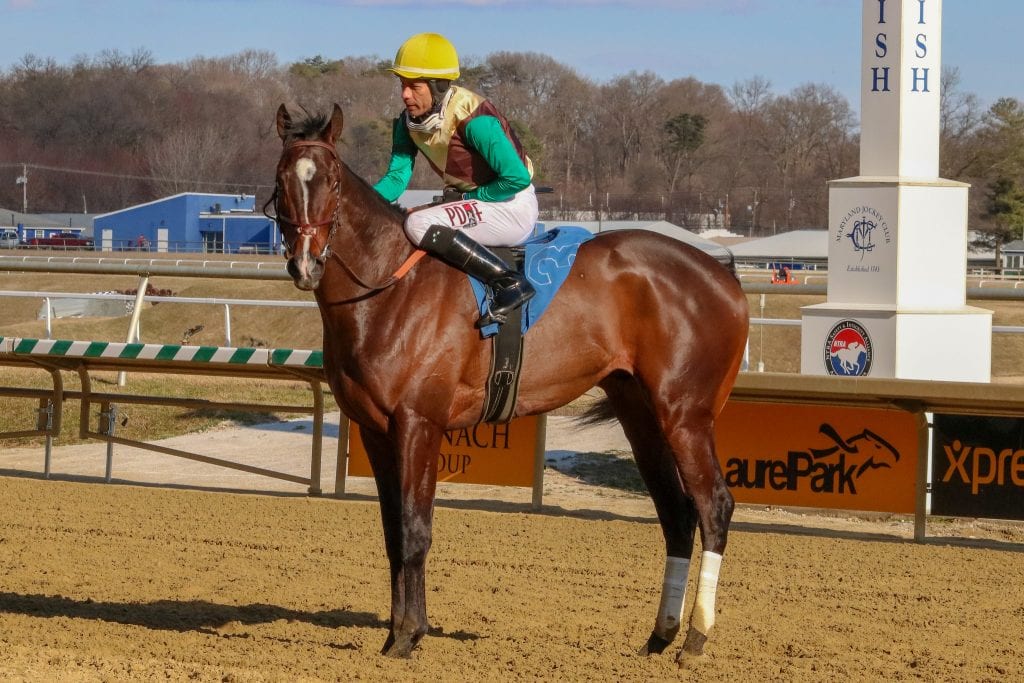 Jockey Daniel Centeno gives Alwaysmining a little love after winning the Private Terms Stakes at Laurel Park. Photo by Dottie Miller.
There was plenty of racing action at Laurel Park this past weekend, featuring an 11-race Saturday card with five stakes. Here's what we learned:
ALWAYSMINING AND LAS SETAS ANSWERED ONE QUESTION – BUT OTHERS LINGER…
Entering Saturday's stakes, the Stay Thirsty gelding Alwaysmining and the Seville filly Las Setas both figured to be strong favorites in the two sophomore stakes, the Private Terms and, for the fillies, the Beyond the Wire.
Both had impressed in dominant wins last month, both had bigger game in their sights down the road, and both were stretching out to distances they'd never tried. In Alwaysmining's case, he was set to go two turns in the about 1 1/16 miles distance at Laurel, while for Las Setas, she was stretching out to a flat mile for the first time.
The question we can consider answered is that of distance. Alwaysmining galloped to a nearly-seven length win in 1:42.65 – ripping off a 23 4/5-second fourth quarter-mile to put this one away. One race prior, Las Setas romped to a five-length win in 1:37.82 for the one-turn mile.
The question that remains: how will either runner fare when facing adversity or forced to sit behind horses?
On paper, both races included at least one runner who figured to press the early action. The Kiaran McLaughlin-trained shipper It Justhitthe Wire had broken her maiden in front-running fashion last out, but she ended up sitting back in third in the early going, leaving it to Our Super Freak to press Las Setas.
That led to sluggish early fractions of 24.78 seconds for the first quarter and 48.23 seconds for the half. After those, Las Setas figured to be tough to catch.
"I was happy last time when I saw 23 (for the opening quarter), so when I saw 24-and-change, I thought, 'That shouldn't be a problem,'" said winning trainer Katy Voss.
Likewise in the Private Terms. In his prior start, Joevia had run a terrific race battling for the lead, finishing a tough-luck second to Haikal, who returned to win the Gotham. But after Joevia broke alertly, jockey Nik Juarez ceded the lead to Alwaysmining. That led Daniel Centeno, aboard Alwaysmining, to dole out measured fractions: 24.38 seconds for the opening quarter, 48.44 for the half, and 1:12.66 for three quarters.
He wasn't slowing down after that.
"The trainer was like always — just try to break, go to the lead and see what Nikky (Juarez) was going to try to do," Centeno said afterwards. "My plan was just try to push a him a little bit, try to make him make use of his horse. He took back and let me go, and I just put my horse on the lead. It was easy for me. When I took the lead, he relaxed and made a very comfortable pace."
Next out, Voss said the plan for Las Setas was to head to the Weber City Miss at Laurel in April, with a date in the Black-Eyed Susan the goal.
Kelly Rubley, trainer of Alwaysmining, would not commit as to her next move; the conservative route would mirror that of Las Setas, a date in the Federico Tesio followed by a Preakness start. But her charge earned a 95 Beyer speed figure on Saturday while being ridden out – identical to the figs earned by the winners of the two divisions of the Rebel Stakes at Oaklawn Park. Another possibility for Alwaysmining could be a trip to New York for the Wood Memorial or to Keeneland for the Bluegrass with a date in Churchill Downs on the first Saturday in May the goal.
IT'S CLAUDIO'S WORLD. WE'RE JUST LIVING IN IT.
It's good to be the king, and right now, Claudio Gonzalez is the undisputed king of Maryland trainers.
Gonzalez won eight times over the weekend – six more than any other trainer – and now has 36 wins during the Laurel Park winter meet. That's 24 wins more than any other trainer; Jamie Ness, Hugh McMahon, and Jeremiah Englehart are tied for second with 12 wins apiece.
It's also not bad to be owner Joe Besecker. He owned three of the four Gonzalez Sunday winners and now has 16 wins at the meet. That's the most of any owner, six ahead of Bob Bone, who is second.
THE HORSE WHO HAD THE BEST WEEKEND AT LAUREL WASN'T EVEN THERE
Sure, it was a good weekend for the five stakes winners at Laurel, and a bevy of other horses who won.
But one horse had a better weekend than all of them.
Tanca, a mare by Polish Numbers, was an utterly nondescript racehorse, winning just once from 10 career starts.
But as a broodmare, she's a star. Two of her offspring won stakes this weekend at Laurel, giving her three stakes winners to date.
In the Harrison Johnson Memorial, Cordmaker, a son of Curlin trying two turns for the first time, found the nine-furlong trip to his liking, powering to victory against a salty crew. It was Cordmaker's second career stakes win and fourth victory overall, from 11 career starts.
And two races later, her daughter, the aforementioned Las Setas, rambled home to an easy score in the Beyond the Wire.
Tanca, also the dam of 2015 Maryland Million Nursery winner Corvus, this year gave birth to a Street Sense colt.